Cold Soba Noodles with White Miso Dressing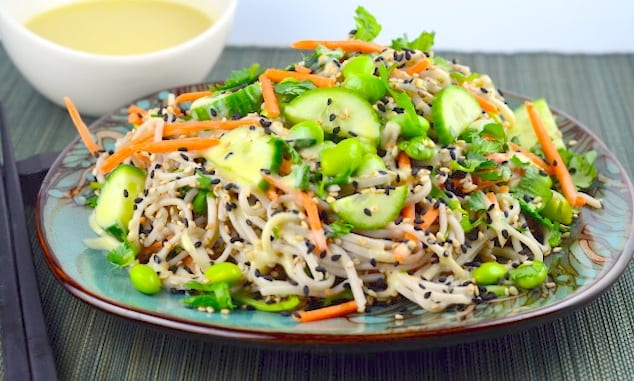 On a warm day, enjoy cold soba noodles with flavorful white miso and fresh vegetables. Add shelled edamame for a complete meal with protein.
By Vicky Cohen and Ruth Fox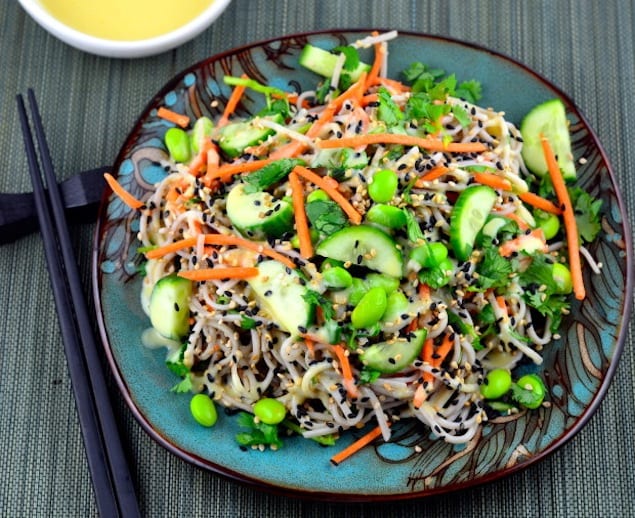 A little Asian inspired, easy and refreshing. The soba noodles are a source of carbs that literally cook in less than 7 minutes ( "cellophane" noodles work great as well and are a bit lighter); the edamame is your protein. And plenty of veggies of course (I used carrots and cucumbers here, but you can be creative!). Make a big batch and you'll have a great pack and go lunch for a few days. Also great as a light dinner or even a healthy snack.

Cold Soba Noodles with White Miso Dressing
On a warm day, enjoy cold soba noodles with flavorful white miso and fresh vegetables. Add shelled edamame for a complete meal with protein.
Author:
Vicky Cohen and Ruth Fox
Ingredients
6oz buckwheat Soba noodles
1½ cups shredded carrots
1 cup frozen shelled edamame, thawed
2 Persian cucumbers, sliced
1 cup chopped cilantro
¼ cup sesame seeds
2 tbsp black sesame seeds
White Miso Dressing (makes 2 cups)
⅔ cup white miso paste
Juice of 2 medium size lemons
4 tbsp rice vinegar
4 tbsp extra virgin olive oil
4 tbsp orange juice
2 tbsp fresh grated ginger
2 tbsp maple syrup
Instructions
Cook soba noodles according to the instructions in the packaging (make sure not to over cook them or they will get very gummy and stick together). Drain well and transfer to a large bowl
Add shredded carrots, edamame, cucumber, cilantro and sesame seeds
To prepare the dressing, combine all the ingredients in a blender. Blend until smooth
Pour desired amount of dressing over the noodles (we used about a cup and a half)
Vicky Cohen and Ruth Fox
We are two sisters born and raised in Barcelona, Spain, with Sephardic and Middle Eastern roots. We grew up eating the best, most flavorful, comforting home-cooked meals prepared by our mom, who taught us everything we know about cooking. When we moved here to the U.S. we felt it was really important to keep our traditions and background alive, and we've done so by sharing it with everyone we've met throughout the years. After all, what better way to make new friends and share our love and culture than through food, right? Our friends have come to enjoy our food and gatherings so much that are always asking us for our recipes. That inspired us to start a cooking blog called "May I have that recipe" where we share recipes we've created inspired by our multicultural background.