Cold Soba Noodle Sesame Bowl with Cucumbers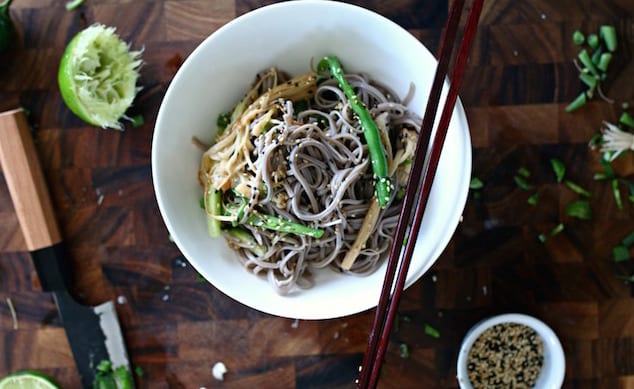 This noodle bowl is the perfect dish to have on hand for a quick lunch with crunchy green beans, fresh cucumber and hearty mushrooms. The dressing is simple: sweet, sour, salty and savory.
By Sami Berger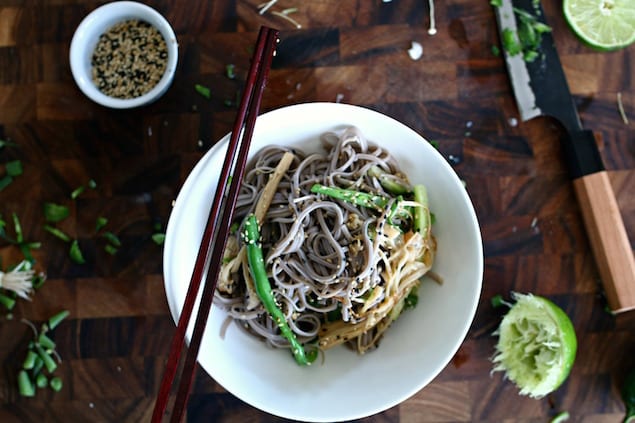 I have had the idea of making cold soba noodle salad for a while now but haven't gotten around to it. It was exactly what I imagined it would be and is pretty much the perfect lunch to have hanging out in the fridge for a few days for a healthy, filling, but still light meal ready at your fingertips. Obviously you can substitute the vegetables for anything you want but I love the crunchy green beans, the fresh cucumber and the hearty mushrooms. The sesame seeds give the bowl a subtle crunch and are also beautiful to look at. The dressing is simple: sweet, sour, salty and savoury. We pretty much devoured everything we made before we moved on to making the rest of the recipes. It's that good.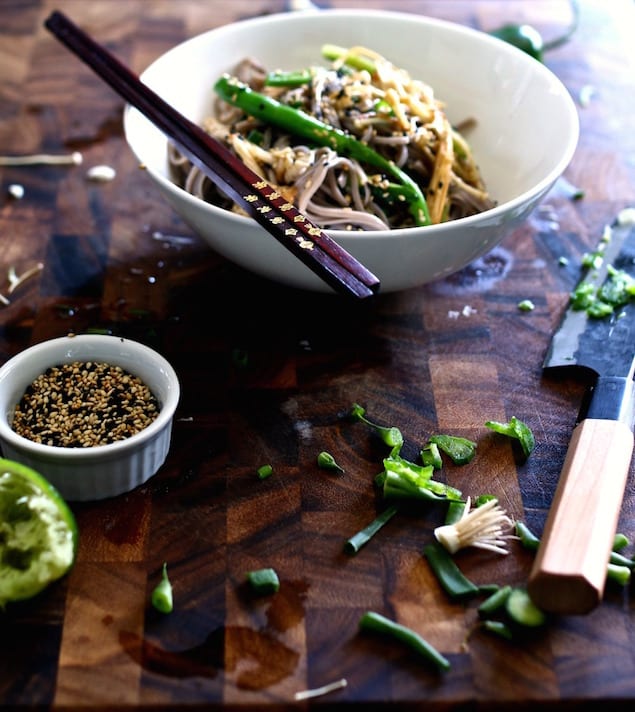 See Also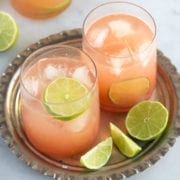 Check out the video recipe for this dish here.

Cold Soba Noodle Sesame Bowl with Cucumbers
A noodle bowl is the perfect dish to have for lunch with crunchy green beans, fresh cucumber, hearty mushrooms and a dressing that is sweet and sour. If you want to make this completely vegan, replace the honey with a sweetener of your choice (like agave).
Serves:
2 generous servings
Ingredients
250g (8.8 ounces) soba noodles
150g (5.3 ounces) enoki mushrooms, trimmed and separated
150g (5.3 ounces) green beans, trimmed and sliced lengthwise
5 green onions, trimmed and sliced
1 mini cucumber, julienned
a couple tablespoons of sesame seeds
Toasted sesame dressing
3 tablespoons rice wine vinegar
1 tablespoon sesame oil
½ tablespoon honey
1 tablespoon soya sauce
juice of half a lime
½ small green chilli, finely minced
Instructions
Heat up a pan over medium heat with a splash of neutral oil.
Put mushrooms and green beans into the pan, season with salt and pepper.
Sauté mushrooms and green beans, stirring occasionally, until mushrooms begin to brown. Green beans will still be crunchy.
In the meantime, bring a pot of water to a boil.
Cook soba noodles until cooked through (about 5 minutes).
Strain noodles and rinse thoroughly under cold water.
In a large bowl toss noodles with sautéed mushrooms and green beans, green onion, cucumber, dressing, and garnish with sesame seeds.
This dish is good at either room temperature or cold.
Toasted sesame dressing
In a small bowl whisk together all of the ingredients for the sauce (rice wine vinegar, sesame oil, honey, soya, sauce, lime, green chili).
Sami Berger
Sami Berger is the author of My Second Breakfast, a mostly healthy, mostly vegetarian blog. Inspired by her travels and life in a new city, My Second Breakfast is a space to tell stories and experiment with sometimes new, sometimes familiar and most importantly, always delicious, flavours.