PARTNER POST — Grilling season is here and it is time to explore Italian grilling with authentic ingredients from Colavita.
Rather than turning on the oven this summer, make this easy homemade pizza dough that can be cooked on the grill and topped with crushed tomatoes, prosciutto, fresh arugula and a drizzle of white balsamic.
By Lyubomira Lsl
Click here to start grilling like an Italian and for a $1 off Colavita products or 15% off at their online store.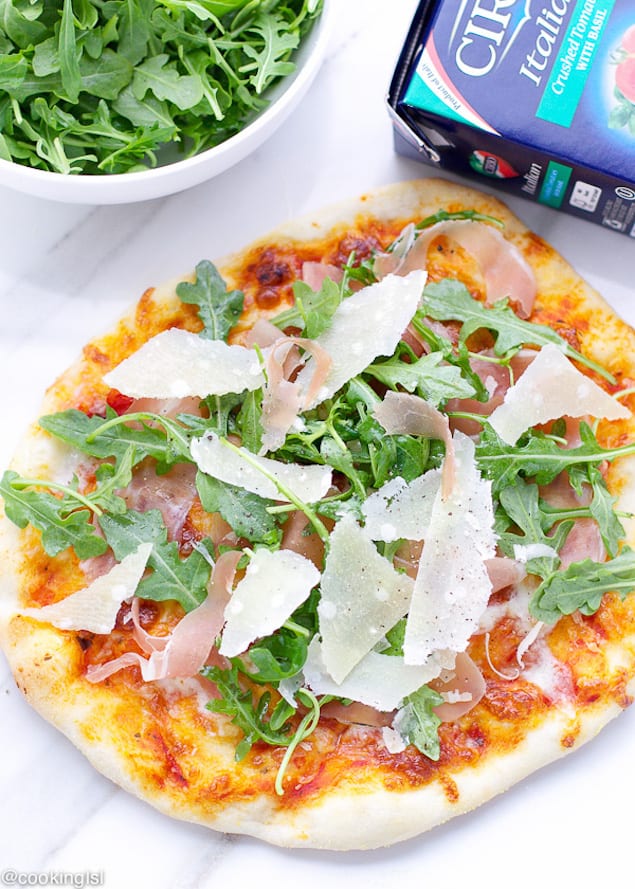 When I think of Italian cooking, I always think of pizza and pasta. For a summer grilling recipe – you can definitely grill a pizza on a pizza stone on the grill (or even without a stone).
I decided to make homemade pizza, made with cold rising pizza dough and cooked over a pizza stone on a grill.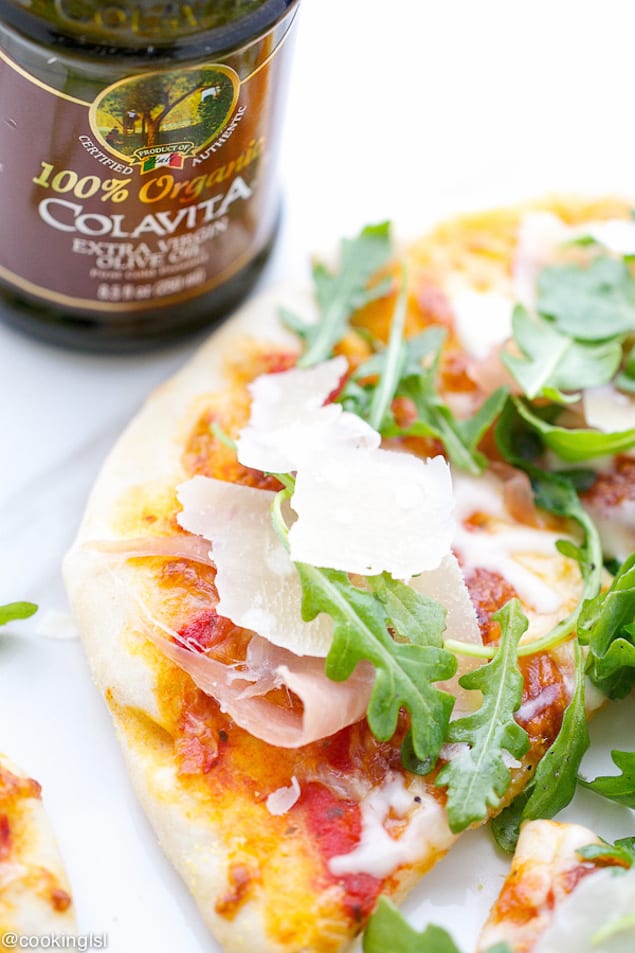 Colavita sent me their fine Italian "00" flour, which is just perfect for pizza, gnocchi and pasta. I made my favorite Neapolitan Style Pizza Dough with it. Their extra virgin organic olive oil worked great for brushing the dough and created a crispy crust. And the polenta I got, I used to dust my pizza peel.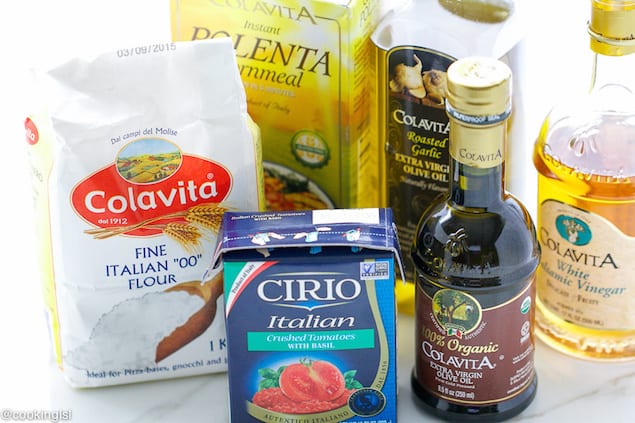 Colavita is an Italian brand, founded in the village of Sant'Elia a Pianisi, located in the Molise region of Italy, by the joining of two families. One family produced fine extra virgin olive oil from the local olives and the other milled durum wheat into semolina grain and to make fresh pasta for the village. As prominent producers in their area with the same name, Colavita, the two became one company and today make a variety of gourmet ingredients for Italian cooking.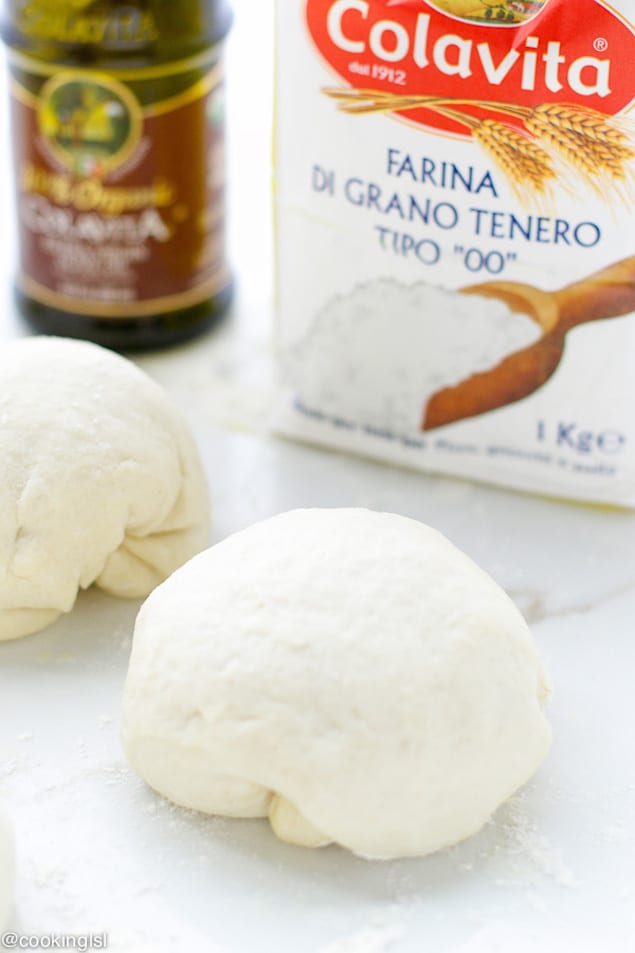 I also had some of their Cirio crushed tomatoes with basil, which by the way was in a carton, instead of a can, which I found pretty cool and convenient.
Their roasted garlic olive oil, white balsamic vinegar and salt and pepper were, what I used to lightly season the arugula I placed on top of the pizza.
This pizza is very easy to make and makes a quick and delicious summer meal.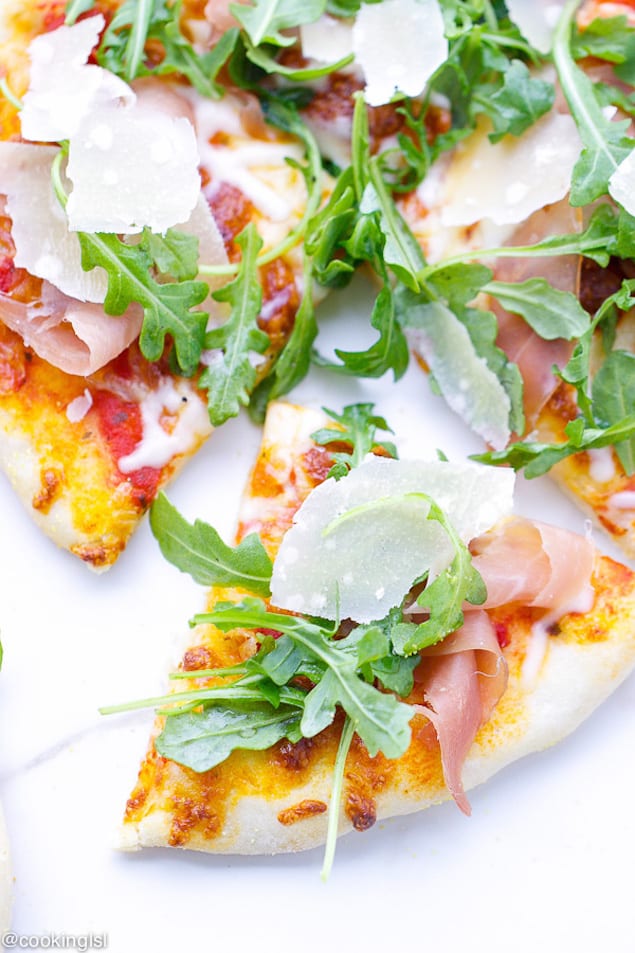 Grill Like an Italian with Colavita: Arugula and Prosciutto Pizza
Don't turn on the oven this summer, make this homemade prosciutto pizza with dough cooked on the grill and topped with tomatoes, arugula and white balsamic.
Cuisine:
Italian-Inspired
Ingredients
For the dough:
5 cups (22½ oz) Colavita gine Italian "00" flour
1¾ teaspoons salt
1 teaspoon dry yeast
1¾ plus 2 tablespoons cool water (65F)
2 tsp Colavita organic extra virgin olive oil for brushing the walls of the bowl and dough
For the Pizza:
1 carton Cirio crushed tomatoes with basil (3 tbsp per pizza)
1½ cups shredded mozzarella cheese (1/4 cup per pizza)
4 oz shaved Parmesan
18 thin sliced prosciutto of your choice
3 cups arugula, washed and dried
2-3 tbsp Colavita Roasted Garlic Olive Oil
2 tbsp Colavita White Balsamic Vinegar
salt and pepper to taste
Instructions
For the pizza dough:
In the bowl of a stand mixer (or a large metal bowl) stir all ingredients together until well combined. If using a stand mixer fit it with the hook attachment and mix on low for 4 minutes. The flour should form a coarse ball. Let the dough rest for 5 minutes , then mix on medium for 2 more minutes, or until the dough clears the sides of the bowl and sticks just a little to the bottom. If the dough is too soft and sticky mix in some flour, if it is too stiff add some more water.
Transfer the dough to a floured surface, dust the top with flour and working from four corners fold the dough into a ball. Place in a bowl, that has been brushed with olive oil and cover with plastic wrap. Let it sit at room temperature for 1 hour, to double its size. Then punch a hole in the dough, reshape, place in a bowl and refrigerate for at least 2 hours. Remove dough from the fridge 2 hours before using. Divide dough into 6 parts. Form 6 balls and brush them with olive oil.
To cook pizza on a gas grill, using an pizza stone:
Place a pizza stone on your grill. Close the cover. Preheat a gas grill to 425-450 F.
Once the grill has heated, assemble the pizzas. Depending on the size of your pizzas and stone, you may need to grill them one by one or two at a time.
Generously sprinkle a pizza peel with Colavita polenta.
Spread pizza dough over pizza peel. Add crushed tomatoes, leaving at least ½ inch around the edges. Top with mozzarella cheese.
Carefully transfer pizza to heated pizza stone. (You may need to use a spatula to help yourself.)
Grill pizza for 10-12 minutes, to the desired doneness. Outer edges should be brown, all around the crust.
Using a metal spatula, carefully loosen pizza, if it is stuck to the stone. With a pizza peel remove pizza and transfer to a cutting board.
Season arugula with roasted garlic olive oil, white balsamic vinegar, salt and pepper. Top pizza with prosciutto, Parmesan and seasoned arugula. Cut and serve.