If you don't feel like making the meringue and/or brittle, this custard is lovely on its own or with a dollop of whipped cream.
By Natasha Steinberg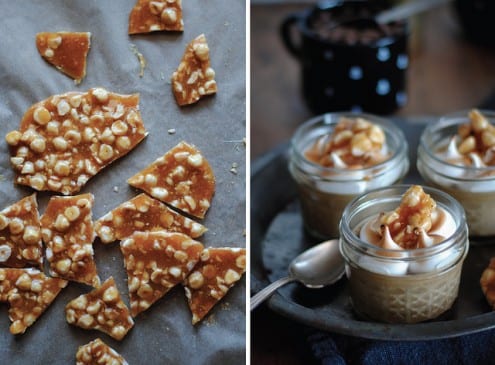 Print
Coffee Custard with Toasted Swiss Meringue Kisses and Hazelnut Brittle
If you don't feel like making the meringue and/or brittle, this custard is lovely on its own or with a dollop of whipped cream.
Author:

Natasha Steinberg

Prep Time:

1 hour

Cook Time:

1 hour

Total Time:

2 hours

Yield:

8

1

x
560

ml (2 1/3 cups) heavy cream

1

vanilla bean, split and scraped

26 g

(

1/4 cup

whole beans) good quality coffee, coarsely ground

6

egg yolks (reserve whites for the meringue)

115 g

(

1/2 cup

plus

1 Tbsp

.) granulated sugar
Swiss Meringue:
3

(90 g) egg whites

150 g

(

3/4 cup

) granulated sugar
Hazelnut Brittle:
200 g

(

1 cup

) granulated sugar

1/2 cup

hazelnuts, roughly chopped
Instructions
Preheat oven to 325 degrees F. Place 4-oz. jars or other similarly sized ramekins in a baking pan and set aside. Set a pot of water on the stove to heat.
In a large saucepan over medium heat, whisk cream and vanilla bean pod and seeds together. Heat the cream, stirring frequently, to the scalding point (about 180 degrees F). Meanwhile, in a large bowl, whisk yolks and sugar together until combined.
When the cream reaches the scalding point, lightly whisk in ground coffee and immediately reduce heat to simmer. Steep coffee for three and a half minutes, remove from heat, and pour through a fine mesh strainer into a small bowl. Whisking rapidly, slowly pour strained and still hot cream into the yolk mixture. Divide among the jars, filling to the bottom lip of each jar (about 2/3 full). Skim off any thick foam or bubbles from the tops with a spoon. (Although the coffee will cause the cream to have a natural thin foam on top, any thick foam that is left will result in an unpleasant spongy texture on top of the custard.)
Pull the middle rack of the oven out slightly and place the baking pan on it. Slowly pour the water that's been heating on the stove into the pan until slightly more than halfway up the sides of the jars. Bake for 20 minutes, rotate pan, and bake until custard is set but still shivering in the center, about 15 minutes.
Remove pan from oven and let cool for about 20 minutes or until jars are cool enough to be handled. Remove the jars from the water bath and place in the refrigerator to cool (I usually cover them with a clean, thin kitchen towel). Once bottom and sides of the jars are cool, cover with plastic wrap and chill another three hours or preferably overnight.
Using a large plain round tip, pipe Swiss meringue on top of custard, lifting upward as you pipe to form kisses. Toast the meringue with a kitchen torch. Cover and refrigerate until ready to serve.
Serve topped with a chunk or two of brittle. Custards will hold covered in the refrigerator about 3 days.
Swiss meringue:
Using a paper towel, wipe the bowl of a stand mixer, whisk attachment, and whisk with lemon juice and let dry. Place egg whites and sugar in the bowl and set over a pot of simmering water. Be sure the bottom of the bowl is not touching the water. Heat, whisking lightly and constantly, until mixture reaches 160 degrees F.
Dry the bottom of the bowl and transfer to the stand mixer fitted with the whisk attachment. Beat on medium-low speed for about a minute then increase speed to medium-high until meringue is thick, glossy, and holds stiff peaks, about 10 minutes.
This recipe makes more meringue than you need for the custards. Feel free to halve it, or eat/bake/makeapie with the extra.
Hazelnut brittle:
Line a baking sheet with a silicon baking mat (parchment will work too). Place sugar in a small saucepan and set over medium-high heat. When sugar starts to melt, begin stirring with a heatproof spatula. Continue stirring constantly until sugar is melted and deep amber in color (yay, you just made dry caramel!).
Add hazelnuts and stir to evenly coat. Immediately pour onto prepared baking sheet and spread into an even layer. (Be sure to work quickly after you add the nuts, as the caramel will begin to harden almost immediately.) Let cool completely then break the brittle into chunks.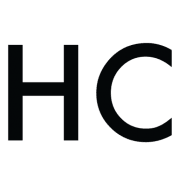 Natasha Steinberg
Natasha is a love-and-matriarch-taught maker of sweet things. She is passionate about using local and seasonal ingredients and making simple, satisfying sweets that make even the least of sweet tooths swoon. Although she is a native Texan, she currently resides in Atlanta where she is finishing up law school and documenting her sweet adventures through photos, recipes, and stories on her blog at tartletsweets.blogspot.com.