These coffee-infused oats with a rich dark chocolate and peanut butter filling with raspberries will make you excited to eat breakfast.
By Rebecca Doser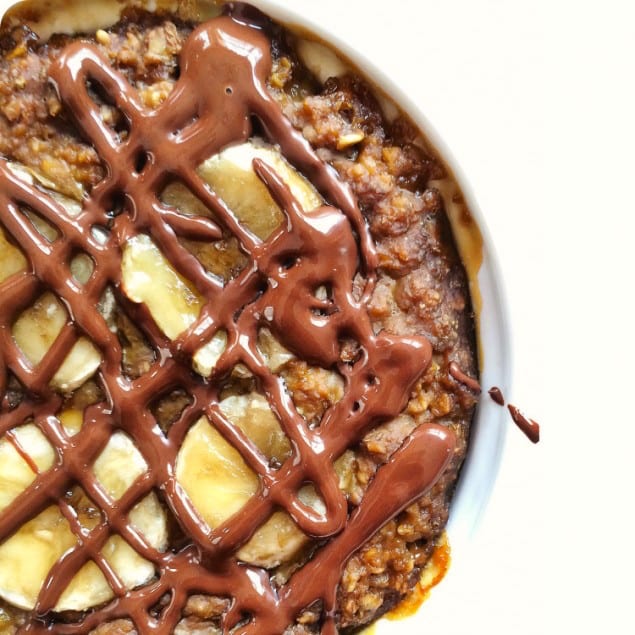 Coffee. Dark Chocolate. Raspberry. Peanut Butter. Need I say more?
This sweet and savory baked oatmeal is worth every single bite. I wanted to experiment with a new recipe in order to include a few of my favorite treats: coffee and chocolate. So, I decided to soak plain oats in coffee as opposed to cooking them with milk as I normally do. Then I figured I would make this baked oatmeal experiment even more delightful by adding a dark chocolate raspberry peanut butter filling in the middle. As a breakfast treat or a delectable dessert, this baked oatmeal is a guaranteed hit!
Coffee Baked Oats with Dark Chocolate Raspberry Filling
These coffee-infused oats with a savory and rich dark chocolate raspberry filling will make you crave for just one more bite.
Ingredients
½ cup old fashioned oats
6 tbsp. coffee
Half banana, mashed
1 tsp. vanilla extract
½ tsp. baking powder
Pinch of salt
2 tbsp. Dark Chocolate Raspberry Peanut Butter (from Red Bird Market) or any type of peanut butter, coconut butter or almond butter. If not using a chocolate peanut butter, consider adding cocoa powder or fresh raspberries or jam to taste.
Chocolate syrup or a handful of chocolate morsels, melted
Instructions
Preheat the oven to 350 degrees F. In a small cereal bowl mix together plain oats and coffee. Let soak for 5 minutes. Meanwhile mash ¼ of banana and 2 tbsp. peanut butter. Put in the freezer for about 2 minutes to chill.
Then add the other ¼ of a banana mashed, vanilla extract, baking powder, and salt to oatmeal mixture. Mix well. In a small ramekin spoon half of the oatmeal mixture. Remove peanut butter mixture from freezer and spoon into the middle of the ramekin, then top with remaining oatmeal mixture.
Place a few cut up banana slices atop your oatmeal and bake in the oven for 20 minutes. Use a chocolate syrup or melt a handful of chocolate morsels in the microwave and drizzle atop your oatmeal. Bon appétit!
Rebecca Doser
Rebecca Doser, a resident of Penfield, NY, is the face behind Breakfastwithbex. This English Major at St. Lawrence University has a passion for journalism, punny captions and creating delicious breakfast dishes, which she shares on her Instagram account (@breakfastwithbex) and blog (breakfastwithbex.com).