A touch of cayenne pepper balances out the sweetness of these ice pops for a more complex flavor profile than your typical frozen treat.
By Brittany Everett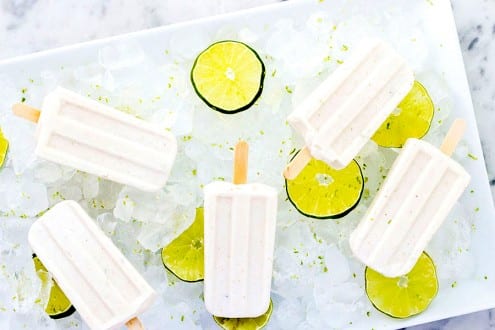 Coconut Lime Popsicles with a Kick
A touch of cayenne pepper balances out the sweetness of these ice pops for a more complex flavor profile than your typical frozen treat.
Ingredients
14 ounce can whole coconut milk
¾ cup whole milk
½ cup sweetened condensed milk
¼ cup lime juice
1 teaspoon lime zest
½ teaspoon cayenne pepper
Tiny pinch of fine grain salt
Instructions
Whisk all the ingredients in a medium bowl until well combined. Pour into your popsicle mold and add the sticks after an hour. After about 4 hours freezing time, remove pops from the mold and try to eat just one!
Brittany Everett
A graphic designer by day, Brittany enjoys cooking, eating, photographing and discussing food with every other waking moment. She created Kitchenette, a food blog dedicated to making delicious comfort foods from scratch and with love.