Nandita Nataraj overcomes her fear of fudge with this lovely recipe that turns out both moist and chewy.
Text And Photo By Nandita Nataraj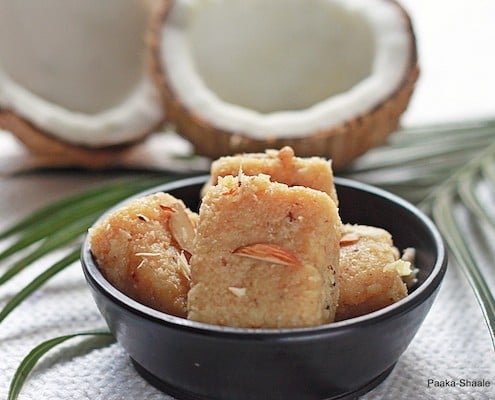 Traditional fudge recipes have always intimidated me. Even though I have always loved coconut fudge, I had never tried making the traditional fudge before. It has always seemed to be a bit too sweet for my taste. And meddling with quantity of sugar can ruin the texture of the fudge. How ever, everything changed when I tasted this version of the coconut fudge at a friend's place. I immidiately asked her for the recipe which she was glad to share.
I decided to make this at the next available opportunity. I followed the recipe verbatim without making any changes. Needless to say I was rewarded with wonderfully chewy and moist coconut fudge. The wonderful thing about the dish is, it uses some sparse ingredients, it is so simple to prepare and yet, it has the elegance of taste.

An elegant sweet dish prepared using coconut and condensed milk and flavored with cardamom and saffron
Ingredients
Fresh or frozen grated coconut- 5 cups or 42 Oz
Condensed milk- 1 can or 14Oz
Cream- ½ cup or 4Oz
Cardamom- 6, ground to a powder in mortar and pestle
Saffron- ¼tsp
Warm Milk- 1tbsp
Clarified butter- 2tsp
Almonds- 8-10, slivered (optional)
Instructions
Grease a rimmed plate with clarified butter and keep it aside.
Add the saffron strands to the warm milk and crush it between your fingers so the flavor and the color is released
Mix the shredded coconut and the cream and let it stand for half an hour
Heat a wok and add the coconut cream mixture and fry till the moisture is absorbed
Add the powdered cardamom, saffron mixture and the condensed milk and mix.
Keep mixing the contents for 10-15mins till the mixture starts leaving the sides and a lump is formed.
At this point, take off the heat and tip the contents onto the greased plate and spread with a spatula
Sprinkle the slivered almonds and Allow the mixture to cool completely. Cut into desired shapes and Store in an air tight container.
Nandita Nataraj
Nandita was born, bred and spread in India, but right now lives in Tanzania where her quest for simple and exotic pleasures of food led to the creation of the blog Paaka-Shaale. She believes that food is not just a means to feed a body. But it is also meant to appeal the mind and satiate the soul.