This stir-fried South Indiana starter will satisfy seafood lovers in a more unexpected way than the typical crab cake.
By Anita Mokashi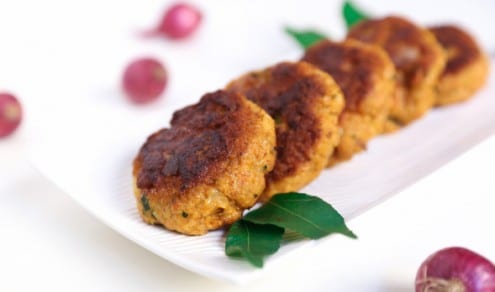 Coconut and Prawn Patties
This stir-fried South Indiana starter will satisfy seafood lovers in a more unexpected way than the typical crabcake.
Ingredients
Shelled, deveined raw Prawns- 1 cup (cut the prawns in small pieces)
Grated Coconut- ½ cup
Shallots- 5
Ginger- ¼? piece
Curry leaves- 3-4 leaves
Garlic- 2 cloves
Green chillies- 1 or 2 (according to your heat tolerance)
Turmeric powder- ⅛th teaspoon
Garam Masala- 1 tbsp
Breadcups- 1 cup
Salt- to taste
Instructions
Mix all ingredients except breadcrumbs together and blend them well in a blender.
Add breadcrumbs so that the cutlets will bind well.
Wet your palms and take a small portion from the mixture and make cutlets.
Shallow fry in hot oil till golden brown on either side.
Remove the cutlets on paper towels and soak the extra oil out of them.
Serve hot with ketchup
Anita Mokashi
Anita Mokashi is based in California, but born and brought up in Mumbai, India. Her blog Crave Cook Click is mostly about Indian cooking, but occasionally she shares recipes from other cultures and cuisines too. Anita is also the publisher of a popular photography blog.