These are tender cake-style brownies with a little crisp crust. Decadent and super delicious.
By Zita Nagy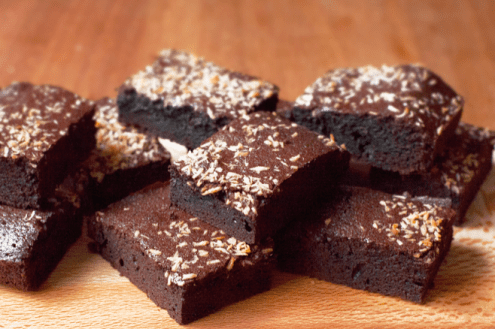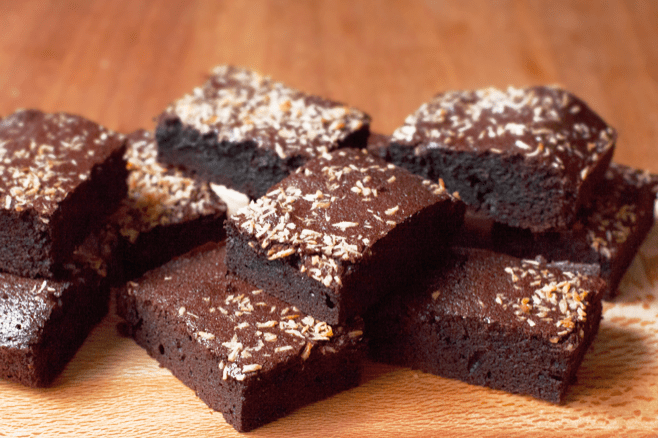 Coco-Cocoa Brownies
These are tender cake-style brownies with a little crisp crust. Decadent and super delicious.
Author:
Zita Nagy, adapted from Emma who writes the wonderful dessert blog Poires au Chocolat.
Ingredients
- 200 g light brown sugar
- 130 g coconut oil
- 65 g quality unsweetened cocoa powder
- ½ teaspoon vanilla extract or paste
- ¼ teaspoon fine sea salt
- 2 eggs, cold from the fridge
- 65 g plain flour
- 1 tablespoon of toasted shredded coconut or handful of toasted coconut strips
Instructions
Preheat the oven to 160C/325F. Line an 8? square tin with greased foil or baking parchment.
Place the sugar, solid oil, cocoa powder, vanilla and salt into a bowl and suspend it over a pan of barely simmering water. Stir together as it melts and keep heating until the mixture is uniform and hot to the touch. Sit aside to cool until the mixture is lukewarm.
Once the mix has cooled, beat in the eggs one by one, then stir in the flour. Beat for forty strokes – when you're done, it should be silky, thick and generally glorious. Pour into the tin and sprinkle with the toasted coconut. Bake for 20-25 minutes until set and risen a little. Leave to cool then slice into bars.