A good cocktail in a new city is a must, but the added bonus of an outstanding view makes the drinks taste that much better. Here are a few of our favorite views around the world to marvel and be impressed by as you sip your drinks.
By Annelise McAuliffe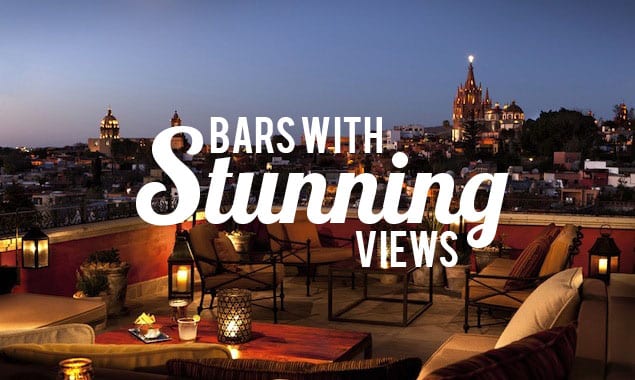 A good cocktail is a must, but a bonus of an outstanding view makes the drinks taste that much better. Here are a few of our favorite views around the world to marvel and be impressed by as we sip our drinks. For the best chance of enjoying these popular hangouts, arrive early in the evening to secure a table and plan on staying late to enjoy the night sky.
Brooklyn, New york: Wythe Hotel at The Ides
Enjoy this panoramic view of Manhattan outside on a warm weeknight for a quieter crowd, but be prepared for tourists. With decent beer menu and plenty of champagne cocktails, escape Manhattan and mingle with the Williamsburg crowd for a change. You may even spot a celebrity. The Ides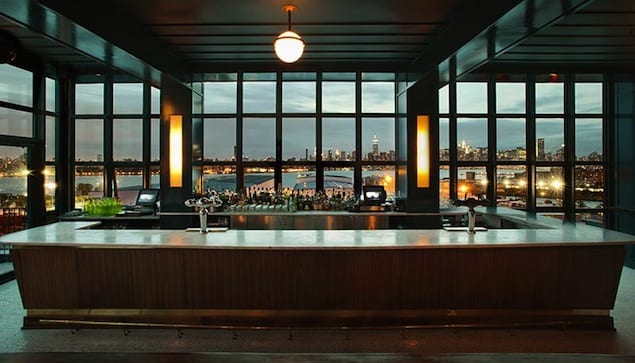 elenaarsenoglou.com
Sydney, Australia: The Glenmore Hotel
From the roof, you can find the perfect perch to ogle the opera house and the surrounding harbor. Open rain or shine, this bar also serves traditional Aussie food. Order a signature mix Rooftop Jug for the table and save your money from the expensive cocktails. The Glenmore
www.theglenmore.com.au
London, England: Trafalgar Hotel
This bar is situated above the bustling Trafalgar Square. Be sure to go when there is nice weather as there are not umbrellas of coverings atop this bar. Drink are priced at a premium, but food is reasonable priced as you enjoy the surroundings. Trafalgar Hotel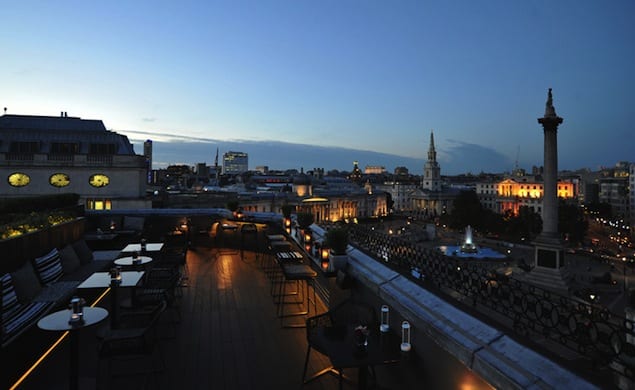 www.weekendnotes.co.uk
San Miguel Dd Allende, Mexico: Luna Rooftop Tapas Bar
Relax in the modern atmosphere on top of the Rosewood Hotel while overlooking the city of rich color and history. Authentic cocktails and a variety of tapas are served throughout the day. Luna Rooftop Tapas Bar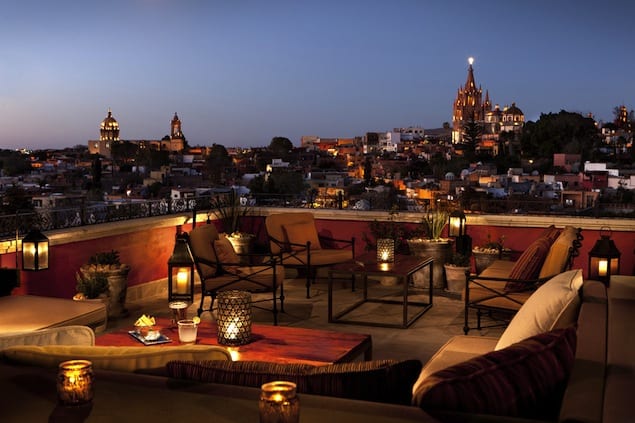 news.distractify.com
Mumbai, India: Aer
Enjoy the view of the trendy bar that sits atop the Four Seasons. Enjoy small plates of food while you listen to music or the DJ of the evening. Aer is the highest bar in the city, so you are guaranteed the best perch. Aer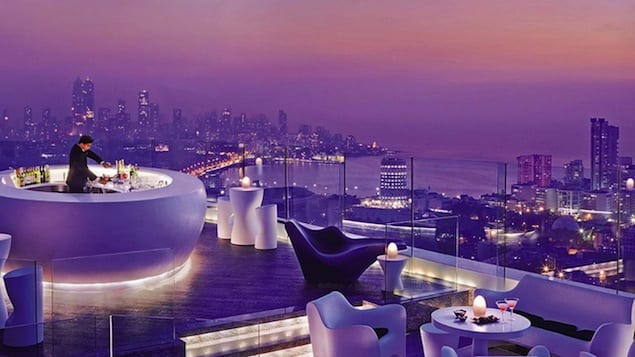 http://www.fourseasons.com
Bangkok, Thailand: Sky Bar and Sirocco
Nearly neighbors, either choice of venues would capture a beautiful view of the city from their heights. Sirocco is the highest eatery of the city that adds the tunes nightly jazz to the atmosphere. Make sure you have a reservation to eat here. Sky Bar, with its changing colors, awarded cocktails, and almost invisible rails, makes you feel as if you are floating above the bright city. Sky Bar and Sirocco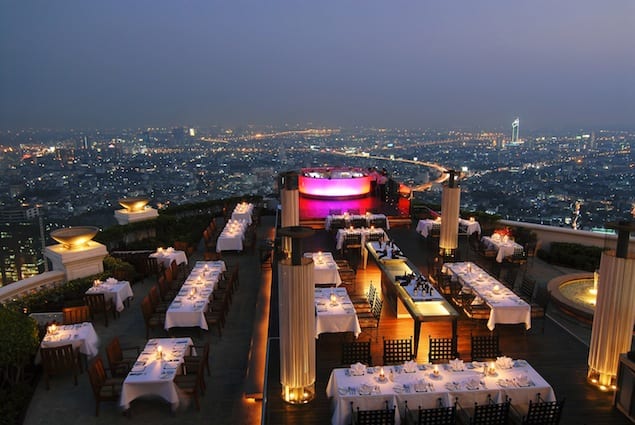 skyscrapersight.wordpress.com
Tokyo, Japan: The Gate Hotel Kaminarimon Restaurant & Bar
This hotel seems to have a quieter following and hopefully less of a wait, too. Enjoy their reasonably priced cocktails and menu of French-bistro foods. Inside the roof seating or out on the terrace, you will have one of the best views of Asakusa and the Sky Tree Tower. The Gate Hotel Kaminarimon Restaurant & Bar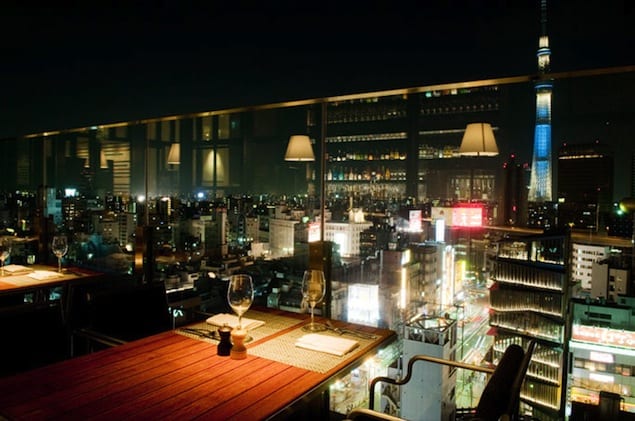 www.gate-hotel.jp
See Also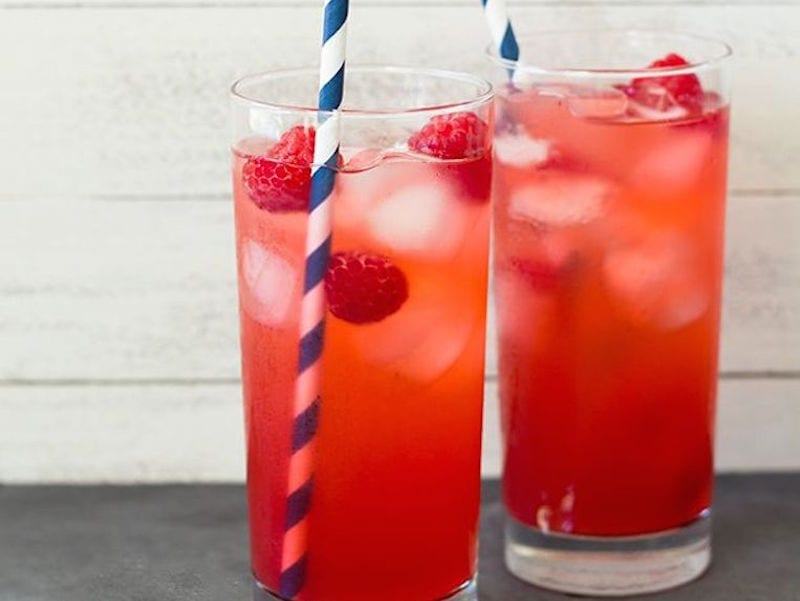 Athens, Greece: GB Roof Garden Bar
With the historic Acropolis and the reconstructed Olympic Kalimarmaro Stadium in the background, the Hotel Grande Bretagne's rooftop is nothing short of spectacular. Award-winning Chef Asterios Koustoudis has created a Mediterranean menu with a thorough beverage selection. GB Roof Garden Bar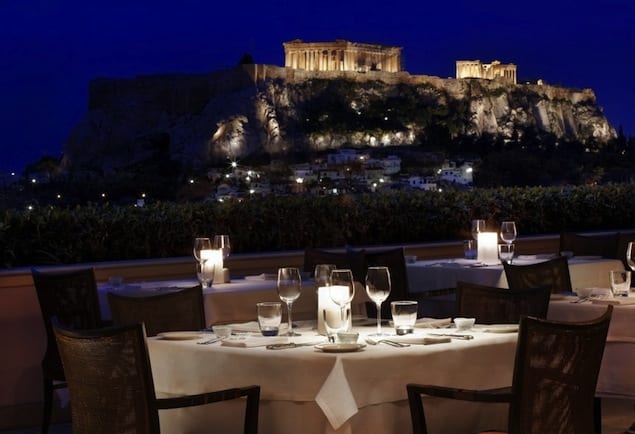 www.gbroofgarden.gr
Chamonix, France: Le Panoramique
Open from June 15th to September 15th, it would not be foolish to plan a trip around these dates. With Mont Blanc providing exquisite scenery, it is easy to get to this rooftop and enjoy the typical food and drinks from Chamonix Mont-Blanc. Le Panoramique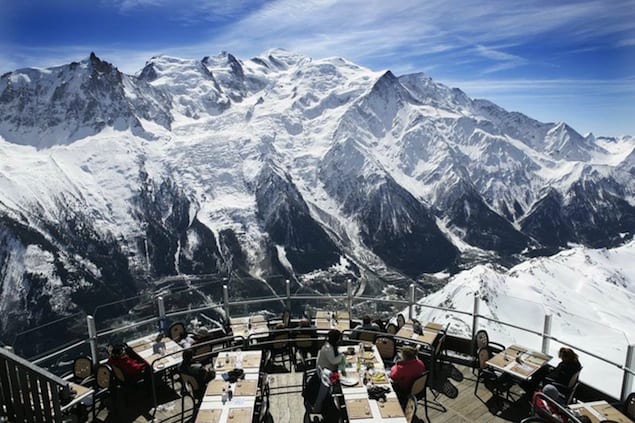 amareno.com
Florence, Italy: La Terraza Bar
Come to this rooftop for morning yoga and stay for an evening drink. Located on the Arno River and in view of Palazzo Vecchio, La Terraza is a fashionable spot for before or after dinner drinks, even on a cool night. La Terraza Bar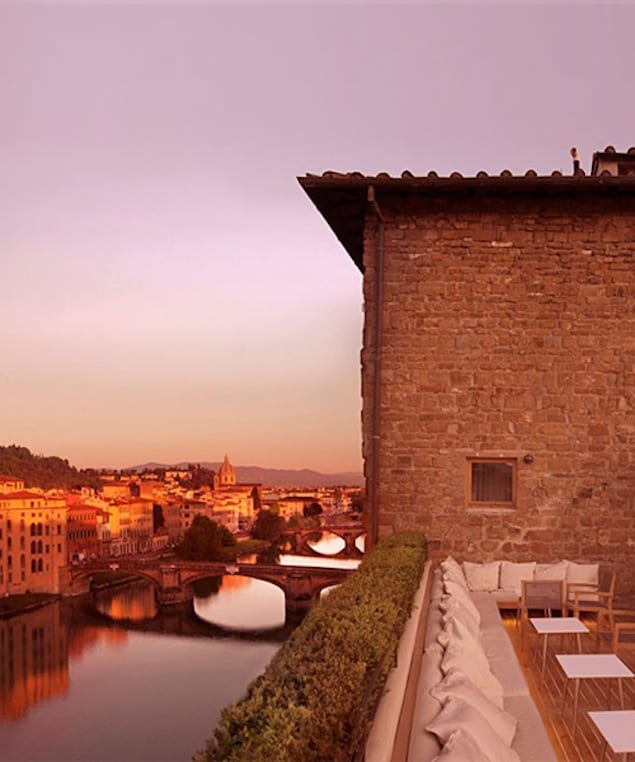 erikabrechtel.com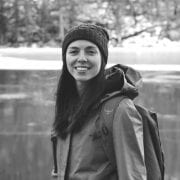 Annelise McAuliffe
Mandatory family outings to the Detroit farmers' market and nightly home-cooked meals cultivated Annelise's respect and curiosity for food. A graduate of The Culinary Institute of America, she spends her free time in New York City recipe testing, eating breakfast all day, and dreaming up international culinary adventures.