PARTNER POST – Get inspired with creatively crafted Castello Blue Cheese as we celebrate a Summer of Blue with #BluesdayTuesday.
This juicy burger is loaded to the max with classic Cobb Salad ingredients, including melty blue brie cheese.
By Courtney Rowland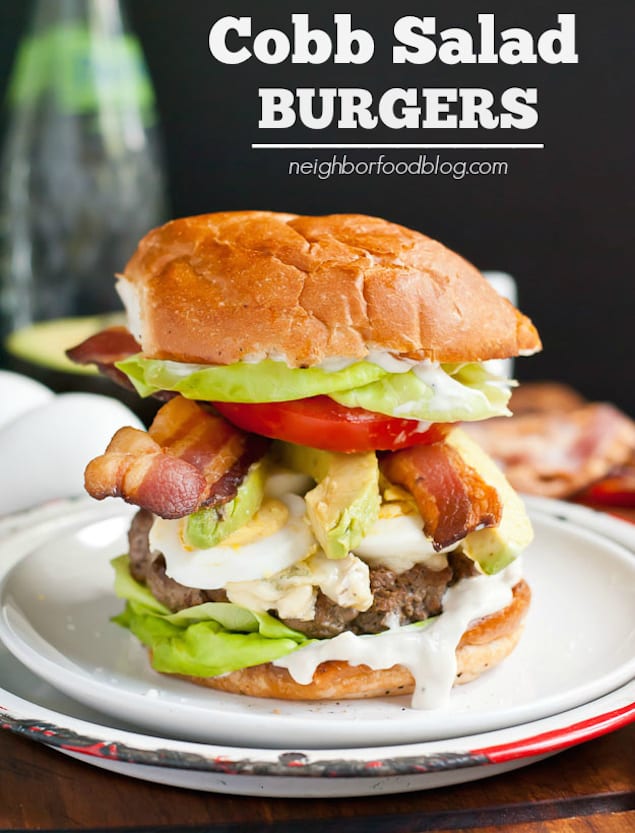 I think the Cobb Salad was created for salad haters. Greens are hidden under a pile of bacon, hard boiled eggs, avocado, and blue cheese dressing for a sneaky salad.
Still, I know there are those who think even the Cobb Salad lacks in the meat department. If that's you, this burger is your dream come true. It takes everything we know and love about the Cobb Salad and piles it on to a juicy burger.
To call this burger loaded would be an understatement. This burger is filthy rich.
A lot of the elements of this burger have become fairly standard in today's gourmet burger world. Bacon (a classic), avocado (thanks, California!), lettuce (necessary, it is a salad burger, after all), and tomato (it's summer which means tomatoes should be included in every meal).
I feel it's when we get to the hard boiled egg that I might start to lose a few of you, but here me out on this one. Have you put a fried egg on a burger before? It's amazing, right? This is the same idea, but with a different texture. I actually really enjoyed this particular part of the burger, so don't skip it!
See Also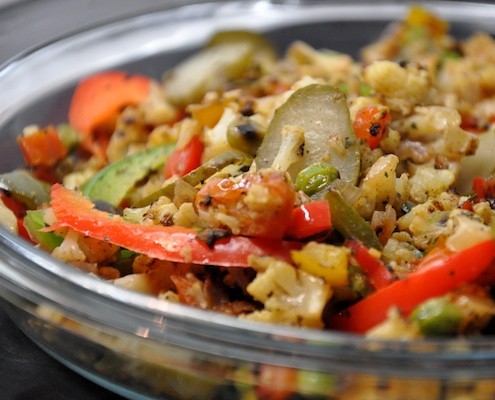 The finishing touch is a double dose of blue cheese. The first hit comes from Castello's Saga Blue Brie Cheese. This cheese is a fantastic mash up of classic blue cheese and brie. It has all the pungent flavor of blue cheese combined with the creamy, melty goodness of brie. It's perfect for melting on burgers, spreading on crackers, or eating directly off of a knife.
The second burst of blue cheese comes from classic blue cheese dressing slathered on the bun in place of mayo or ketchup or any other more traditional burger condiment.
Every messy, drippy, melty, juicy bite is well worth it. Just grab some napkins and leave your dignity at the door.

Castello Summer of Blue — The Cobb Salad Burger
This juicy burger is loaded to the max with classic Cobb Salad ingredients, including melty blue brie cheese.
Ingredients
8 strips bacon
3 eggs
1½ lbs. ground beef
1½ teaspoons Kosher salt
¾ teaspoon fresh ground black pepper
1 teaspoon minced garlic
¾ teaspoon onion powder
1½ Tablespoons Worcestershire
5 ounces Castello's Sage Blue Brie Cheese
½ a red onion, sliced in rings
5 leaves of lettuce
5 thick slices of tomato
1 avocado, sliced
⅓ cup blue cheese dressing
5 hamburger buns
Instructions
First, prepare the bacon by frying on the stove top until crispy. Remove from heat and place the bacon on a paper towel lined plate to dry.
Prepare the hard boiled eggs. Place the eggs in the bottom of a large pot and fill it with cold water. (Note: when I make hard boiled eggs, I always make more than I'll need for the recipe. They're great in salads or on sandwiches later in the week!). Place on the stove top, cover, and bring to a boil over high heat. Remove from heat and allow to sit, covered, for 12 minutes. Drain, rinse with cold water to stop cooking, then peel and slice.
For the burgers, use your hands to gently combine the ground beef, salt, pepper, garlic, onion powder, and Worcestershire in a medium sized mixing bowl. Form into 5 patties, placing a dent with your thumb in the center of each one.
Heat a drizzle of olive oil in a cast iron skillet over medium high heat. When the oil is shimmering, add the beef patties. Cook for 3-4 minutes on the first side, flip, then add an ounce of cheese to each patty, allowing it to melt while the other side cooks an additional 3 minutes, or to desired doneness. Remove from heat.
To assemble, spread a spoonful of blue cheese dressing on the bottom of each of the buns. Top with the burger patty, a few slices of egg, avocado, and red onion, 2 strips of bacon, lettuce, and tomato. Finish with additional blue cheese dressing if desired. Serve immediately.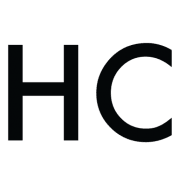 Courtney Rowland
Courtney is the author, photographer, and flour dusted girl behind the blog NeighborFood. She believes in using real butter, in season produce, and mismatched plates. She loves gathering people at the table and sharing stories, spills, and the occasional corny jokes.