The stomach can help you decide not only which local restaurants and delicacies you should experience but it can also dictate which city you do it in. Let your stomach direct you to Portland, a formidable food city that has built a reputation for incredible farm to table dining.
By Jenny Nguyen Barron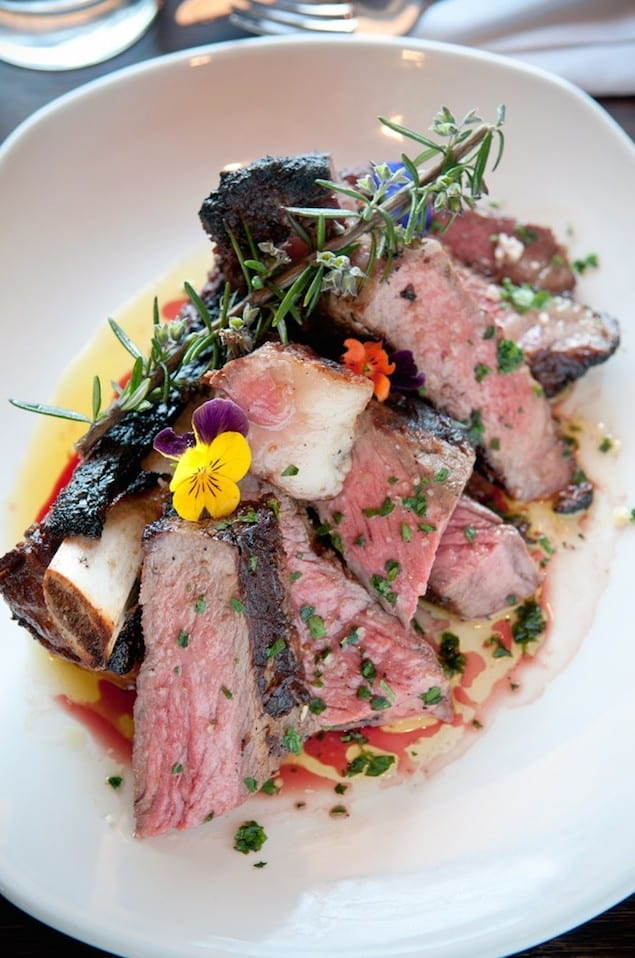 It's always been a strong opinion of mine that travel planning is an activity best left to the stomach. The stomach can help you decide not only which local restaurants and delicacies you should experience but it can also dictate which city you do it in. Lately mine has been directing me towards Portland, a formidable food city that has built a reputation for incredible farm to table dining and is widely agreed to be one of America's best food cities.
"It's the city that never stops eating" says Jen Stevenson, Portland restaurant expert and Melting Butter's latest city curator.
I discovered Jen through her latest book Portland's 100 Best Places To Stuff Your Faces, a lovingly-curated insider's guidebook to the most delicious, delightful & unique dining experiences in PDX. It was the book's beautiful illustration and design that first intrigued me and then flipping through I realized that Jen, who also writes for Eater, Zagat, The Oregonian as well as her own Portland food blog Under The Table With Jen, is clearly someone who understands good food and knows Portland's restaurant scene inside out.
For this edition, I gave Jen the challenging task of selecting the 10 best Portland restaurants from the 100 she's already painstakingly curated for her book and lets just say she was famished by the end of it!
JEN STEVENSON'S 10 BEST PLACES TO STUFF YOUR FACES IN PORTLAND
Portland's a ridiculously delicious town, so it's hard to choose just 10 favorite places to stuff your faces, but visiting these will give you a well-rounded taste of the city, plus take you to some of Portland's most unique and charming neighborhoods.
1. LOVELY'S FIFTY FIFTY
This sweet, sisters-owned little pizzeria on buzzy North Mississippi Avenue is a lively neighborhood melting pot where you'll always find top-notch eats and people watching. Dig into remarkable wood-fired pizzas like the braised fennel with capicola, pistachios and fennel pollen, and don't miss the super creamy housemade ice creams, all made with fresh seasonal produce straight from the farmers' market.
http://lovelysfiftyfifty.wordpress.com
4039 N Mississippi Ave, Portland, OR 97217, United States
(503) 281-4060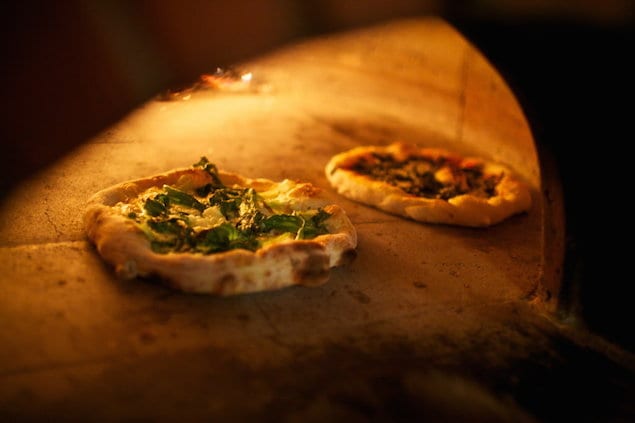 Photo The Oregonian
2. OLYMPIC PROVISIONS, SOUTHEAST
This romantic rustic-chic restaurant hides in a renovated cereal mill deep in Portland's Southeast industrial district, so finding it seems like an adventure, and you can reward yourself with something off the superlative wine list and some of OP's famous charcuterie. They're known for their meat, but I've never met a vegetable dish I didn't love here, so herbivores shouldn't shy away.
http://www.olympicprovisions.com/
107 Southeast Washington Street, Portland, OR 97214, United States
(503) 954-3663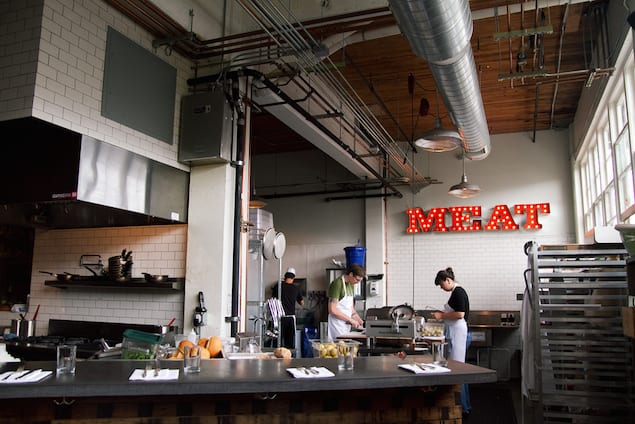 Photo: Robyn Lee
3. SWEEDEEDEE
As fun to say as it is cute, funky, and downright delicious, this petite light-filled cafe bewitches brunchers with a sweets case filled with gooey pecan sticky buns and blueberry cornmeal muffins, hot cups of Extracto coffee served in mismatched crockery, and hearty plates like the incredible avocado toast and tender corncakes with bacon and braised greens. Please, please, please don't leave without a slice of the ethereal homemade honey pie.
http://www.sweedeedee.com/
5202 N Albina Ave, Portland, OR 97217, United States
(503) 946-8087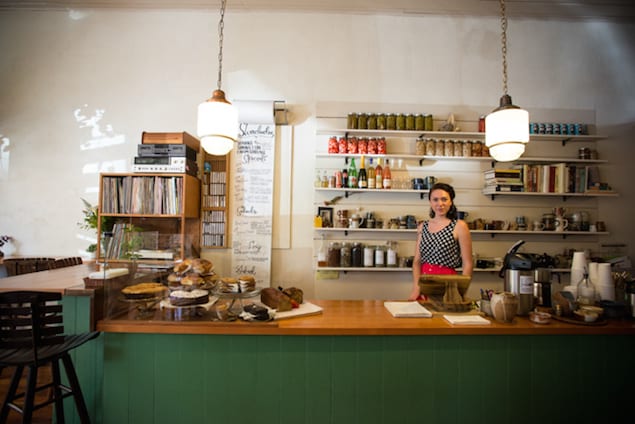 Photo: Leeksoupblog.com
4. CYRIL'S
Clay Pigeon Winery winemaker Michael Claypool and author/former affineur Sasha Davies unite their respective passions in this handsome Central Southeast urban winery and restaurant, so you can do some serious wine and cheese tasting here. The menu also offers simple, comforting foods like made-to-order gougeres, a rich Monger's mac 'n cheese, and some of the very best salads and desserts in town. If it's fair weather, eat on the beautiful hidden patio, then play a few games of bocce after dessert.
http://cyrilspdx.com/
815 SE Oak St, Portland, OR 97214, United States
(503) 206-7862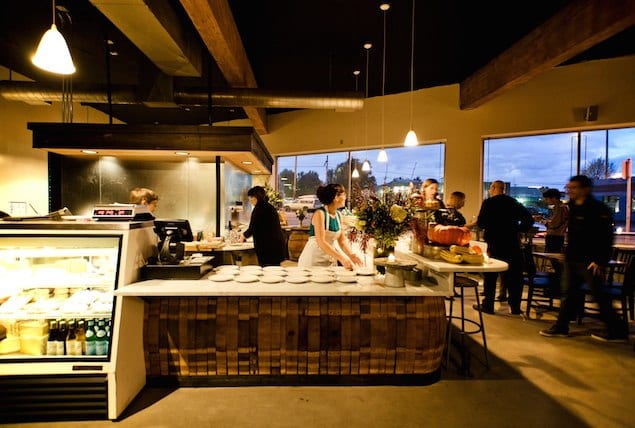 Photo: Courtesy of Cyril's
5. CACAO
This gorgeous store in downtown Portland's fashionable West End district is a temple to the Supreme Bean, with a selection of chocolate bars, barks, bon bons and sauces that would move an Oompa Loompa to tears. The drinking chocolates are otherworldy, and for $6 you can get a shot of all three—milk, dark and a spicy dark spiked with cayenne, ginger and smoked paprika. I'm really not being dramatic when I say it will change your life.
https://cacaodrinkchocolate.com/
414 SW 13th Ave, Portland, OR 97205, United States
(503) 241-0656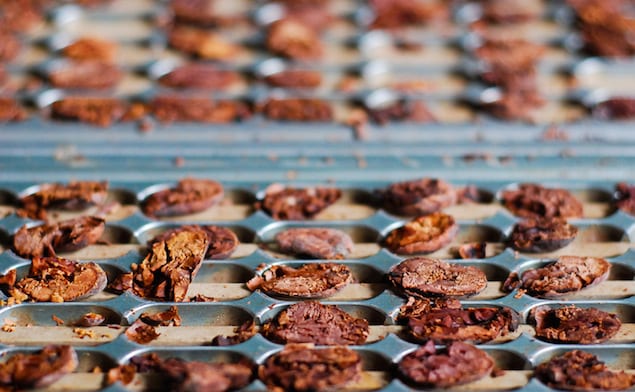 Photo: Punchdrink.com
6. OX
You'll be hard-pressed to find a better meal or more convivial atmosphere than at this beautiful NE Portland restaurant, be you at the counter facing the wood-fired grill, or in a cozy half booth by the bustling bar. Ox has a meaty rep (and at first bite of the skirt steak and lamb chop, you'll understand why), but you could easily eat entirely off the substantial "from the garden" section, and many dishes are gluten free, including one of the best desserts, a warm hazelnut brown butter torte served with honey chamomile ice cream. It's easy to see why Food & Wine magazine named chef/owners Greg Denton and Gabrielle Quinonez Denton as Best New Chefs 2014.
http://oxpdx.com/
2225 NE Martin Luther King Jr Blvd, Portland, OR 97212, United States
(503) 284-3366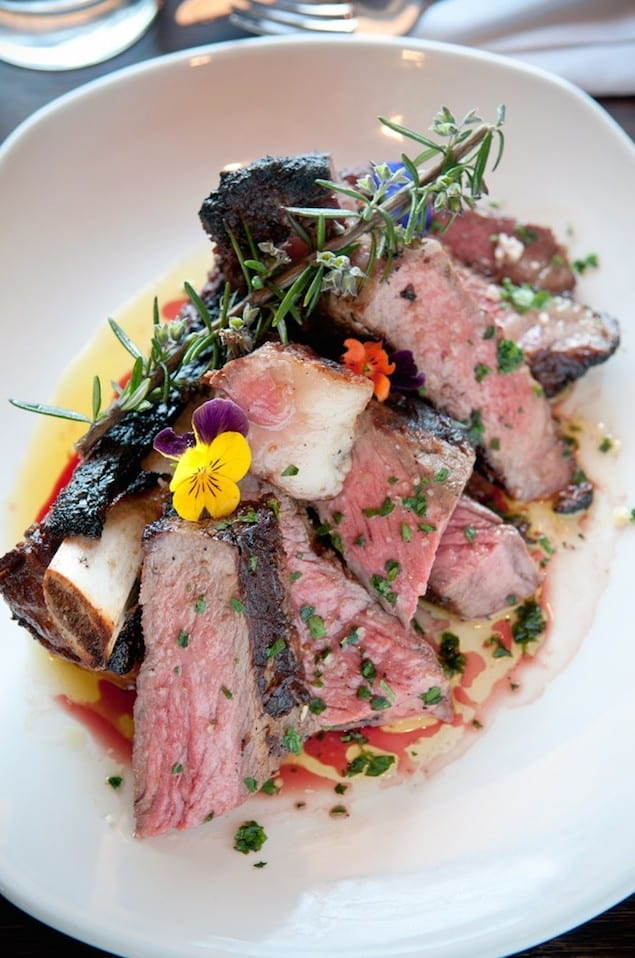 Photo: Courtesy of Ox
7. POD 28
Your tour de Portland isn't complete without eating your way through a food cart pod (to the cart layperson, pods are just collections of carts that congregate in one spot), and Pod 28 has something for everyone. Get a Mason jar of beer poured right out of the taps stuck in the side of the Captured by Porches beer bus, chow down on hip Guero's supremely fresh, tasty tortas, try Wolf n Bear's unique Iraqi/Israeli-influenced Middle Eastern fare, or get one of iconic Grilled Cheese Grill's formidable sandwiches. If you're craving Italian, my favorite cart of all is Burrasca, where Florentine transplant Paolo Calamai makes homemade ribollita, wild boar pappardelle, and salsa verde-slathered pork loin paninos on homemade Tuscan-style rolls so authentic (read: saltless), you're instantly transported to Italy.
http://burrascapdx.com
SE 28th and Ankeny (113 SE 28th Avenue), Portland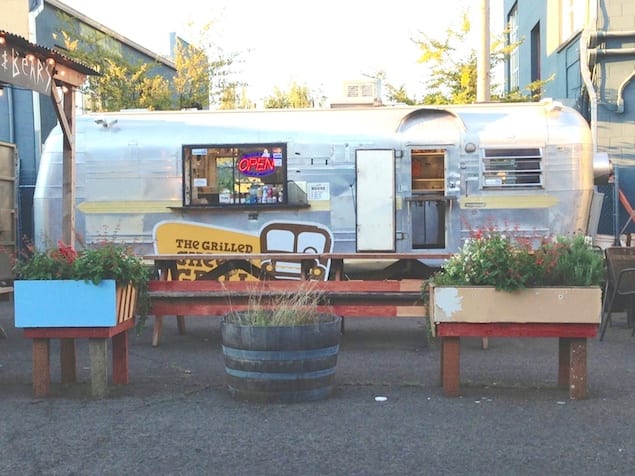 8. BRODER NORD
This comely new North Portland sister restaurant to beloved Café Broder is just the place to inhale Swedish breakfast boards, smoked trout hash, and just-baked abelskiver–pleasantly dense little pancake orbs accompanied by tiny dipping bowls of lemon curd, lingonberry jam and maple syrup. The grapefruit mimosas are the perfect balance of freshly squeezed citrus and sparkling wine, and during peak brunch times, they definitely help ease the wait for a table.
http://www.broderpdx.com/
2240 N Interstate Ave, Portland, OR 97227, United States
(503) 282-5555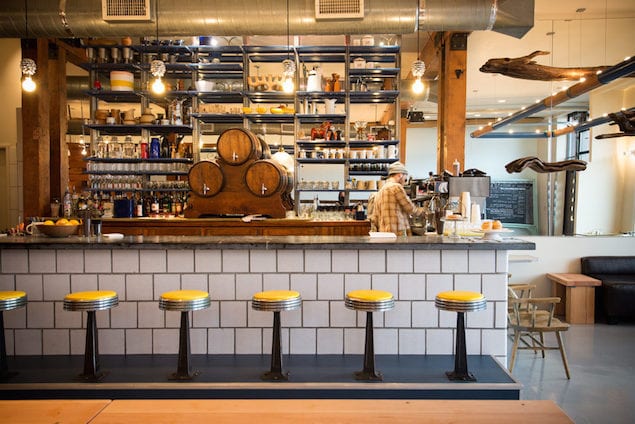 Photo: Eater
9. CHEESE BAR
The wedge and wheel crowd happily make the trek to Southeast Portland's sleepy Mt. Tabor neighborhood just to hang out at legendary cheesemonger Steve Jones' charming little Cheese Bar, and you'll see why when you've walked in and laid eyes on his perfectly curated cheese case. Settle in with a bottle of wine and cheese and charcuterie boards, or get picnic provisions to go and head over to gorgeous Mt. Tabor Park. If you're around on Thursday night, Steve hosts free wine and cheese tastings from 5:30-7:30.
http://www.cheese-bar.com/
6031 SE Belmont St, Portland, OR 97215
(503) 222-6014
Photo: Courtesy of Cheese Bar
10. KACHKA
Kachka opened after Best Places To Stuff Your Faces came out, but I have to include it because it's already one of my very favorite Portland restaurants. It's love at first sight, thanks to the charming DIY touches—bright orange and white oilcloths on the tables, ornate Russian-style woodwork, eclectic artwork and family photos, elegant vintage samovars. You should absolutely opt into the Ruskie Zakuski experience (a fun sampling of the entire cold appetizers section of the menu), get your Siberian dumplings with fancy broth, and for dessert, order the delicate Russian ice cream sandwiches served with black tea caramel for dipping. Vodka lovers, heed the menu's drinking advice: "fill everyone's glass with their beverage of choice (like vodka, or maybe vodka)," which is easy considering there are over 50 local and international vodkas to choose from, served by the shot or glass.
http://kachkapdx.com/
720 SE Grand Ave, Portland, OR 97214, United States
(503) 235-0059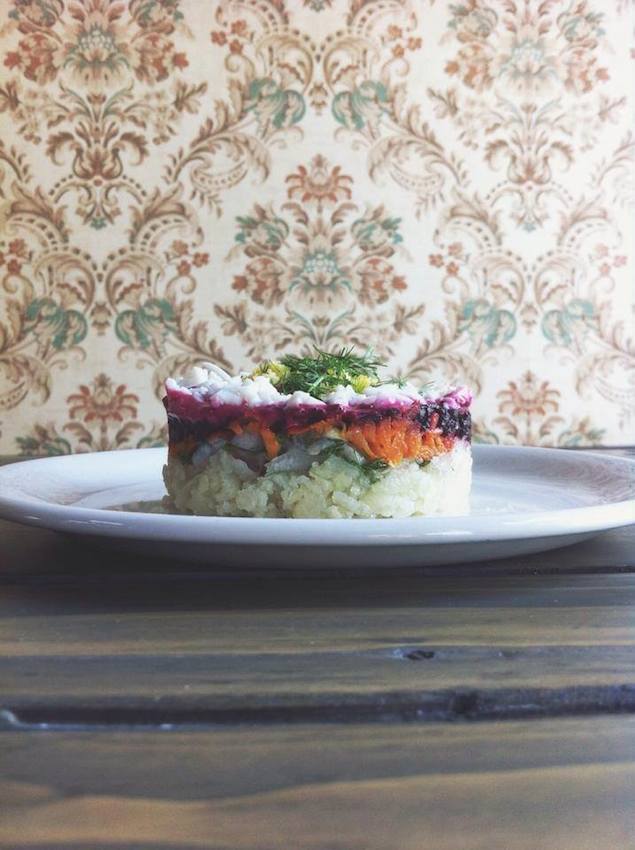 Photo: Courtesy of Kachka
Jenny Nguyen-Barron
Founding editor of Melting Butter, the online destination for curated hotspots in NYC & around the world. Freelance travel, food and fashion writer published in ForbesLife, National Geographic Traveler Magazine, Gotham Magazine, JBF Taste among others.