Warm your appetite with a bowl of this citrusy lentil soup.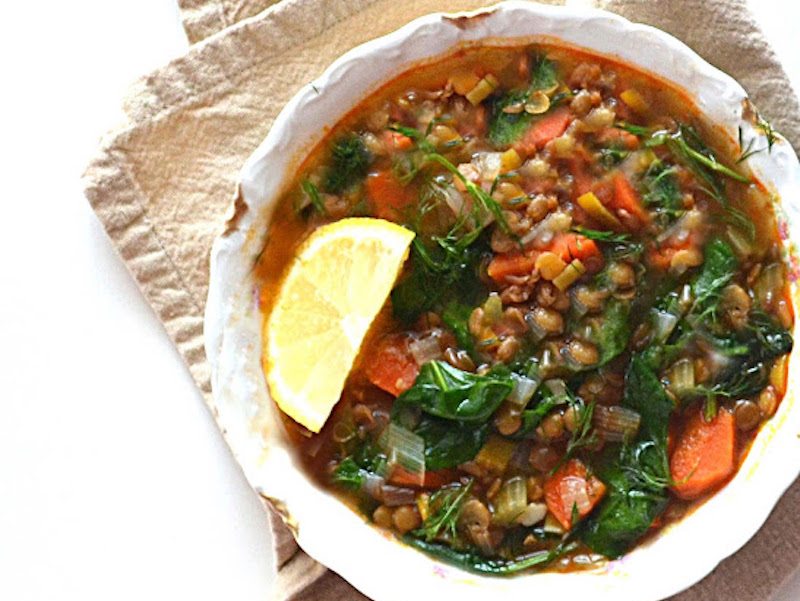 Lentil soup is what's for lunch today. I make this soup often. It's rustic and easy to prepare. The nutritional profile is wonderful. Best of all, the lentils remain whole and keep their firm texture. This is a brothy lentil soup. A smoked-paprika scented stock is infused with the earthy flavor of the lentils. The soup is finished with lemon and dill. Fresh dill is one of my favorite herbs. The bright and citrusy flavor of dill counters the richness of the lentils. Spinach is stirred in at the end of cooking to remain vibrant and green. Lots of freshly cracked black pepper is welcome here too.
I typically make this soup in the morning. It reheats well. After a long walk on the beach, I warm some pita in the toaster oven and heat the soup for lunch or a light dinner. I always keep pita bread in my freezer because I'm half Lebanese. Round out this meal with olives, marinated artichokes and/or some roasted red peppers to stuff into the pita. Alternately, you can serve the soup with steamed rice for a complete protein.

Citrusy Lentil Soup
Ingredients
1 cup of green lentils (I use Whole Foods 365 Organic Brand)
2 carrots, chopped
3 celery stalks, chopped
2 leeks, white and light green parts, chopped
2 cloves of garlic, crushed, pressed or chopped
A handful or two of baby spinach (optional)
A handful of fresh dill, chopped
1-2 lemons
1½ teaspoons of smoked paprika
¼ teaspoon of ground cinnamon
½ teaspoon of ground cumin
5 vegetable bouillon cubes. I use Rapunzel No Salt Vegan Vegetable Bouillon. (see notes)
Salt and pepper to taste. I use sea salt and freshly cracked pepper
Instructions
In a large soup pot add the green lentils, carrots, celery, leeks, garlic, smoked paprika, cinnamon, cumin and bouillon cubes. Stir in ten cups of water. Salt to taste. Cover the pot and bring to a boil. Turn down the heat and simmer until the lentils and vegetables are soft. Take the soup off the heat. Stir in the baby spinach (if using), a good squeeze or two of fresh lemon juice, the chopped dill and some cracked black pepper. Stir the spinach around until it wilts from the heat of the soup. Serve with any of the above suggestions.
Notes
pita bread
steamed rice
naan
paratha
chapati
roti
baguette
a dollop of yogurt or creme fraiche
Some toasted slivered almonds