Roasted olives are perfect as an appetizer or just for a pre-dinner snack and simple to execute, too. The citrus and rosemary subtly complement the olives' flavor perfectly.
By Taylor Kadlec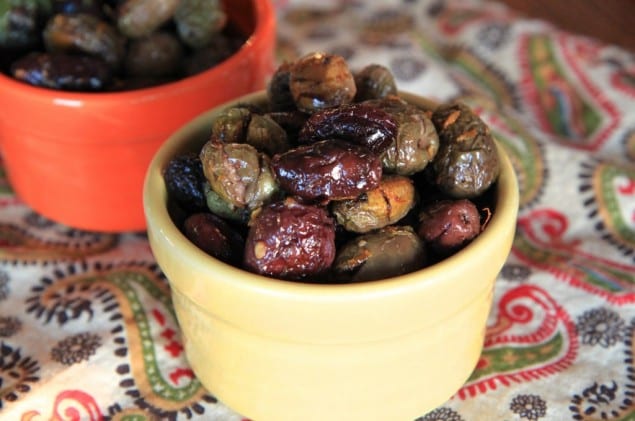 These are super easy to make and if you like olives, you will love them. I added a dash of crushed red pepper to them, so they have a little bit of a kick. The roasting really deepends the flavors of not only the olives but the citrus and rosemary as well. Use non-pitted olives, as they have more flavor with the pits and they're more fun to eat that way.
Citrus and Rosemary Roasted Olives
Ingredients
24 ounces mixed olives, such as kalamata, nicoise,
2 tbsp olive oil
3 cloves garlic, minced
1 tbsp fresh rosemary, chopped
1 tsp crushed red pepper
zest of 1 orange
juice of ½ orange
zest of 1 lemon
½ tsp salt
½ tsp ground black pepper
Instructions
Preheat oven to 400 degrees F.
Combine olives with olive oil, garlic, rosemary, red pepper, orange zest, orange juice, lemon zest, salt, and pepper.
Roast in preheated oven for 15-20 minutes, until they are sizzling.
Let cool and serve.
Taylor Kadlec
Taylor Kadlec is a lover of all things food including baking, cooking, and of course, eating. She is a self-taught baker and cook, and she shares her kitchen adventures on her blog Greens & Chocolate, where healthy cooking meets sinful indulgence.