Sourdough starter gives these doughnuts an extra depth of flavor and balances with the baking powder for a texture that is somewhere between cake doughnuts and yeast ones.
By Sawsan Abu Farha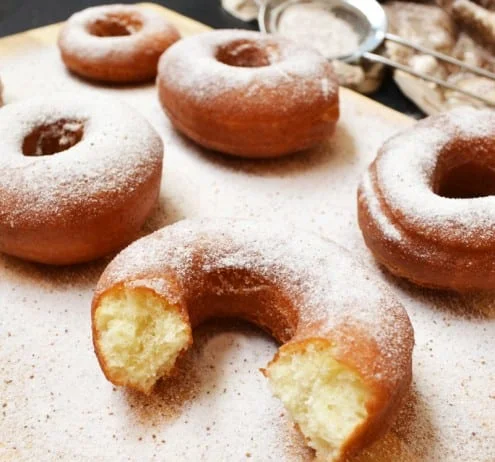 I rarely make donuts at home. You need a REALLY good recipe, one that gives you donuts that make you forget about the calories, at least long enough to have a couple of donuts! Up until recently I didn't have a recipe that fit that description. That changed when I cam across the recipe I am sharing today.
I have used my sourdough starter to make bread, pancakes, crepes, brownies, crackers, cinnamon rolls and every single time the results were amazing. Using a sourdough starter adds a certain depth to recipes, a layer of flavor that is not necessarily sour. At times you can't detect any tang but still the addition of the sourdough starter improves the texture and flavor so much that now even my kids say that any recipe gets extra points if it contains the starter.
Today's recipe is no exception. With both yeast from the sourdough starter and baking powder, these donuts are sort of middle ground between cake doughnuts and yeast ones. They are the best of both worlds if you will. So no matter what doughnut camp you're in, give these a try. I think you will love them!
These donuts are light,airy and fluffy with the slightest crunch on the crust. Top them with some cinnamon sugar and stopping at one will really test your self control.
I divided the dough in half, I made one half on the spot and stored the other half in the fridge for a couple of days. The donuts made on the first day and those made from the stored dough were equally delicious. You can make the dough the night before and simply take these out in the morning and make a few to surprise your husband or kids on the weekend.
Print
Cinnamon Sugar Sourdough Doughnuts
Sourdough starter gives these doughnuts an extra depth of flavor and balances with the baking powder for a texture that is somewhere between cake doughnuts and yeast ones.
Author:

Sawsan Abu Farha, adapted from Under the Highchair

Prep Time:

30 mins

Cook Time:

30 mins

Total Time:

1 hour

Yield:

12

donuts

1

x
Category:

Dessert
½ cup

sourdough (you can make your own using this technique)

2 Tablespoons

oil

1 teaspoon

baking powder

½ teaspoon

baking soda

1

egg

2 cups

flour (I usually need

1/3

–

1/2

cup more to make the dough managable )

1/2 cup

sugar

¼ teaspoon

cinnamon

½ teaspoon

salt

1/3 cup

buttermilk
Instructions
Prepare a pot or deep fryer for frying.
Line a tray with paper towels and set aside, you will use this for draining doughnuts.
Heat oil to 360 degrees.
Sift the flour, baking powder and baking soda
In a bowl mix the sourdough starter, oil, buttermilk and egg.
Add the sugar, cinnamon and salt to the dry ingredients and then add them to the wet ingredients.
Bring dough together gently with you hands. Sprinkle some flour onto a work surface and turn dough on to it. Knead it gently about 3 times to help bring the dough together.
Roll out to a thickness of 2 centimeters and cut with a doughnut cutter or if you are like me, you can use a round cutter (I used my 1/2 and 1/4 cups) and a bottle cap
Fry until golden brown. Test the first one for doneness by breaking it in two and checking if the middle is doughy.
Drain on paper town. Toss with vanilla sugar or cinnamon sugar to coat or top with your favorite topping
Sawsan Abu Farha
Passionate food explorer Sawsan Abu Farha lives in Jordan and enjoys mixing east and west in her kitchen aiming to get the best of both worlds.Juggling work, motherhood, blogging and a passion for food and food photography, she shares her journey in her blog "Chef in disguise".