There's nothing like cinnamon sugar pull-apart bread on a cold morning. Plus it's fun to make.
By Tamara Novacoviç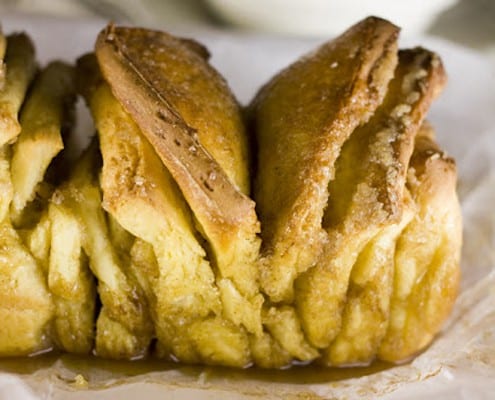 When Joy from Joy the Baker published recipe for cinnamon sugar pull-apart bread, it caused massive cinnamon sugar pull-apart bread making. Our food blogging community went into a frenzy and started baking it. Couple of weeks ago, I finally joined the "cinnamon sugar bread club" and made it myself. And ate almost all of it myself. And made a decision to make it again soon. Because it's perfect.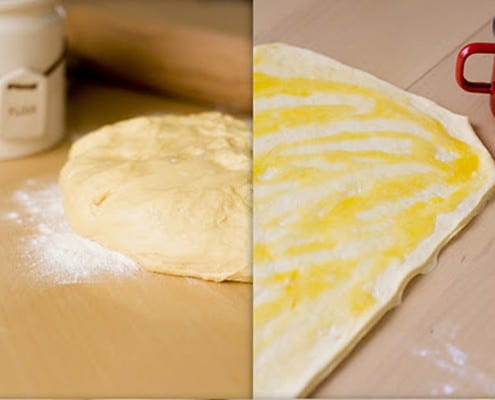 step by step: roll out dough, brush with melted butter
Besides the fact that it's fun to make, this bread is soooo good! Cinnamon, sugar and butter melt as the bread bakes and create caramel layer on the bottom.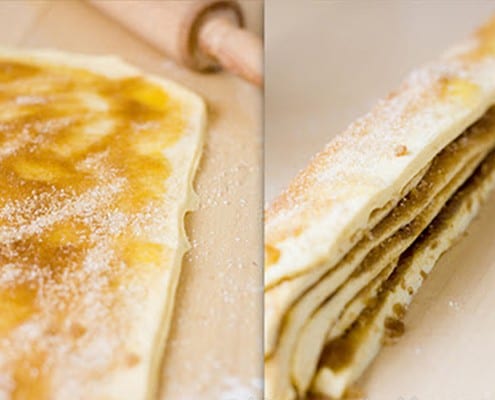 sprinkle with cinnamon sugar, slice vertically into strips
It's best when it's warm, although I'm sure you won't be able to keep your fingers off the hot bread. You will want to pull apart those soft flavorful layers and won't be able to stop yourself :)
    Stack the strips on top of one another and slice once again. Layer them in the loaf pan like a flip-book
Since we are smothered in snow this week (almost entire Europe), there's been a lot of bread baking in homes. The roads cannot be cleaned since the snow doesn't stop falling and driving your car is almost mission impossible.  Some schools have been cancelled throughout Croatia and people cannot go to work in certain areas.  Besides that, it' s really cold, Siberian cold. In my town entire river is frozen! So, what better way to keep yourself warm then with this sweet goodness!
Cinnamon sugar pull-apart bread
There's nothing like cinnamon sugar pull-apart bread on a cold morning or evening! Plus it's fun to make.
Ingredients
For the Dough
2¾ cups (400 g) all purpose flour
¼ cup (30 g) granulated sugar
2¼ teaspoons (1 envelope) active dry yeast
½ teaspoon salt
2 ounces (60 g) unsalted butter
⅓ cup (80 ml) milk
¼ cup (60 ml) water
2 large eggs, at room temperature
For the Filling
½ cup (100 g)granulated sugar
½ cup (100 g) brown sugar
2 teaspoons ground cinnamon
2 ounces (55 g) unsalted butter
1 tsp vanilla extract
Instructions
In a large mixing bowl whisk together 2 cups flour, sugar, yeast, and salt. Set aside. Whisk together eggs and set aside.
In a small saucepan, melt together milk and butter until butter has just melted. Remove from the heat and add water. Let mixture stand for a minute or two. Pour the milk mixture into the dry ingredients and mix with a spatula. Add the eggs and stir. Add the remaining ¾ cup of flour and stir with the spatula for about 2 minutes. The mixture will be sticky.
Place the dough is a large, greased bowl. Cover with plastic wrap and a clean kitchen towel. Place in a warm space and allow to rest until doubled in size, about 1 hour.
While the dough rises, whisk together the sugar and cinnamon for the filling. Set aside. Melt 2 ounces of butter until browned. Add vanilla to it. Set aside. Grease and flour a 9x5x3-inch loaf pan. Set that aside too.
Knead about 2 tablespoons of flour into the dough. On a lightly floured surface, use a rolling pin to roll the dough out. The dough should be 12-inches tall and about 20-inches long. Spread melted butter across all of the dough. Sprinkle with sugar and cinnamon mixture.
Slice the dough vertically, into six equal-sized strips. Stack the strips on top of one another and slice the stack into six equal slices once again. You'll have six stacks of six squares. Layer the dough squares in the loaf pan like a flip-book. Place a kitchen towel over the loaf pan and allow in a warm place for 30 minutes.
Preheat oven to 350 F. Bake for 30 to 35 minutes, until the top is very golden brown. A nice, dark, golden brown will ensure that the center is cooked.
Let rest for 20 minutes. Serve warm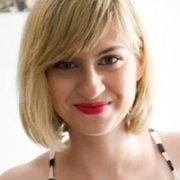 Tamara Novakoviç
Tamara Novakovic is a passionate self-taught cook, food blogger, freelance food writer and photographer behind bite-my-cake.blogspot.com. Her life journey has led her through Faculty of Humanities in Zagreb, Croatia to discovering passion for making cakes. She is currently a weekly food columnist for Croatian newspaper V magazine and food magazine Repete.