This Churro Banana Bread is a delicious combination of banana bread with a cinnamon-spiced crumb swirled through the middle.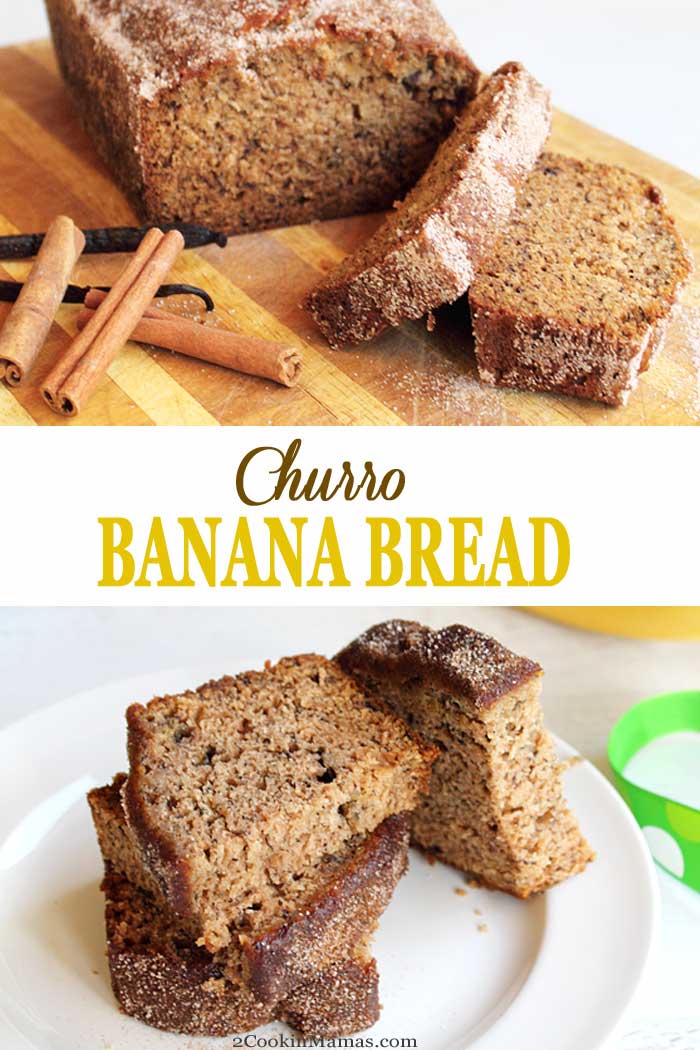 Have you ever had churros at a state fair, convention or even Disney? Hey, even Costco has them! If you have, you'll know just how addictive they are!
Do you know where they came from? Some say they were first made by Spanish shepherds while up in the mountains watching their flocks. It was a simple dough to make and easy to fry on their open fires. Theirs were only sprinkled with sugar but, when it arrived in the U.S., the bakers here began coating them with cinnamon sugar. Double yum!
Just thinking of those long sweet slightly crunchy doughnuts with tons of lick your fingers cinnamon sugar on the outside is making me want one! And they are definitely a kids and big kids favorite. I can even remember (way back when) my Mom & Dad buying one for my sister and I as a special treat.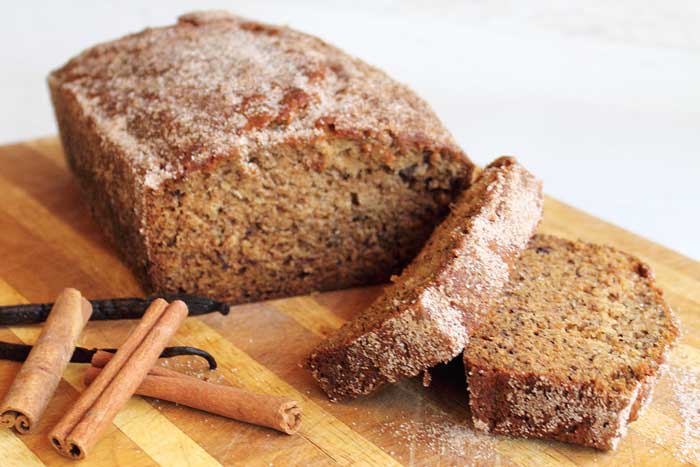 So today it's churro time mixed with banana season! And you know that I always have bananas in our house! Whether they come from our trees or the store there is always a large pile of them sitting on the counter ready to grab for a healthy snack. Sometimes those stacks get a little over ripe and I know it's time for some banana goodies. I'm addicted to my Double Chocolate Banana Bread and Tropical Banana Bread but I can never get enough of my Baked Banana Doughnuts either. So I guess it's a good thing I have plenty on hand.
See Also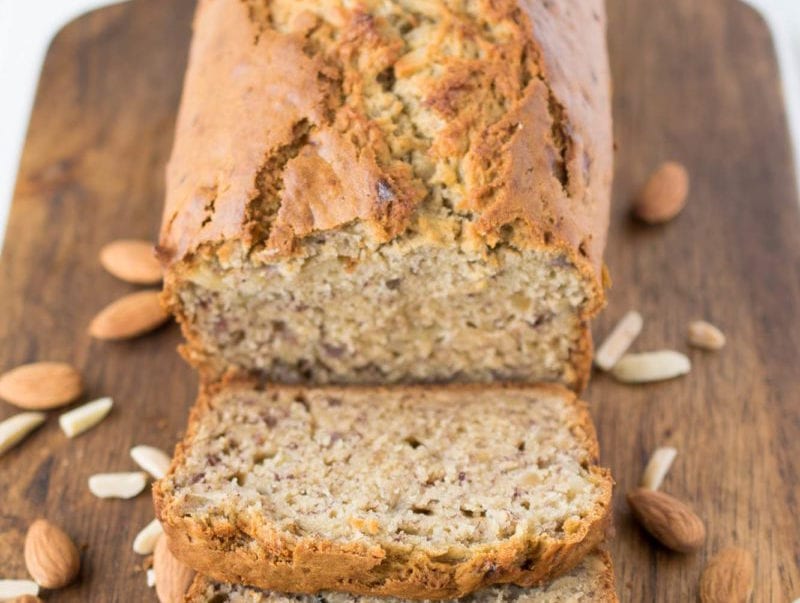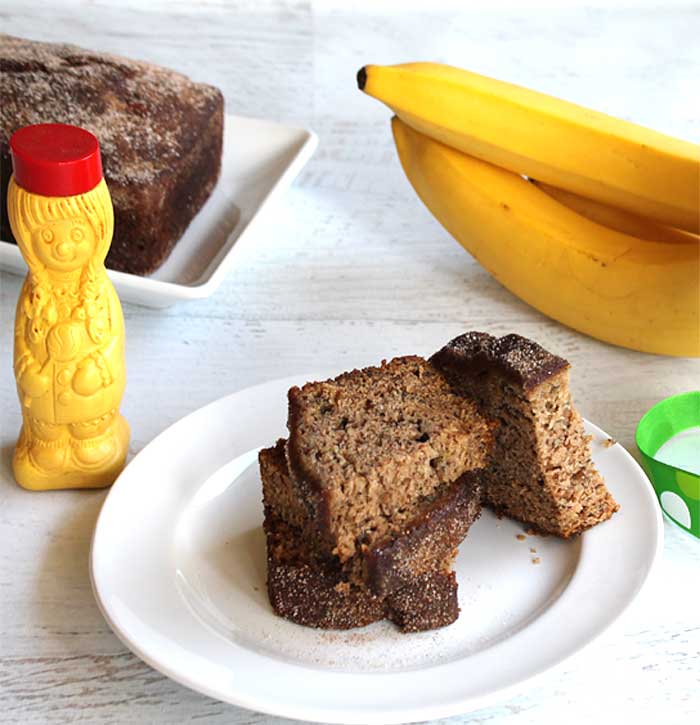 Today it was time for my version of Banana Bread a la Churro. Now, I have to honestly say this is probably only slightly better for you than the fried dough but still sweet and finger-licking good. And you've got to take note of one of my favorite childhood memories, my cinnamon-sugar girl shaker. She's been with me since I was a little girl and it was a favorite of my daughter too. It brings back such sweet warm memories. Anyone else have a favorite shaker they remember?
Print

Cinnamon-Sugar Churro Banana Bread
---
Author:

Linda Warren

Total Time:

1 hour 20 minutes
Banana Bread
1 cup

sugar

1/2 cup

shortening

2

eggs

2 teaspoons

vanilla extract

3

ripe bananas mashed

2 cups

all-purpose flour

1 teaspoon

baking soda

1/2 teaspoon

salt

1 teaspoon

cinnamon optional (if not using Cinnamon Sugar Swirl)
Cinnamon Sugar Swirl (optional, can substitute 1 teaspoon cinnamon in bread batter)
1/4 cup

brown sugar packed

2 Tablespoons

very cold butter diced

2 Tablespoons

all-purpose flour

1 1/4 teaspoons

cinnamon
Cinnamon Sugar Coating
1/4 cup

butter melted

1/4 cup

sugar

1 Tablespoon

cinnamon
---
Instructions
Preheat oven to 350 degrees. Grease & flour loaf pan.
Crumb sugar and shortening together in a large bowl.
Add eggs and mix well. Stir in vanilla extract.
Mash bananas and add to creamed mixture.
In a medium bowl, combine flour, baking soda and salt. (Add 1 teaspoon cinnamon here if not using Cinnamon Sugar Swirl that follows.)
Whisk into banana mixture until blended.
Cinnamon Sugar Swirl
Combine all ingredients for cinnamon swirl and mix with pastry cutter or fork until it resembles small crumbs.
Pour half of banana bread batter into prepared loaf pan.
Sprinkle cinnamon sugar swirl crumbs on top of batter.
Pour remaining batter over crumbs.
Bake for 60-70 minutes. Check after 30 minutes to make sure top is not getting overly brown. If so, cover loosely with aluminum foil.
Test for doneness by inserting toothpick in center of bread. It is done if it comes out clean. Remove from oven to wire rack to cool for 15 minutes. Remove from loaf pan and finish cooling on rack.
Cinnamon Sugar Coating
Melt butter.
Mix 1/4 cup sugar with 1 tablespoon cinnamon on flat cutting board or plate.
Brush butter on all sides of cooled bread.
Roll bread in cinnamon-sugar mixture until lightly coated.
Store in a sealed ziploc bag or wrap tightly in foil.
Prep Time:

20 minutes

Cook Time:

1 hour

Category:

Baking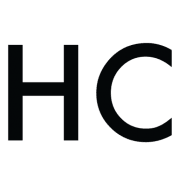 Linda Warren
Linda is a wife and mom with a background in marketing and exercise. She attributes her creativity and love of cooking to her mom and grandmother who were always willing to let her lend a hand in the kitchen. Linda currently resides in South Florida, where she raised two children with the help of her wonderful husband. She loves living in sunny Florida with its abundance of fresh fruits, vegetables and seafood that are available year round. Linda started her blog, 2 Cookin' Mamas, with her daughter Christina after her grandson's birth. Her daughter wanted to learn to cook healthy meals while still meeting the demands of work and baby. That provided the inspiration for the healthy, quick and easy meals on their blog. Of course, they sweetened it up with a few goodies too! When Linda is not in her kitchen she loves traveling, wine, reading, walking and yoga.