A stack of pancakes to will fuel your morning with filling buckwheat drizzled with caramel sauce and topped with cranberries and almonds.
By Rebecca Doser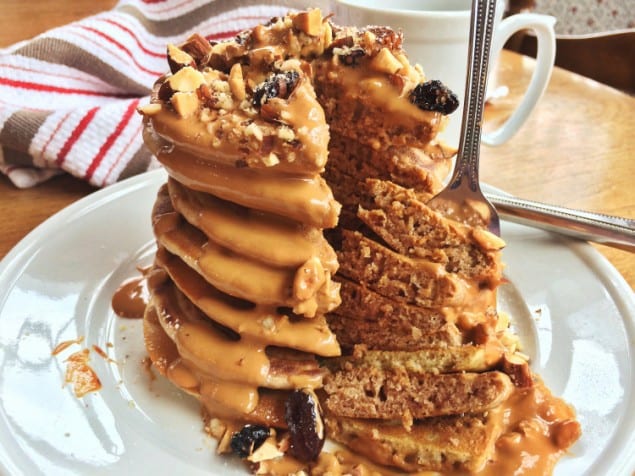 This rockin' stack of pancakes will fuel your morning to the max. A filling buckwheat tower drizzled with a warm caramel sauce and topped with dried cranberries and almonds?! Enough said.
Check out more delicious pancake versions here.

Cinnamon Buckwheat Pancakes with Nutty Caramel Sauce
A thick stack of buckwheat pancakes topped with dried cranberries and almonds and drenched in a warm caramel sauce.
Ingredients
Pancakes
1½ cups Buckwheat flour
½ teaspoon baking soda
1¼ teaspoons baking powder
¼ teaspoon salt
1½ tablespoons sugar
1¾ cups of milk
1½ tablespoons melted butter
2 eggs, separated
½ tsp. Simply Organic Cinnamon
Toppings
2 tbsp. chopped walnuts
2 tbsp. chopped Emerald Simply Natural Almonds
1 tbsp. Eden Organic Dried Cranberries
¼ cup Caramel sauce
Instructions
In a large bowl, combine dry ingredients and whisk together well.
Add in the milk, melted butter or oil, and eggs and mix well.
Heat griddle to 350 degrees F and grease with a little butter. Pour about ⅓ cup of pancake mix on the griddle for each pancake. Cook until bubbles form, then flip.
Meanwhile, chop up walnuts and almonds and set them aside with dried cranberries.
In a small saucepan, heat caramel syrup over low-medium heat for 4-5 minutes or until warm. Stack up your pancakes, pour caramel sauce over them and top with walnut, almond and cranberry mix. Bon appétit!
Rebecca Doser
Rebecca Doser, a resident of Penfield, NY, is the face behind Breakfastwithbex. This English Major at St. Lawrence University has a passion for journalism, punny captions and creating delicious breakfast dishes, which she shares on her Instagram account (@breakfastwithbex) and blog (breakfastwithbex.com).