Nancy Lopez-McHugh with a delicious suggestion for a Cinco de Mayo snack recipe.
By Nancy Lopez-McHugh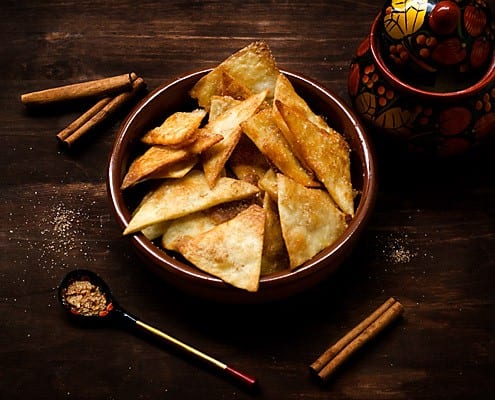 Every once in a while I need a break from salty and spicy chips. When I need that salty and/or spicy chip break I make these sweet chips. These cinnamon sugar chips are based on Mexican buñuelos, a fried sweet snack. While delicious buñuelos are rather time consuming and these little chips are a great alternative. There actually isn't much of a recipe as they are super quick to make. But don't let that fool you the flavors are intense and perfect for satisfying that sweet craving.

Mexico On My Plate: Sweet Tortilla Chips and Cinco De Mayo
A sweet healthy alternative to salty and fatty chips.
Author:
Nancy Lopez-McHugh
Recipe Type:
snack, dessert
Ingredients
Flour tortillas, either homemade or store bought*
olive oil, you can also use melted butter
sugar
ground cinnamon
baking sheet lined with baking paper
Instructions
Preheat oven to 200c or 392f. Combine sugar and ground cinnamon in a deep bowl until well combined. The amounts are up to your personal preference. Stack flour tortillas and depending on size, cut into ⅛ths - small triangles. Place the triangles on baking sheet, brush with olive oil or melted butter, flip and brush opposite sides too. Place in center of oven and bake until golden and crispy. Remove from oven and lightly brush with more olive oil or melted butter. Gently toss the baked and oiled chips in the cinnamon sugar, careful as the chips may be hot. Serve at room temperature or as desired.
Notes
*It helps if the tortillas are a few days old or are dry. This makes them crisp up quicker. You could also leave fresher tortillas out on the counter for 30 minutes before baking.
Cinco de Mayo (5th of May, Mexican Holiday) is in a few days. Please make sure you check out the
Mexico On My Plate
archives for some authentic Mexican recipes ideas. Enjoy and
Feliz Cinco de Mayo!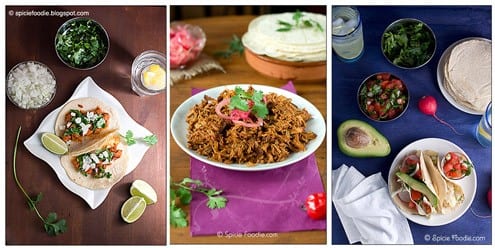 Nancy Lopez-McHugh
Nancy Lopez-McHugh is a food blogger, photographer and published author. Most recently she has published "Yummy Pics: A Food Blogger's Guide To Better Photos".