Never heard about Chicken Tinga before? Don't worry, neither had Yvette Marquez-Sharpnack a few years ago.
Text By Yvette Marquez Sharpnack – Photo By Jeanine Thurston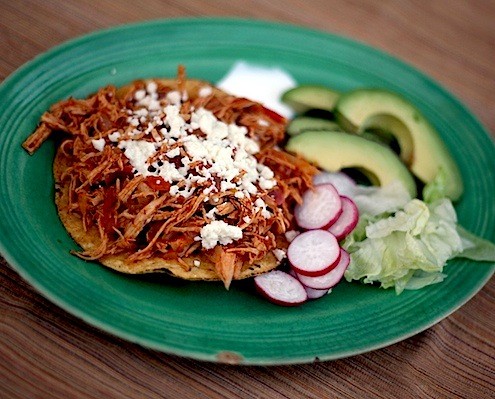 Have you ever heard of Chicken Tinga? To be honest I hadn't heard of this dish until I moved to Colorado and went to a friend's baby shower. Everyone kept telling me about this Chicken Tinga that I needed to try. When I finally made it over to the kitchen I saw a huge pot on the stove and couldn't wait to peek inside. I opened the pot and a spicy, smoky scent lingered through the air as I spooned some juicy tender shredded chicken onto my plate.
I want to thank my dear friend Cesi who introduced me to this dish that delivers big authentic Mexican flavor. After much begging she shared her family recipe with me which has been in her family for generations. I have to admit that I tweaked her original recipe by making it a tad lighter. I hope to make my amiga and her familia proud with my Muy Bueno version.
Originating in Puebla, Mexico, Chicken Tinga is a versatile dish of shredded chicken in a tomato and chili chipotle sauce. It's quick and easy to make and definitely the comfort food we all crave. Tinga is great for a tostada buffet, where guests can create their own mountain of goodness. Sprinkle this juicy shredded chicken that is delicately marinated in a spicy sauce on a tostada with your choice of toppings. Your guests will enjoy the smoky flavor that lingers on their palate stemming from the chipotle chiles in adobo sauce.
If it's a Cinco de Mayo recipe you're looking for why not serve this spunky and soulful Pueblan recipe? Tinga is a tasty party dish that can be made a day ahead. It stores well in the refrigerator and tastes better the next day after the ingredients have marinated for a few hours.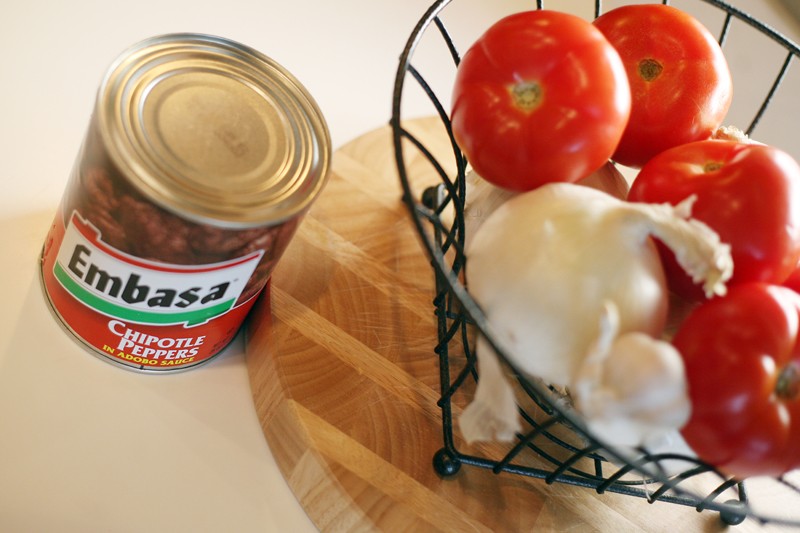 Serves: 10
Ingredients
1 large tomato, quartered
4 large tomatoes, chopped
2 onions, quartered
3 onions, chopped
2 garlic cloves, chopped
1 7 ounce can of chipotle peppers in adobo sauce
4 teaspoons of salt, more or less to taste
2 pounds skinless/boneless chicken breast
6 cups of water
1/4 cup of corn oil
Toppings
Corn Tostadas, freshly made or store bought
Iceberg lettuce, finely sliced (optional)
Avocado, pitted, peeled and sliced
Mexican crema or sour cream
Queso fresco or Cotija, crumbled
Salsa of your choice (optional)
Radishes, sliced (optional)
Directions
1. In a medium sized pot: place chicken, 6 cups of water, 2 teaspoons of salt, 1 garlic clove, and 2 quarters of an onion. Cover and simmer for about 30 minutes on medium to high heat. Reserve the stock. Allow the chicken to cool and then shred it.
2. In a blender add the remainder of the quartered onion and 1 tomato, a can of chipotle peppers in adobo sauce, 2 teaspoons of salt and 1 chopped garlic clove, and enough chicken broth to fill the blender half way and blend until smooth.
3. Heat the oil in a large and deep pan over medium heat. Once it is hot but not smoking, stir in the chopped onion and cook until soft and translucent, for about 5 to 6 minutes. Then add chopped tomato and cook for an additional 10 minutes. Add the cooked shredded chicken, the chipotle sauce from the blender and more chicken broth if it is too dry. Bring to a boil, reduce heat and simmer covered for 10 minutes. Add salt to taste.
4. In heavy skillet heat one-quarter inch oil. Fry tortillas, one at a time, in hot oil for 20 to 40 seconds on each side or till crisp and golden. Drain on paper towels. Keep warm in foil in 250 degrees oven. Store bought tostadas can also be used.
Tostadas
1. To assemble, place a warm tostada on a serving plate; spoon on chicken tinga, then lettuce (optional), 1 or 2 slices of ripe avocado and crumbed queso fresco and crema or sour cream. Drizzle with your favorite homemade salsa to taste.
Yvette Marquez-Sharpnack
Born and raised in El Paso, Texas Yvette Marquez–Sharpnack was inspired to celebrate her culture, grandmother and mother by preserving the generations of tradition en la cocina. This work has evolved into a three-generation cookbook with authentic Mexican flavor. You can follow her and her family's recipes through the blog Muy Bueno Cookbook.