Modeled after the citrus, cumin and cilantro pernil pork shoulder, this chicken is easy to make on a weeknight, with just as many great flavors.
By Emily Clifton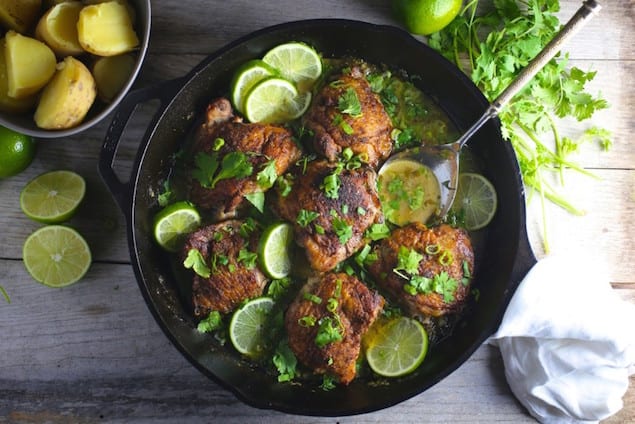 In the 1970s, the Upper West Side of Manhattan where I grew up was a true melting pot of cultures. I went to a bilingual grade school where classes were taught in both English and Spanish, and staying for dinner at a friend's house often meant getting to have Arroz Con Gandules (Puerto Rican Rice with Pigeon Peas) or Mofongo (mashed green plantains with chicharrones).
I think my absolute favorite dish back then was Pernil (Roasted Pork Shoulder) which is flavored with lots of citrus, cumin and cilantro. I thought I'd take some of those great flavors and turn it into a much more weekday-friendly chicken dinner.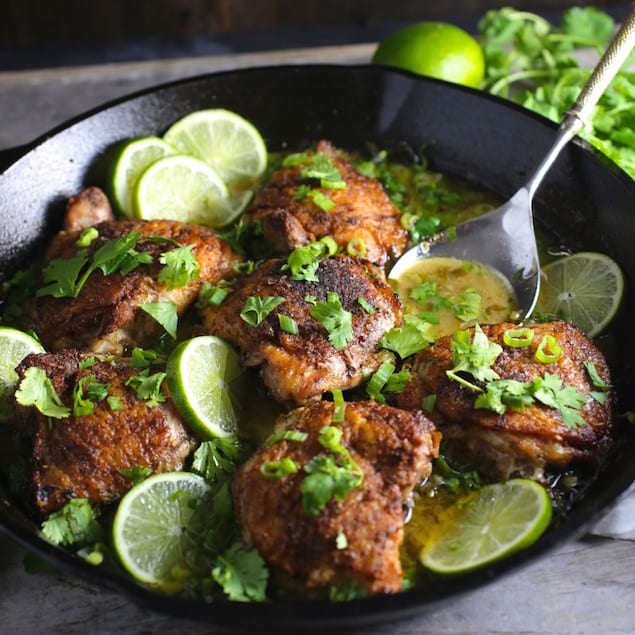 So let's talk about cilantro, shall we? (Or coriander, depending on where you're from). Has ever there been a herb so divisive? Some people love it. And others… not so much. In fact, some people HATE IT WITH THE POWER OF A THOUSAND SUNS.
Well, it turns out that there might be an actual genetic reason why that is. There's a cluster of olfactory-receptor genes—part of the genome which influences sense of smell, and in that cluster is a gene called OR6A2. Variations of that gene can make some people sensitive to the aldehyde chemicals that contribute to cilantro's flavor.
Short version; basically there's a thingie in your nose that makes cilantro taste either delicious and fresh, or like hell in the form of a putrid bar of soap.
See Also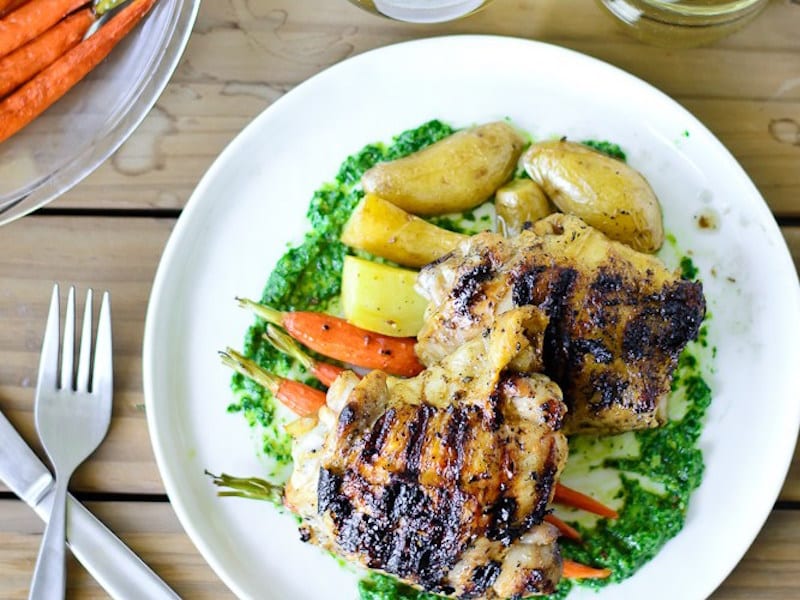 If you happen to be in the latter category (you probably aren't looking at this recipe) you can substitute basil. The flavor will obviously be quite different but it would still be tasty.
Tips:
Don't wash your chicken! Just use a clean cutting board, dry it well on paper towels, and cook it to the proper temperature (165º F / 74º C).
Take the chicken out of the refrigerator about 20 minutes before you plan to cook it. It will cook more evenly (this is true for any meat).
A cast iron pan is perfect for this recipe because it browns beautifully and goes in the oven. Just make sure it's well seasoned.
I think chicken cooked on the bone has more flavor but you could substitute skinless, boneless breasts or thighs. If using breasts, be careful not to overcook them or they'll be dry.
For a gluten free version, just leave out the flour. The sauce won't be quite as thick but the flavor will be identical.
Print
Cilantro-Lime Chicken
---
Author:

Emily Clifton

Yield:

4

to

6

servings

1

x
Description
Modeled after the citrus, cumin and cilantro pernil pork shoulder, this chicken is easy to make on weeknight, with just as many great flavors.
---
6

–

8

chicken thighs, bone in, skin on (about

1½

–

2

lbs or .7kg)

1 tablespoon

olive oil (

13.5 grams

)

1½ teaspoons

ground cumin (

8 grams

)

1½ teaspoons

course kosher salt (to taste) (

8 grams

)

½ teaspoon

freshly ground black pepper (

2.5 grams

)

6

garlic cloves, roughly chopped (about

3 tablespoons

/

44 grams

)

1½ tablespoons

flour (

21 grams

)

1 cup

dry white wine (

237

ml)

1½ tablespoons

honey (

32 grams

)

3 tablespoons

lime juice (from about 1½ limes) (

44 grams

)

2 teaspoons

lime zest, finely grated (from

1½

limes)

2 cups

chicken broth (

473

ml)

4

scallions, sliced, white and green parts separated

4

–

5

tablespoons cilantro, stems removed, chopped; more for garnish (about

1

large bunch)

1

lime, sliced, for garnish
---
Instructions
Preheat your oven to 375 degrees F.
Pat the chicken thighs dry, and season each thigh on both sides with cumin, salt and pepper.
Pre-heat a heavy-bottomed skillet or dutch oven on medium-high for a minute or so and then add the oil. Add the thighs, skin-side down and cook until deeply browned (5-7 minutes). Don't crowd the pan, work in batches if necessary. Turn and brown other side (3-5 minutes). Remove thighs to a plate and set them aside,
Lower the heat and if there's a lot of oil, remove most of it, leaving about a tablespoon and a half. Add flour, garlic and sliced white scallion bottoms. Stir well to coat the flour in oil and cook for 2-3 minutes. Whisk in the wine and let it simmer for 3 minutes while scraping up any brown bits with a wooden spoon. Add the broth, honey, lime juice, lime zest and half the cilantro and bring to a simmer. Add the chicken, skin-side up and place it, uncovered, into the oven. Cook for 35-40 minutes, or until chicken is cooked through (165º F / 74º C on an instant read thermometer). Garnish with sliced limes, the remaining cilantro and green scallion tops.
Serve with rice, potatoes or lots of crusty bread for sopping up the sauce.
Category:

Main

Cuisine:

Puerto Rican Inspired
Emily Clifton
I love to cook and learn about food. I was born and raised in New York City and I was exposed to a lot of different food cultures as a kid though I was weirdly picky. I hated mashed potatoes but I loved kim chee. Hated fish, loved escargot. I said I was weird, don't judge me. My mom is a great cook but I definitely don't have any "passed down from grandma" types of recipes. Both my grandmothers were horrible cooks. I mean really, truly bad. I give my mom a lot of credit for knowing that string beans are not actually supposed to be gray. In real life I'm a film/TV editor which just might be the most fun job in the world. Occasionally it can be the most annoying job in the world which is why I really appreciate it when I get to take a break and do my other favorite things which is cook, take photographs and write.