Mussels with bread crumbs and garlic would be the traditional version, but given the plethora of garlic scapes available right now at farm stands, here's a new spin on the old.
By Kathy Bechtel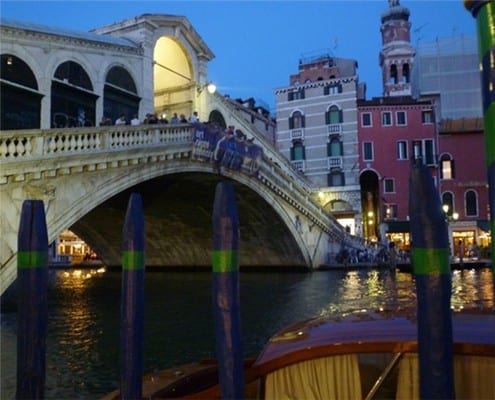 On any day trip to Venice with Italiaoutdoors Food and Wine, our food loving guests are treated to a visit to Venice's famed Rialto market. We cross the famous bridge, and enter first into the multitude of fresh produce stands, displaying a stunning variety of fresh fruits and vegetables. Our guests are amazed by the selection, often purchasing a little to taste and share with the others – fresh wild strawberries were the favorite on our last trip. We Americans want to pick them up and touch them, but don't! The Italian shopkeepers will reprimand you, and place them in a bag for you.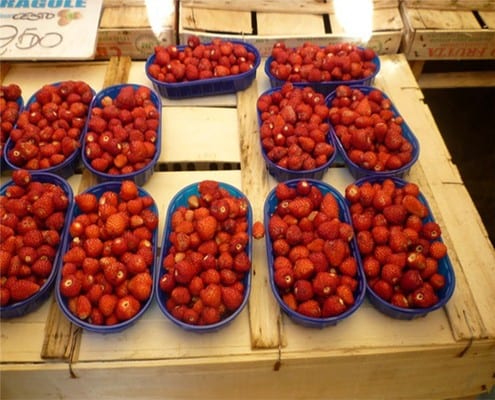 Right next to the vegetable stands are the butcher and cheese shops, in permanent buildings, again offering such a broader range of cuts and variations than you will ever see in even  the largest grocers here in the US. You will notice an absence of prepared foods; this is a destination for cooks. After touring the stands, we continue to move back, and eventually reach the star of the show,  the fish market.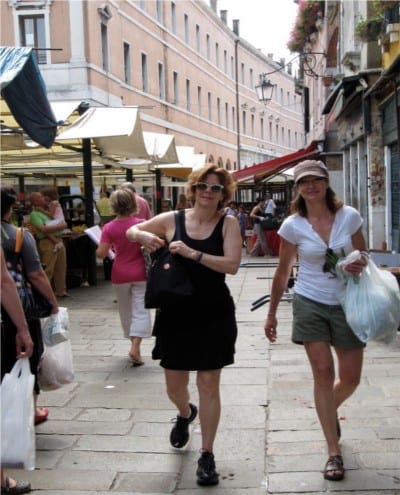 Venice has relied on fish from the waters of the surrounding Adriatic for its entire existence. It is the mainstay of their cuisine, and its no wonder when you see the choices they have. Literally dozens of types of fish, plus shellfish, crustaceans, mollusks, all fresh and gorgeous. You will see a few familiar varieties – swordfish, tuna, sole, sardines – and a host of fish that may not be familiar to you if you haven't visited Italy before – John Dory, orata, cuttlefish, mullet, many types of shrimp, moleche soft shell crabs. We wander, gawk, separate and find each other – "Did you see this??", and finally, we've absorbed as much as we can, and it is time for a respite.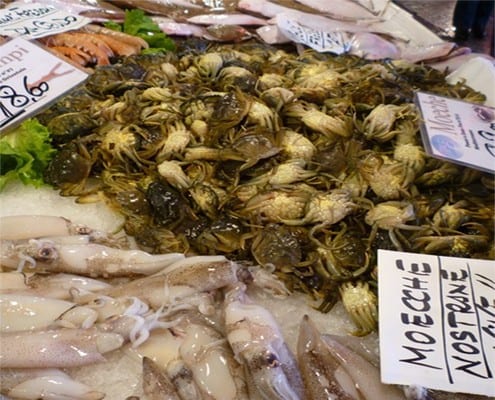 The perfect post-market snack, and the meeting place for the locals after they finish their shopping for the day, are the small traditional wine bars that are located within a few blocks of the market. Serving little snacks called cicchetti or cichetti , similar to the Spanish tapas, these snacks will feature many of the wonderful seasonal foods you just admired in the market. A walking tour of the wine bars is a great end to the morning; called a giro d'ombra, or tour of shadows, as ombra is local slang for a glass of wine.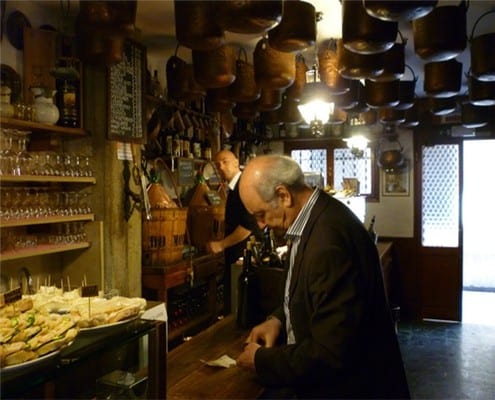 I recently hosted a fundraiser at my home in the US, where many friends gathered to support my upcoming bike ride in the Pan Mass Challenge. The PMC is a two-day, 190 mile bike ride, the largest single athletic event fundraiser in the US, and the largest source of funds for the Dana Farber Cancer Institute. To support my ride, I hold events like these where I can at least say "thank you" to my donors by cooking! Here, I recreated a Giro d'Ombra, serving wines from the Veneto that I've found in my travels, and serving a large selection of traditional Venetian cicchetti. Here is one of the recipes; others will follow in the next few posts.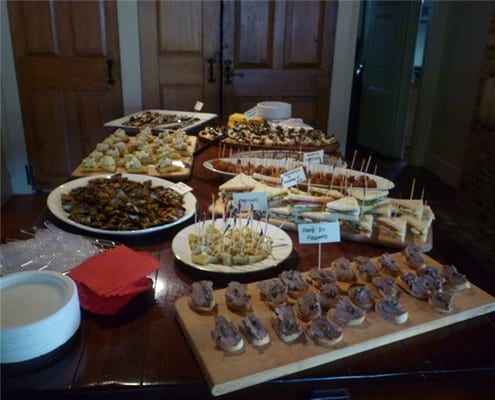 Cozze con Scapi d'Aglio (Mussels with Garlic Scapes)
Mussels with bread crumbs and garlic would be the traditional version, but given the plethora of garlic scapes available right now at my farm stands, I couldn't resist a new spin on the old.
Ingredients
1 bunch garlic scapes, bulbous end cut off, and cut into 1-inch pieces
Extra virgin olive oil
Kosher salt
1 2-lb (1 kg) bag mussels
½ cup (0.12 l.) white wine
½ cup (60 g.) bread crumbs
Instructions
Place the garlic scapes in a food processor, and add about half of the olive oil. Pulse until a puree with the consistency of a pesto, adding more olive oil if needed. Season with salt.
Pick through the mussels, pulling off the fuzzy 'beard' that may hang off of most of them, and discarding any that are broken, or are open and do not close. Rinse the remainder. Place into a large saucepan. Add the wine, and about ½ cup (0.12 l.) water. Place over medium high heat, and steam until open, about 8 minutes.
Allow to cool briefly. Remove the top shell from each, and place the bottom shell and mussel on a sheet pan. Top each with a dab of pureed garlic scape, then with a bit of bread crumbs. These can be prepared in advance to this point, and refrigerated.
When ready to serve, turn on the broiler. When hot, place the mussels under the broiler for 1-2 minutes, until the breadcrumbs are golden brown. Remove from oven, drizzle with olive oil, and serve.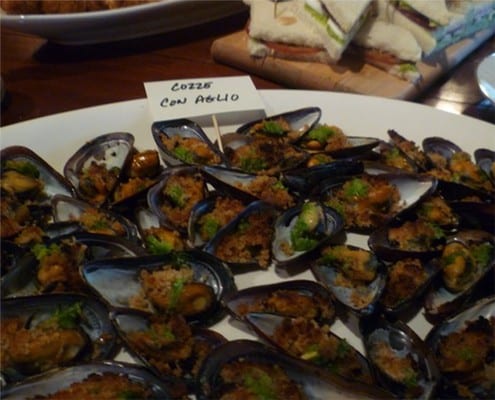 Kathy Bechtel
Kathy Bechtel's obsession with food and cooking began as a teenager. After years following a traditional career path as a telecommunications engineer, she left to attend culinary school and wine training, and is now combining her passions for food and wine, the outdoors, and travel as owner and Culinary Tour Director of Italiaoutdoors. In this role, Kathy leads small bicycle, skiing and walking tours that explore the authentic regional cuisines, local products and undiscovered wines of Northeastern Italy.