Churros with Chocolate Coffee Sauce
Churros are such a rewarding treat and the dough is rather simple to prepare. This recipe adds instant coffee to the traditional chocolate dipping sauce.
By Tamara Novakovic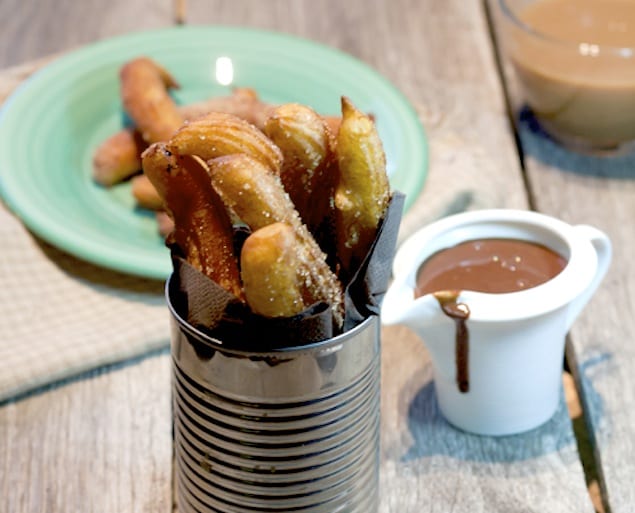 Churros with chocolate coffee sauce
Ingredients
For the dough
1.4 oz (40 g) butter
pinch of salt
1¼ cups (150 g) all-purpose flour
2 eggs
0.6 cups (150 ml) water
2 tsp sugar
lemon zest
3.5 oz (100 g) sugar + 1 tsp cinnamon
For the chocolate sauce
7 oz (200 g) dark chocolate
½ tsp instant coffee
0.4 cups (100 ml) heavy cream
Instructions
Prepare the dough
Heat water until boiling. Lower heat and add sugar, butter, salt and lemon zest. When the butter melts through, remove from heat. Add flour, stir until the mixture comes into a ball and starts separating from it. Then add eggs, one by one. Keep stirring (you can use electric mixture) until the dough comes together.
Transfer the dough mixture into the pastry bag with a star tip.
Heat 3 to 4 inches of vegetable oil in a large, heavy-bottomed pot set over medium-high heat until it reaches 375ºF. (There should be a minimum of 3 inches above the oil to prevent it from bubbling over.)
Pipe the dough over the pot of oil to a length of about 4 inches, then using scissors or a sharp knife, cut it so it releases into the oil. (Stand back to avoid any splatters.) Pipe two to three churros into the oil at a time, frying them until they're golden brown and cooked through. Transfer the churros to the paper towel-lined plate to drain for 2 minutes, then roll them in the cinnamon-sugar mixture. Repeat the frying and coating process with the remaining dough.
Serve the churros with the warm chocolate sauce.
For the sauce
Heat heavy cream combined with instant coffee until boiling.
Remove from heat and stir in chocolate.
Serve.
Tamara Novakoviç
Tamara Novakovic is a passionate self-taught cook, food blogger, freelance food writer and photographer behind bite-my-cake.blogspot.com. Her life journey has led her through Faculty of Humanities in Zagreb, Croatia to discovering passion for making cakes. She is currently a weekly food columnist for Croatian newspaper V magazine and food magazine Repete.