PARTNER POST: Discover how delicious dairy-free sweet and savory cooking can be with DREAM Ultimate Almond.
Brushed with melted butter, coated in cinnamon sugar, and served with chocolate, strawberry and caramel sauces, try these churro waffles. They are what dreams are made of.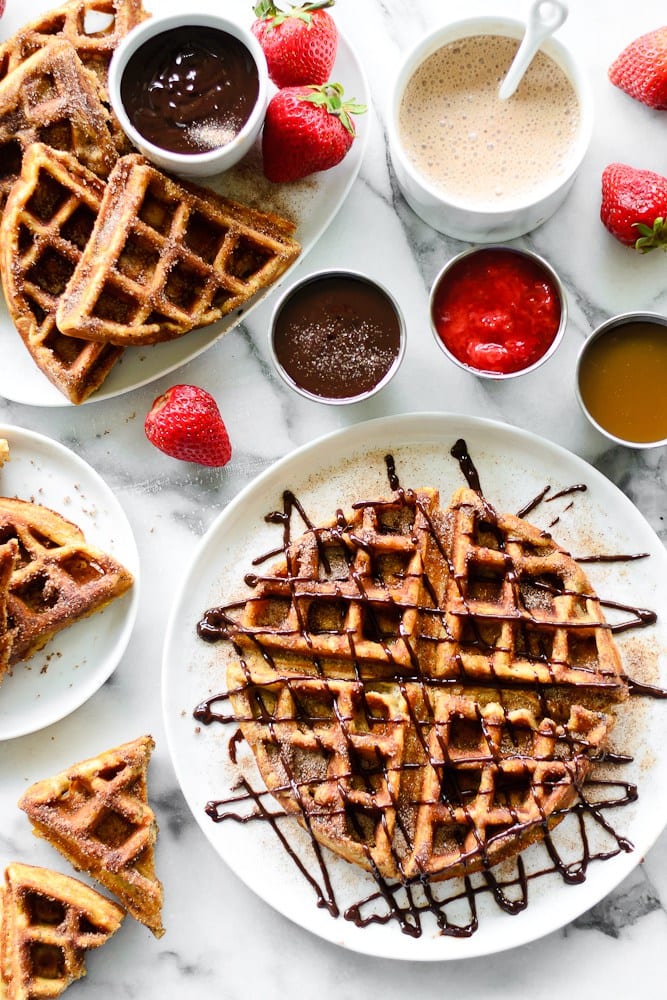 These churro waffles, which are gluten free and dairy free, are the result of an early morning craving for churros and chocolate, a desire to to use my waffle iron again, and a shortage of milk in the house. Shortage of dairy milk, that is, but an abundance of almond beverages.
Why? Because the nice folks at Dream sent me some samples from their new line of products (Ultimate Almond) recently, and I had three cartons of almond beverage (Original, Unsweetened, and Vanilla) hanging out in my pantry, just begging to be consumed….or mixed into waffle batter.
Guys, have you had almond beverages before? Before this, I had not. But I can assure you that it will definitely going to be a thing in our house from now on. Even Dan, who was initially deeply suspicious of anything other than dairy milk, quickly became a big fan when he tried some poured over his late night Lucky Charms.
This stuff tastes seriously amazing – a little thicker in consistency than the skim milk we usually buy, with the richness and creaminess (but none of the guilt) of whole milk, and a pleasing nutty flavor. It's good enough to drink by itself, be mixed into smoothies, or eaten over cereal.
And, it's good for you! 5 grams of plant-based proteins in every serving, made with real almonds (Dream Ultimate Almond is made with four times more California almonds), and totally lactose/dairy/gluten/soy/carrageenan free. Considering the fact that I've never enjoyed the taste of dairy milk (and I'm maybe a little lactose intolerant), I'm definitely an almond beverage convert!
Especially since they make some great freaking waffles. These churro waffles were crispy on the outside, fluffy on the inside, and absolutely packed with flavor. They were maybe a little chewier and slightly denser than the average Belgium waffle, but I kind of liked them that way – a little closer in texture to churros than waffles.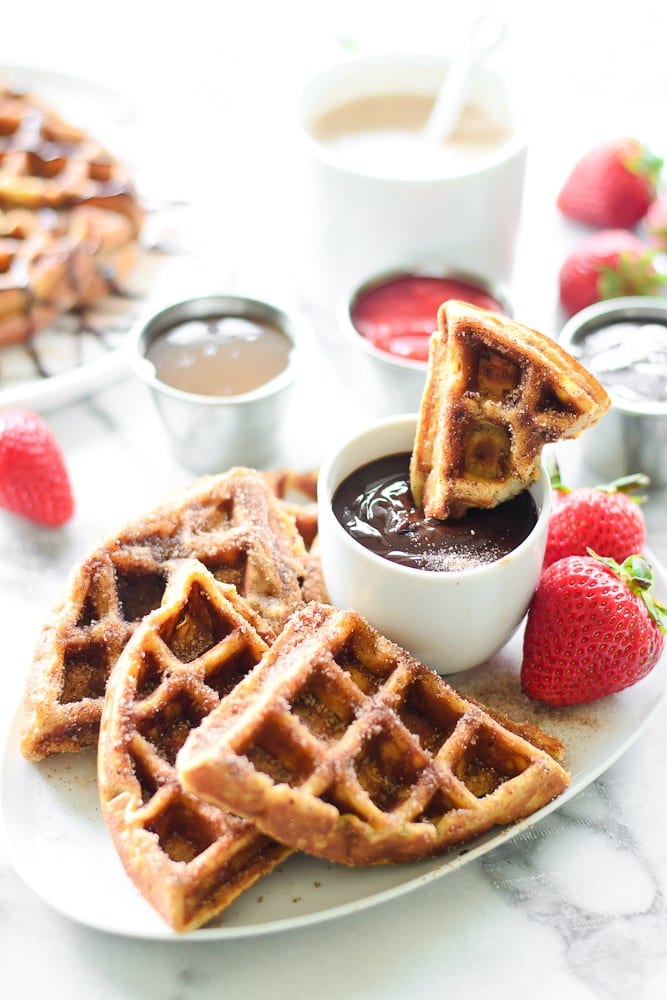 Brushed with melted butter, coated in cinnamon sugar, and served with chocolate, strawberry and caramel sauces, these churro waffles are the stuff of dreams. Wonderful when served hot and fresh out of the iron, but just as tasty leftover the next day (the texture gets even denser/chewier in the fridge, and the flavors more concentrated). If ever there was a dessert masquerading as a breakfast food, this is it. And it is GLORIOUS.
See Also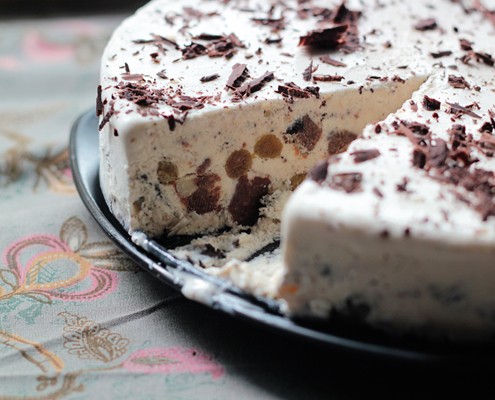 The new DREAM Ultimate Almond beverage can be found now at Whole Foods and soon at your local Sprouts. Click here for a coupon.
For more inspiration, check out this easy ice cream, no dairy or churning needed!



d
Tina Hu
Course
Breakfast, Dessert
Ingredients
Waffle Batter
1-1/2

cups

Ultimate Almond: Vanilla Almond Beverage

4

tbsp

butter

1/4

tsp

kosher salt

1-1/4

cups

gluten free flour

I used Pamela's pancake and waffle mix

¼

cup

granulated sugar

1

tsp

ground cinnamon

4

eggs

beaten
Cinnamon-Sugar Topping
½

cup

granulated sugar

1

tbsp

ground cinnamon

2

tbsp

butter

melted
Chocolate Sauce
½

cup

semisweet chocolate chips

½ to

? cup Ultimate Almond: Original Almond Beverage
Strawberry Sauce
1

cup

strawberries

sliced and hulled

½

cup

granulated sugar

1

tbsp

lemon juice
Caramel Sauce
½

cup

butter

1

cup

brown sugar

½

cup

heavy cream

½

tsp

salt
Instructions
To make your cinnamon-sugar topping:
Mix sugar and cinnamon together in a shall plate or baking dish.

Set aside until waffles are ready.
To make your chocolate sauce:
Combine chocolate chips and almond milk in a microwave-safe mug or bowl.

Microwave on high for 45 seconds, then stir mixture vigorously.

Microwave in additional 20 second increments, as necessary (stirring vigorously between sessions), until your chocolate sauce is silky smooth.
To make your strawberry sauce:
Place strawberry pieces and sugar in a small saucepan or pot over medium heat.

Stir to coat each piece of strawberry with sugar. Mixture will quickly get juicier as the strawberry juices start to cook out.

Allow mixture to come to a simmer, stirring frequently.

Simmer for 5-8 minutes, then use a fork or potato masher to squish your cooked berries.

Turn off your stove, then stir in your lemon juice.

Allow strawberry sauce to cool slightly, then pour into an airtight container and refrigerate until ready to serve.
To make your caramel sauce:
Melt your butter in a small saucepan over medium-low heat.

Add brown sugar and cook for 1-2 minutes, stirring constantly.

Add cream and salt and cook for 4-5 minutes, stirring constantly.

Once the sauce starts to bubble and thicken, remove from your saucepan from the heat and pour the mixture into a bowl to cool.

Let your sauce to cool to room temperature.
To make your waffles:
Preheat and prep your waffle iron according to the manufacturer's directions.

Place your milk, butter and salt in a medium-size saucepan over medium heat. Cook until the butter is melted and the mixture begins to boil, stirring constantly.

Remove the pan from the heat (leave the stove on), then add flour, sugar and cinnamon, stirring vigorously.

Return the pan to the heat and continue to stir your batter vigorously for about 3 minutes. The batter will start pulling away from the sides of the pan and come together in a dough-like ball.

Turn off your stove and remove from the pan from the heat. Allow the mixture to cool for about 3 minutes.

Divide your dough into two pieces, and put one piece in a blender or food processor.

Pour the beaten eggs on top and then add the rest of the dough.

Pulse until the mixture is smooth and uniformly well-blended. The consistency should be slightly thicker than pancake batter.

Using a measuring cup (or the cup that came with your waffle maker), scoop about ¾ to 1 cup of batter into your prepared waffle iron. Use an offset spatula to gently spread the batter into an even layer.

Close the lid of your waffle iron and cook until done - I usually set my iron to level "4".

Carefully remove the waffle from the iron and place on a wire rack to cool slightly.

Repeat with the remaining batter.

Once waffles are all cooked, and allowed to cool slightly, melt your 2 tbsp butter and use a pastry brush to coat each waffle strip with the melted butter.

Gently roll each waffle in your cinnamon-sugar mixture, pressing gently to ensure that the coating sticks.
To serve:
Serve churro waffles warm, drizzled with chocolate sauce.

Or, cut waffles into small pieces that can be dipped into the three different sauces.
Tina Putzing
I am an attorney, a lover of reality television (esp if food is involved), a stress-eater, a voracious reader, and a shameless sci-fi/fantasy nerd. I love to eat, I love to cook, and I love to make other people eat what I cook.