Chorizo Filled Tacos with Avocado Crema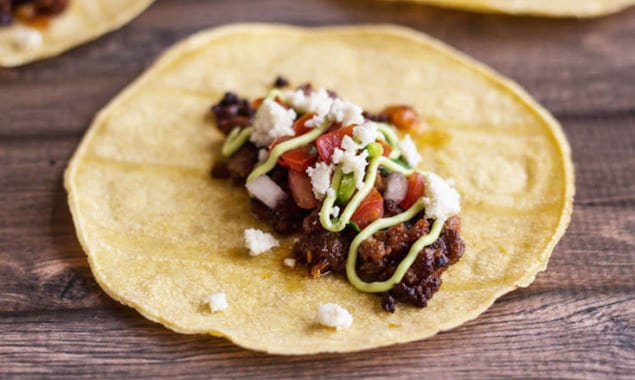 Fresh pico de gallo and cool avocado crema balance a rich chorizo taco filling to create a fun and flavorful meal.
By Sabrina Russo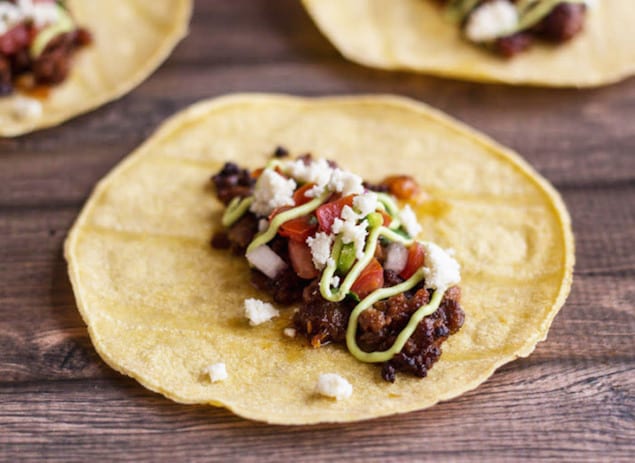 These chorizo tacos are served up with pico de gallo, avocado crema and queso fresco on corn tortillas. Feel free to mix and match any of your favorite toppings.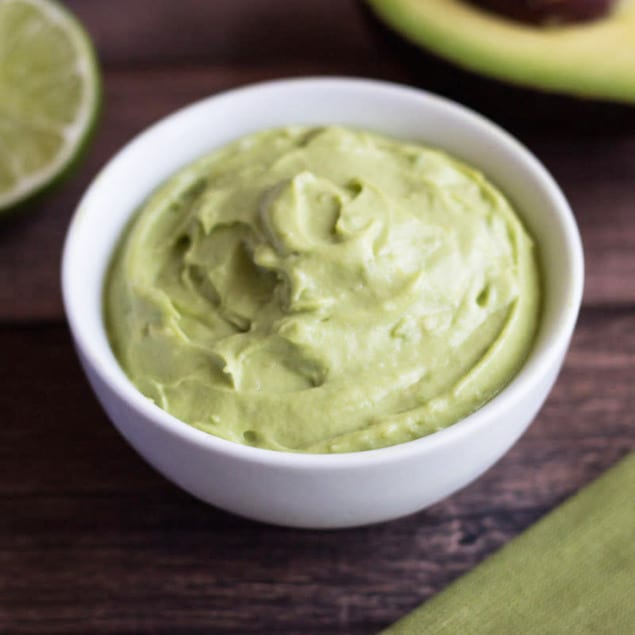 Find the recipe for the Avocado Crema here.

Chorizo Filled Tacos with Avocado Crema
Fresh pico de gallo and cool avocado crema balance a rich chorizo taco filling to create a fun and flavorful meal.
Ingredients
For pico de gallo
1 ½ C tomatoes, seeded and diced
½ medium red onion, diced
1-2 jalapeños, seeded and diced
2T lime juice (about 1 lime)
½ C loosely pack cilantro, roughly chopped
For avocado crema
See the link above for the recipe
For filling
1T olive oil
1 lb fresh chorizo sausage, casing removed
½ medium onion, diced
1 clove garlic, minced
Kosher salt and fresh cracked pepper
Corn tortillas, for serving
Queso fresco or mild feta, for serving
Instructions
For pico de gallo, combine all ingredients in a medium bowl except cilantro. Stir in cilantro right before serving. Set aside.
For filling, warm olive oil in pan over medium-high heat. Add chorizo to pan, break up with a wooden spoon and sauté 4-6 minutes or until browned. Reduce heat to medium, add onion, season with salt and pepper and sauté 3-4 minutes or until translucent. Add garlic and sauté for 30 seconds. Remove pan from heat. Warm tortillas over gas flame on stove top for about 30 seconds or until pliable. You may also wrap tortillas in foil and warm in a 350°F oven while cooking filling. To serve, fill tortillas with chorizo, pico de gallo and crema, and top with cheese. Enjoy.
Sabrina Russo
My Three Seasons represents the 3 key factors that are most important to me in cooking. #1 Seasonal ingredients #2 Proper Seasoning (don't skimp on that salt!) #3 Cooking like a Seasoned chef (technique is everything). My name's Sabrina. I live in NYC. I'm a registered dietitian with professional cooking and food styling experience. Come cook with me.