Tim Elliott with valuable advice on how to find the right wines for the Christmas table.
By Tim Elliott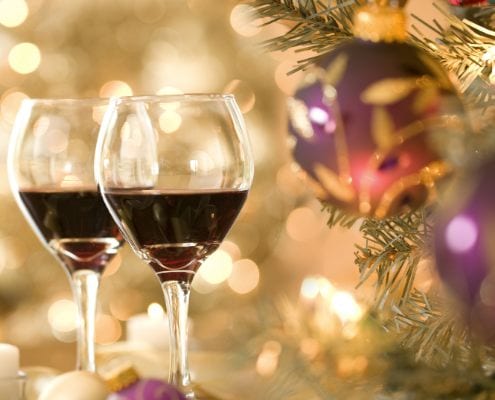 The Holidays are a time for family and friends to gather over the table to share food, wine and conversation. There are many family and cultural traditions associated with Christmas that usually include a feast which begs to be paired with memorable wines. Here is my short list of wines to consider for your Christmas table.
Champagne
Sparkling wine is made all over the world and there are many fine examples of the style made in California, Spain, Italy, Germany and even New Mexico. But the mother of all sparkling wine is made in France's Champagne region.
Champagne is a very versatile wine which can pair with almost any entrée. Sir Winston Churchill was known to drink Champagne with nearly every dinner and is commemorated with a special bottling from his favorite Champagne house. If your main entrée is on the hearty side then pick up a rosé Champagne that can even be a nice match for a standing rib roast. And who doesn't like bubbly?
Cabernet Sauvignon
Most years a Cabernet Sauvignon based wine is on my Christmas table. It is the perfect match to our beef rib roast with roasted potatoes. This grape is popular around the world but some of the best come from Bordeaux's left bank. Look for Médoc or Haut-Médoc on the label to find blends made predominately from Cabernet Sauvignon.
World-class Cabernet also comes from the United States with Napa Valley and Washington State making many highly regarded wines. But don't count out the lesser known regions of California such as Sonoma and Mendocino who also produce top quality Cabernet. In South America, Chile has established a reputation for very good Cabernet at bargain prices. And Cabernet from Australia's Coonawarra region are also making a name for themselves. Any good wine store will have a wide selection of wines from these regions at prices for any budget.
Full-bodied Whites
Not everyone enjoys red wines so you might need a full-bodied white wine for some at the table. Chardonnay is probably the most well known variety making rich and powerful wines that can stand up to hearty dishes. White Burgundy is a classic match to the Holiday table but, sadly, the finest examples are beyond the reach of many budgets. Fine Chardonnay is made in most every wine producing region with notable examples from California's Napa and Sonoma Valleys, Australia and even Italy. For a leaner, sharper Chardonnay look for wines from New York State or France's Chablis region.
White wines made from Rhône grapes are also another good choice with Marsanne and Roussanne making aromatic and complex full-bodied wines. Look for them on their own or in blends from France or California.
Sweet Wines
Finishing a fine meal with dessert also provides an opportunity to enjoy sweet wines. There are many to choose from that are made from late harvested grapes such as France's Sauternes or late picked German Riesling but these can be very expensive. For more budget friendly options look for fortified wines from Portugal and Spain. My favorites are Porto, PX Sherry and Madeira.
Porto is made from a blend of several grapes in Portugal's Douro Valley. During fermentation neutral spirits are added which stop the fermentation and retains sweetness in the finished wine. Several styles of Porto are made but the most accessible are Ruby Porto or Late Bottled Vintage (LBV) Porto with sweet plum and cherry flavors.
Sherry comes from a specific area of Spain where only a few grapes are used. One of them is Pedro Ximénez (PX) which produces a rich and syrupy wine with flavors of raisons and molasses perfect for dessert. Or you can pour it over vanilla ice cream for a dessert itself. And the best part is these wines tend to be under $25 a bottle so they are very budget friendly.
Madeira is another Portuguese fortified wine made in the North Atlantic islands of the same name. Once used as ballast for sailing ships, the wine was extremely popular during the 17th Century on both sides of the Atlantic. The wines are lusciously sweet with concentrated dark fruit, carmel, coffee and spices. This year it seems Madeira is making a comeback with consumers looking to top off their meals with something sweet.
Tim Elliott
Tim Elliott is a marketer, blogger, and podcaster based in the Twin Cities. In 2004 he created Winecast, the first wine podcast, which is also a wine blog. He has also written about wine for Minneapolis City Pages and Vineyard & Winery Management Magazine.