Chocolate Zucchini Bread Bites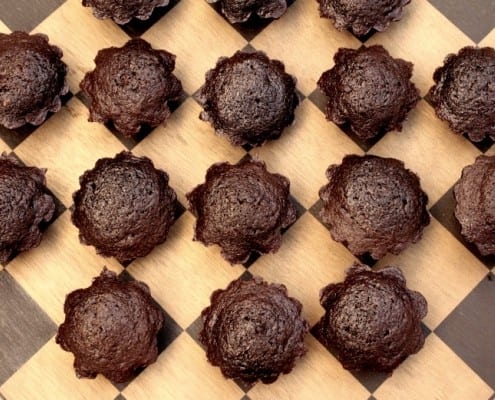 This quick recipe for Chocolate Zucchini Bread Bites is one that should grace every kitchen. Not only is it an absolutely fantastic way to use up zucchini, but it's healthy too.
By Rochelle Ramos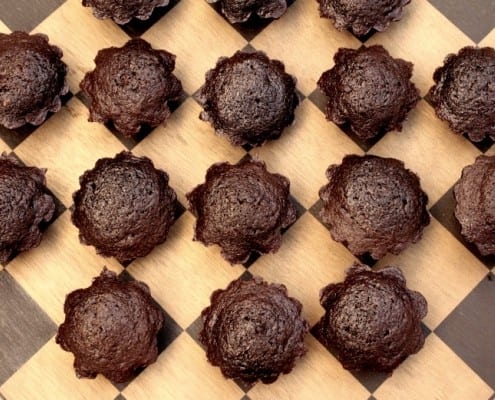 Outside the colors are vivid blues, greens and soft white browns. The heat beats down on all bringing about raw sunburned, freckle speckled and tanned skin. Summer sun that bleaches the grass and brings life to the trees high up in that insanely bright sky. The sun brings many thoughts and feelings of swimming, picnics, lazing about in the sun and fresh foods.
I for one am not the huge fan of the bright and sunny season as many, due to the heat, but I am a fan of the food. I love the bright flavors, the intense colors and the variety in all of the above. You can eat light but feel like you've gotten plenty do to the strength that most summery foods have in flavor. The only problem is not knowing what to do with it all before it's past it's peak.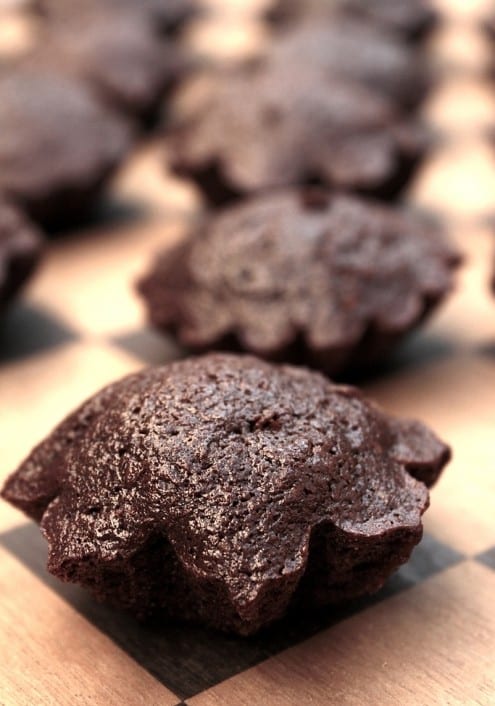 Zucchini, or courgette if you prefer, is one of those notoriously abundant summer foods, that if you aren't in the "know" can seem overwhelming with their number and in some cases their size. If you've ever grown the summer squash yourself, you know exactly what I'm talking about! But there is nothing to fear when you have a few good recipes in your kitchen for such an occasion.
This quick bread for Chocolate Zucchini Bread Bites is one that should grace every kitchen. Not only is it an absolutely fantastic way to use up zucchini (especially the overgrown monstrosities that grace every garden at least once in a summer) but it's healthy too! I've even gotten quite a few requests for the recipe as no one believes the main ingredient is zucchini what with it's moist and fluffy texture.
Zucchini breads usually call for copious amounts of oil in the recipe. This version doesn't, instead I used pureed apple/pear instead to moisten the bread and whipped the egg whites prior to adding them to the batter. This adds in light and airy pockets that make the bread nice and fluffy.
Chocolate Zucchini Bread Bites
A healthy yet fluffy and rich chocolate zucchini bread, perfect for all those extra zucchini.
Ingredients
1 apple or pear, pureed. About ½ cup (120ml)
1 egg, white and yolk separated
2 egg whites
1 cup (200g) sugar
1½ cup (350ml) shredded zucchini
1 cup (115g) flour
½ cup (60g) cocoa powder
1 teaspoon (5ml) baking soda
¼ teaspoon (2ml) baking powder
1 teaspoon (5ml) vanilla
1 teaspoon (5ml) cinnamon
pinch of salt
Instructions
In a bowl mix together pureed apple/pear, egg yolk, sugar, shredded zucchini, and vanilla. In a separate bowl, whip the egg whites with an electric mixer and set aside.
Whisk together flour, baking soda, baking powder, cocoa powder, cinnamon and salt. Alternate adding the flour and whipped egg whites to the zucchini mixture, stirring well before each addition.
Pour batter into lightly oiled muffin tins or cake/bread pan and bake at 350F (175C) for 15-20 minutes for muffins, 40-50 minutes for cake/bread or until a toothpick inserted in the center comes out clean.
Notes
For less sugar use ¼ cup (60ml) honey and only ½ cup(100g) of sugar.
Rochelle Ramos
Rochelle is an Americana cooking, eating, photographing and writing in Portugal. She has a love for real food and learning to make it from scratch. As a new expat, she is slowly learning to speak the language and will soon be able to order more than just a café and pastel de nata from the local pastelaria.