This recipe comes from Humphry Slocombe in San Francisco, where Chocolate Smoked Salt is actually one of the tamer flavors.
By Brittany Everett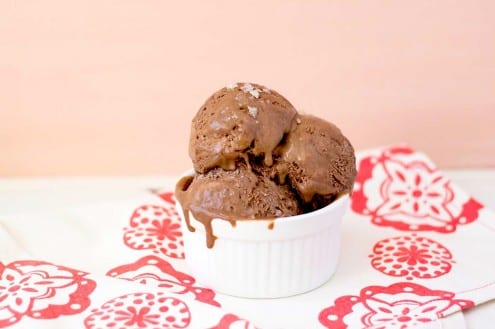 Chocolate Smoked Salt Ice Cream
This recipe comes from Humphry Slocombe in San Francisco, where Chocolate Smoked Salt is actually one of the tamer flavors.
Author:
Humphry Slocombe Ice Cream Book
Ingredients
1¾ cups granulated sugar
½ cup water
2 cups heavy cream
1 cup whole milk
3 egg yolks
½ cup unsweetened cocoa powder
4 ounces dark chocolate (70%), chopped
1 tablespoon coarse smoked salt
Instructions
In a large, heavy-bottomed, nonreactive saucepan over medium-high heat, melt ¾ cup of the sugar, stirring occasionally with a heatproof spatula and watching constantly. Continue cooking until the caramel takes on a deep amber color and is a smooth liquid, about 15 minutes. Be careful not to burn it, because it goes from being perfect to burnt very quickly.
Immediately add the water to stop the cooking - but be careful because it will splatter. Reduce the heat to medium and stir until smooth. Add the cream and milk and cook, stirring occasionally, until the mixture is hot but not boiling.
Fill a large bowl or pan with ice and water. Place a large clean bowl in the ice bath and fit the bowl with a fine-mesh strainer. Meanwhile, in a medium bowl, whisk together the egg yolks and remaining 1 cup sugar until well blended.
Remove the cream mixture from the heat. Slowly pour about half of the hot cream mixture into the yolk mixture, whisking constantly. Transfer the yolk mixture back into the saucepan with the remaining cream mixture and return it to medium heat. Cook, stirring constantly with a rubber spatula and being sure to scrape the bottom of the saucepan so it doesn't scorch, until the liquid begins to steam and you can feel the spatula scrape against the bottom of the pan, 2 to 3 minutes.
Just toward the end of cooking the custard, whisk in the cocoa powder. At this point, whisk constantly until finished, because cocoa burns very easily. When the custard is done, remove from the heat.
Put the chopped chocolate in a heatproof bowl. Pour the hot custard over the chocolate and whisk until the chocolate is melted and the mixture is smooth. Immediately pour the custard through the strainer into the clean bowl you set up in the ice bath. Let cool, stirring occasionally.
When the custard has totally cooled, cover the bowl tightly and chill in the refrigerator for at least 1 hour or preferably overnight. When you are ready to freeze the custard, transfer it to an ice cream maker and spin according to the manufacturer's instructions. Right after spinning, fold in the smoked salt. Eat immediately, or transfer to an airtight container, cover, and freeze for up to 1 week.
Brittany Everett
A graphic designer by day, Brittany enjoys cooking, eating, photographing and discussing food with every other waking moment. She created Kitchenette, a food blog dedicated to making delicious comfort foods from scratch and with love.