Rolls are one of those simple cakes that can look fancy and serve as coffee cake on any given day or as a fancy dessert.
By Tamara Novacoviç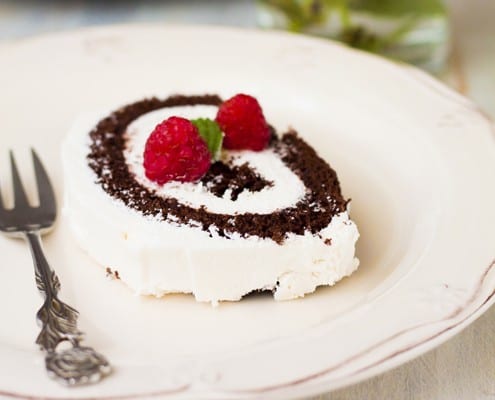 Rolls, or as we call them in Croatia – "roulade" – are one of those simple cakes that can look fancy and serve as coffee cake on any given day or as a fancy dessert.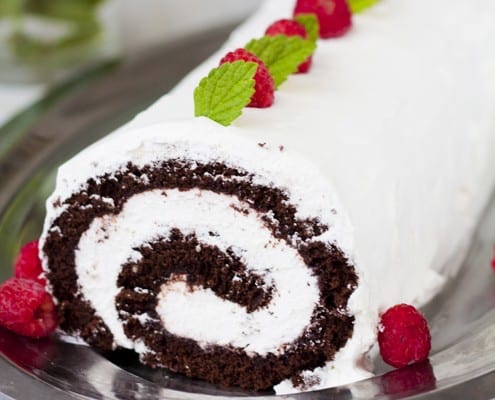 They consist of light and "airy" rolled sponge and filling of your own choice. This sponge is basically made of only eggs, flour and sugar. Sometimes leavening agent is added and cocoa for chocolate ones.  It's important to beat eggs with sugar until really pale, light and fluffy, which will ensure its lightness. It's also important to roll the sponge while hot, to prevent it from cracking. Make sure to sift dry ingredients and avoid lumps, this will make a really fine texture. If you want to enhance it, substitute part of flour with cornstarch. As for the filling, whipped cream with vanilla is very often used, along with fresh seasonal fruits – in this case beautiful raspberries. Also, you can use fruit jelly, or chocolate ganache, even ground nuts.
Chocolate roll with raspberries
This beautiful roll is made with cocoa and seasonal raspberries and is the perfect summer cake.
Ingredients
For the sponge
5 eggs
1.7 oz (50 g) cocoa powder
2.6 oz (75 g) all purpose flour
1 tsp baking powder
3.5 oz (100 g) sugar
For the filling
0.84 cup (200 ml) whipping cream
1 tsp vanilla extract
grated zest of ½ lemon
10.5 oz (300 g) raspberries
4 tbsp sugar
Instructions
For the sponge: beat eggs with sugar until pale and fluffy (5 minutes). Combine cocoa, flour and baking powder, sift and add to the egg mixture.
Preheat oven to 374 F (190 C).
Line baking sheet 14 inch x 16 inch (35 x 40 cm) with parchment paper. Spread the mixture, evenly. Bake for 10 minutes. Take out and roll with parchment paper while still hot. Leave to cool completely.
For the filling: Combine raspberries with sugar and cook until it boils. Then cook for a few minutes and remove from heat. Strain to remove seeds.
Whip cream with vanilla. Add lemon zest.
Spread raspberry coulis over sponge, spread whipped cream on top. Roll it again and leave in fridge for 1 hour. Then cut and serve. You can decorate with fresh raspberries and mint leaves or chocolate.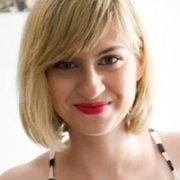 Tamara Novakoviç
Tamara Novakovic is a passionate self-taught cook, food blogger, freelance food writer and photographer behind bite-my-cake.blogspot.com. Her life journey has led her through Faculty of Humanities in Zagreb, Croatia to discovering passion for making cakes. She is currently a weekly food columnist for Croatian newspaper V magazine and food magazine Repete.