Chocolate Pudding Shortbread Bars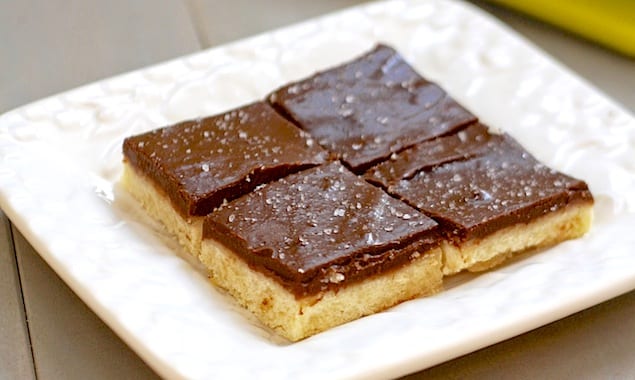 The recipe is exactly as it sounds. The pudding sets up nicely in the fridge so that the shortbread can be cut into perfect little squares, topped with sea salt.
By Natalie McLaury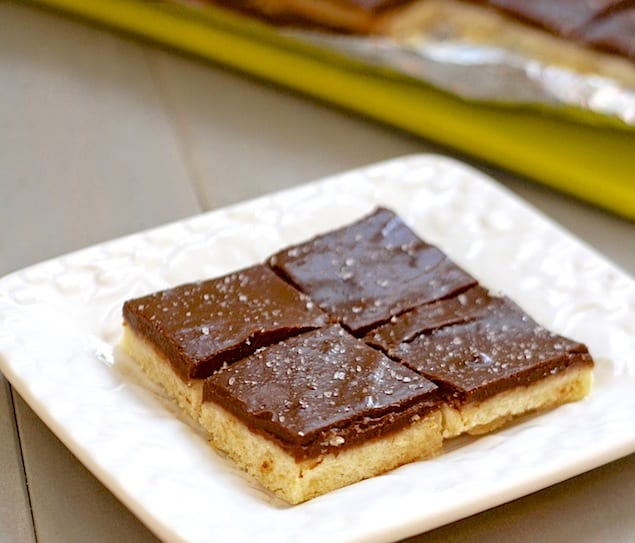 The recipe is exactly as it sounds: a shortbread bar topped with chocolate pudding. This isn't oozing snack pack pudding like you might be picturing. Instead, the pudding sets up nicely in the fridge so that the shortbread can be cut into perfect little squares. If you're really feeling daring, sprinkle a little sea salt atop the pudding before serving and watch people go mad for the sweet and salty combination!
Even if you don't consider yourself a pudding lover, I'm willing to bet you'll have a hard time resisting these!

Chocolate Pudding Shortbread Bars
The pudding on the bars sets up in the fridge so that the shortbread can be cut into perfect little squares, topped with sea salt. adapted from Crepes of Wrath.
Ingredients
For the shortbread
1 cup (2 sticks) unsalted butter, room temperature and cubed
½ cup granulated sugar
2 cups all-purpose flour
1 tsp kosher salt
For the pudding
1 cup heavy cream
1¼ cups chocolate chips
2 tbsp granulated sugar
2 eggs, room temperature
1 tsp vanilla extract
sea salt, for sprinkling
Instructions
Preheat oven to 375F. To make the shortbread, line a 9 x 13 inch pan with foil and spray with cooking spray. Beat butter until smooth (3 minutes), then add sugar, beating until fluffy (additional 3 minutes). Add the salt and flour, ½ cup at a time, until dough is well-mixed and coming together.
Press the shortbread dough into the prepared pan, using your hands to make it an even layer. Bake for 20-25 minutes, until set and lightly golden. Allow to cool for 10-15 minutes on a cooling rack.
While shortbread is cooling, make the pudding. Heat the cream until simmering in a medium sized pot over medium high heat. Reduce heat to medium low and stir in the chocolate, stirring constantly until chocolate is melted.
Remove the pudding from the heat and whisk in sugar, eggs, and vanilla. Return the pot to the heat for 5 minutes, whisking constantly, until mixture begins to thicken. Allow to cool for 5 minutes before pouring into cooled shortbread crust.
Cover and refrigerate pan until pudding is set, at least 2 hours. Before serving, sprinkle with sea salt and cut into squares, using a clean knife and wiping knife between each cut (for cleaner cuts). Store in fridge in a covered container for 3-4 days.
Natalie McLaury
Natalie McLaury is a St Louis based food writer with a passion for real food and experimenting in the kitchen. Her cooking ranges from healthy three course meals to decadent desserts, and she shares many of her food tips and recipes on her successful The Sweets Life blog . As an avid runner and fitness expert, she also gives the occasional tips on how to combine a serious interest in health with a sweet tooth.