Chocolate and Pomegranate Cups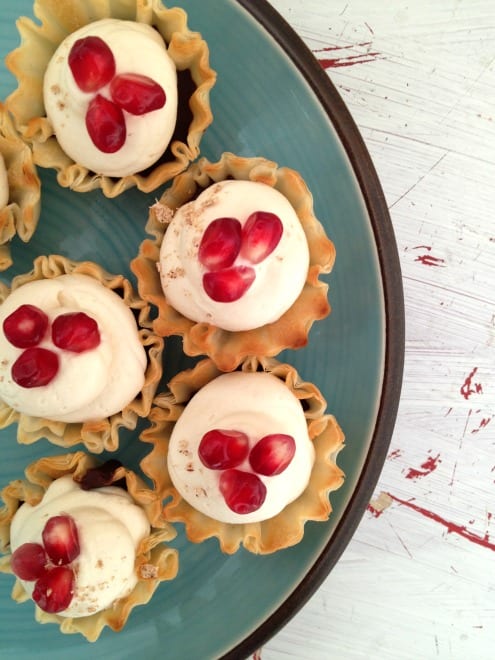 If you're looking for a simple dessert to end a luscious holiday meal, these Chocolate and Pomegranate cups are the perfect recipe.
By Marnely Rodriguez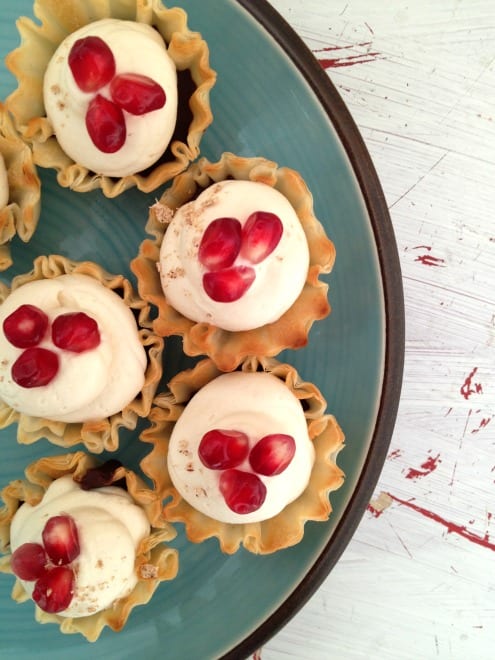 Slowly but surely, crimson red pomegranates are popping up all over the markets this month. In the Northern Hemisphere, this gorgeous fruit will populate the stores between September and February, making it readily accessible for the upcoming holiday recipe making. These Pomegranate & Chocolate cups are a clear winner to end a Thanksgiving meal -your guests will thank you for not subjecting them to the same variety of pies as always!
After you bring them home, you'll think to yourself – how do I break this open? If you haven't cracked into a fresh pomegranate before, you are in for a delicious surprise. I did a quick online search and found this great tutorial from Tasty Kitchen that will guide you through the process.
See Also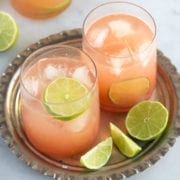 And with so much pomegranate available, today I'm sharing a simple recipe that lets it shine in all its glory, with a few key flavoring ingredients such as orange extract and pomegranate molasses, you'll be able to literally whip these up 15 minutes before your guests arrive!
The whipped cream is infused with tart pomegranate molasses and citrusy extract that balance out the chocolate bottom perfectly. Try using your favorite chocolate in this recipe – milk, white, or the darkest you can find! I find that the 72% bar I used was a good choice; not too sweet, not too bitter.
Chocolate & Pomegranate Cups
If you're looking for a simple dessert to end a luscious holiday meal, these Chocolate & Pomegranate cups are the perfect recipe; quick and easy to make they'll wow your guests with their flavor!
Author:
Marnely Rodriguez-Murray
Ingredients
½ cup heavy cream, cold
3 tablespoons pomegranate molasses
1 teaspoon orange extract
Pinch of salt
¼ bar Green & Black's baking chocolate, chopped
Fresh nutmeg
Pomegranate tendrils
12 phyllo cups
Instructions
Whip the heavy cream until medium peaks form. Fold in the pomegranate molasses, orange extract, and salt. Place in a piping bag.
Melt chocolate in microwave, stirring every 20 seconds. When melted, grate fresh nutmeg into chocolate to taste.
Pour melted chocolate, about one teaspoon each, into the phyllo cups. Place cups in refrigerator for 10 minutes to set the chocolate.
When chocolate is set, pipe flavored whipped cream into cups, top with fresh pomegranate tendrils and sprinkle a pinch of nutmeg on top.
Notes
You can purchase pomegranate molasses at any ethnic store or market and they are also widely available online.
Marnely Rodriguez-Murray
Marnely Rodriguez-Murray is the author of the food blog Cooking with Books. A graduate of The Culinary Institute of America, she has worked as an Overnight Bread Baker in Colorado, a Chocolate Maker in Virginia as well as a Pastry Cook on the whimsical island of Martha's Vineyard, just to name a few. She currently resides on Martha's Vineyard with her chef-husband, where they are both on an endless search for Caribbean flavors, new culinary trends and gastronomic inspiration.