Holidays are the best time to try your luck in the kitchen. What better reason to discover your inner chef? Whatever your drive may be, remember: food is always love. 
By Joy Zhang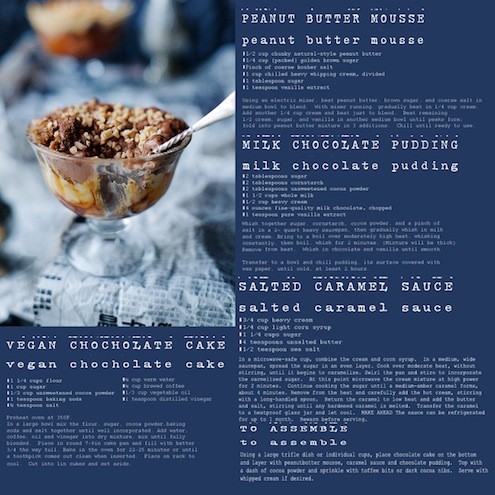 My favorite holiday of the year is hands down, Thanksgiving.  Growing up, my family didn't have many Thanksgiving traditions – it was a foreign holiday that we never really embraced.  But I'd always dream about what kind of Thanksgivings I'd have when I grew up: the perfectly browned turkey, mashed potatoes and gravy, sweet potato casserole with those nicely melted marshmallows on top, green bean casserole topped with crispy fried onions…the glory!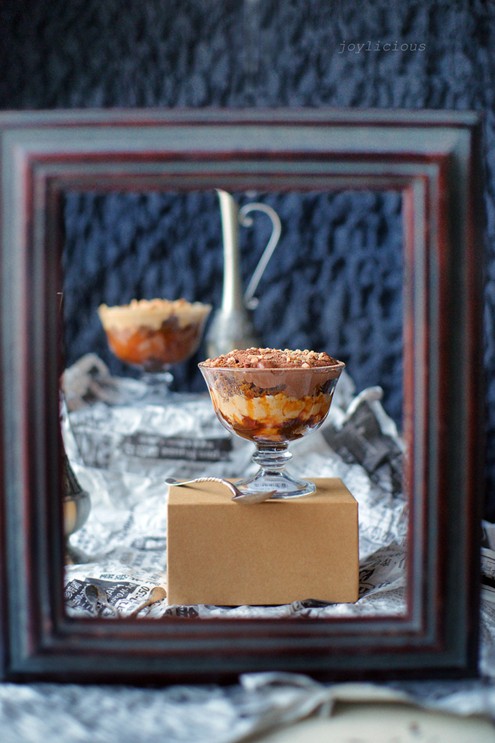 Once I headed off to college and pretty much had to fend on my own, cooking was something that continued to stay constant in my life (Thank you mom!).  So before everyone would disperse for Thanksgiving every year, we'd get together, I'd make an epic Thanksgiving feast, and we'd eat ourselves stupid — but in a good way. It was my way of showing my appreciation to my friends in the best way I knew how: through food.    Now as the years have passed I still maintain my annual Thanksgiving feast tradition.  I like that, tradition.  It takes a long time for something to become a tradition.
It was our first Thanksgiving feast in our new home this year so I knew I had to make it special.  To prepare a feast for 15 people can often be a challenge so I kept my recipes simple and made sure to start prepping as early as possible.  I created prep lists to keep track of all the tasks that needed to be completed and made detailed shopping lists of what stores and what items I'd need.  I started prepping 3 days before the event and once the big day came I wasn't running around the kitchen like a maniac.  I felt revived after not cooking for so long and yes there were some mistakes but overall the entire meal was a wonderful success.  People went back for seconds and thirds, others passed out from intense food coma, and of course to maintain "tradition" we ended the meal by forcing the cook to perform a piano solo.  (Thank you Jenni)  Apparently there is NO REST for the weary.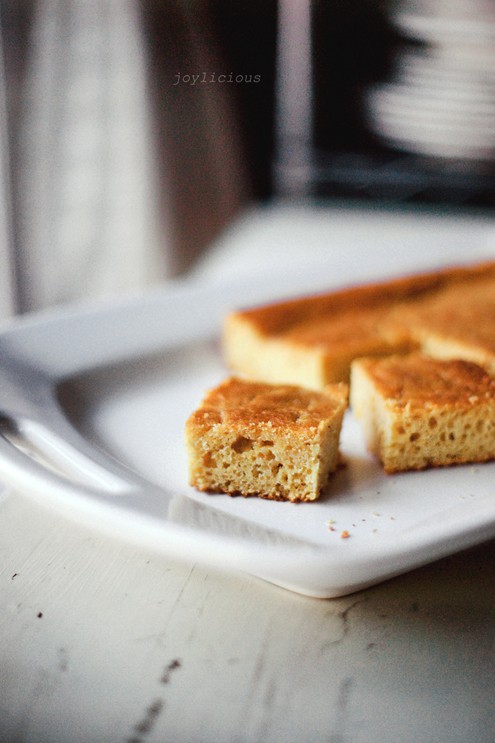 We had Cajun Turkey, Southwestern Cream Corn, Green Bean Casserole with Maitake Mushrooms, Cornbread Stuffing with Sausage and Apples, Sweet Potatoe Casserole with Marshmallows, Fresh Garden Salad, Roasted Vegetables with Walnut Gremolata, Garlic Mashed Potatoes, Peanutbutter Chocolate Trifle, Caramel Apple Pie, Sugar Shortbreads and Peanutbutter M&M Cookies.  I'd like to share two recipes that I think many of you will enjoy during thanksgiving: Maple Corn Bread and THE Chocolate Peanutbutter Trifle.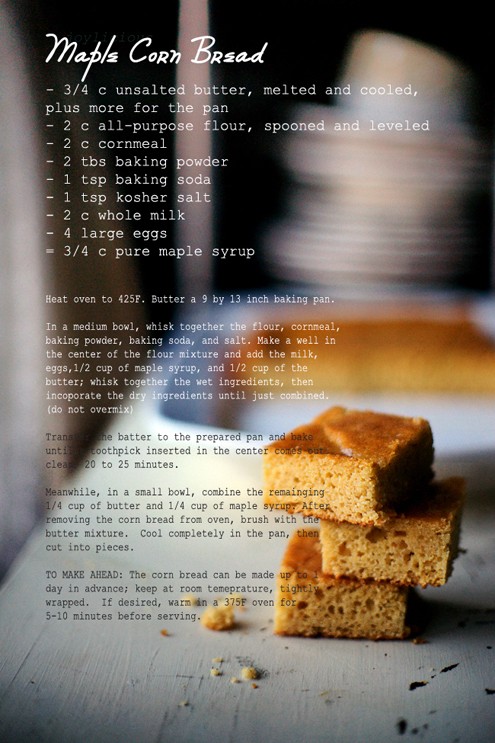 I adored this cornbread recipe that I found via Real Simple. It was easy to make and the results was a buttery sweet cornbread with a slightly crisp edge and top.  I wished I had made extra for tableside bread but I actually used this cornbread recipe for my stuffing.  I made the recipe two days beforehand to save time, plus this gave the bread time to dehydrate a little bit before cooking.  I even used some leftover cornbread pieces and used them for croutons on a salad.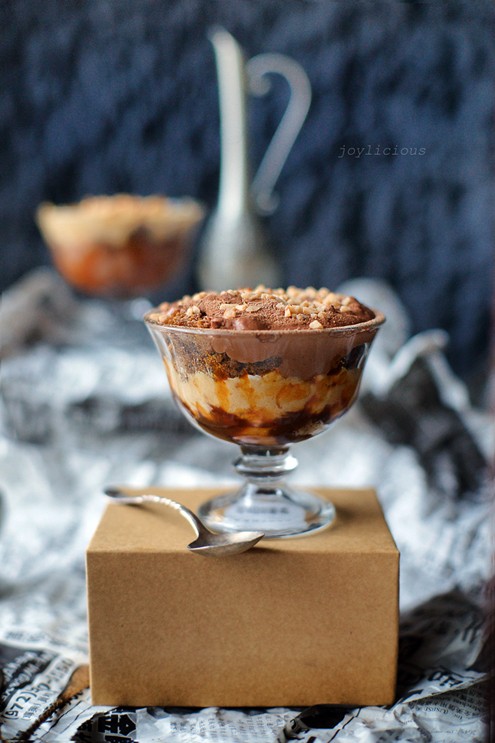 I didn't discover the beauty of trifle until I started to date my husband.  Before that my main reference to trifle was through Friends when Rachel made a trifle, messed up the recipe because one of the pages were stuck to Shepard's Pie but hey Joey liked it – custard, jam, meat, what's not to like?
http://www.youtube.com/watch?NR=1&v=pqq_Wrwo5zw
My first real experience with trifle was through my Aunt Lauri — she made this incredible trifle of moist cake, custard, cream, lots of chocolate…it was a beautiful thing.  I never was able to shake the memory of her wondrous trifle until the following year when we'd all get to have it again for Thanksgiving.  This time around I thought I'd try a trifle for Friendsgiving.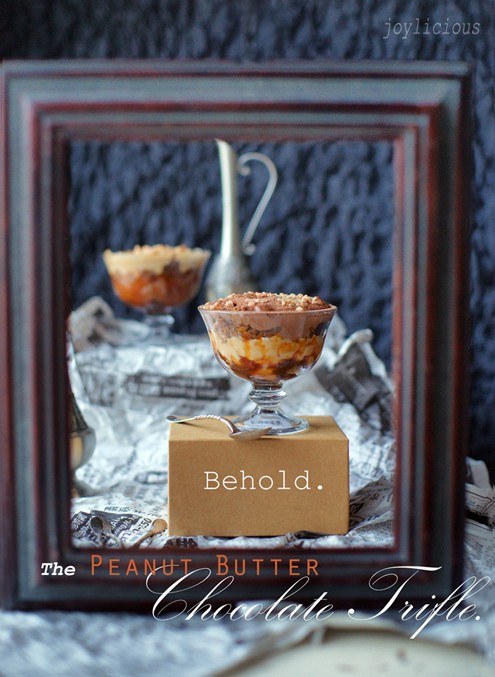 There were a few problems I'd like to note about my first trifle experience that will help you guys out –
1. Make BIG generous layers.  My problem I made the layers too small so when it came to serving time, all the layers kind of blended together.  I realized when you make big generous layers of every filling, when it comes to serving time, your guests will be able to differentiate the different layers you have going on for your trifle.
2. I originally used gingerbread for my cake layer.  I should've used a moist chocolate cake (which is what I changed the recipe to).  Ginger, chocolate, peanut butter — not good. Chocolate, chocolate, peanut butter — REAL good.
Other than that, the fillings were really quick and easy.  I found the peanut butter mousse (I doubled the recipe) and milk chocolate pudding via Epicurious  and the salted caramel sauce from Food and Wine.  The peanut butter mousse tasted very similar to the filling in a Reeses peanut butter cup and the milk chocolate pudding was rich and decadent.  I used a gourmet dark chocolate bar I found at my local store for a bolder flavor but feel free to use milk for a milder touch.  And the salted caramel sauce adds the perfect finishing touch and I used whatever was leftover and poured it on top of my Apple Streusel Pie so it became an Apple Caramel Streusel Pie.
Holidays are the best time to try your luck in the kitchen.  What better reason to discover your inner chef?  Whatever your drive may be, remember: food is always love.  Even if you happen to have a little meat in your trifle.  Happy Thanksgiving friends.  Best wishes for a wonderful time with family and friends and don't forget to go for extra helpings of dessert – who are we kidding?
Joy Zhang
A 25 year-old free-lance photographer, home-chef and writer from Dallas, Texas, Joy finds inspiration for her photography and recipes through music, art and nature. Her work has been featured on Elle Girl Korea and Gourmet Live. Join her culinary adventures through her kitchen and discover fresh, simple and delicious recipes.