If you are anything like Tamara Novacoviç, you are going to love these swirls as well.
By Tamara Novacoviç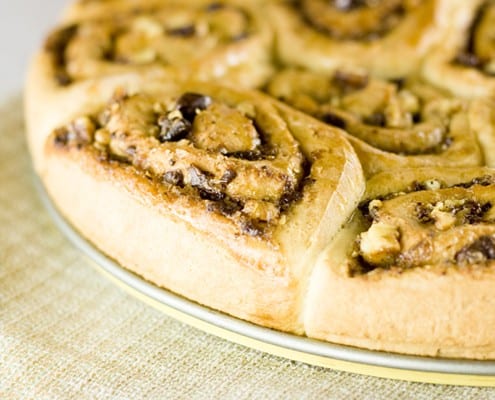 Cinnamon swirls, lemon swirls…I like them all. This time I combined chocolate with orange, threw in some walnuts and got another flavorful swirls. Feel free to use any nuts. Recently, I really grew to like the combination of orange and walnuts.

Chocolate orange walnut swirls
If you are anything like Tamara Novacoviç, you are going to love these swirls as well.
Ingredients
For the dough
3.5 cups (450 g) all purpose flour
½ tsp ground cinnamon
pinch salt
1.7 oz (50 g) butter, melted
1 oz (30 g) sugar
2 tsp (7 g) dry instant yeast
1 egg yolk
½ cup (120 ml) lukewarm water
¼ cup (60 ml) lukewarm milk + 1 tbsp sugar
For the filling
1.7 oz (50 g) chopped chocolate
2.5 oz (70 g) chopped walnuts
1 tsp grated orange zest
¼ cup (50 g) brown sugar
⅓ cup (40 g) butter, melted
1 tsp vanilla extract
Instructions
Combine warm milk with 1 tbsp sugar and yeast, let rise for 5 minutes. In a separate bowl, combine flour, sugar, cinnamon, salt. Add egg yolk, melted butter and lukewarm water. Add yeast mixture and knead until soft, smooth dough forms. Set aside while you prepare the filling.
For the filling, melt butter, add vanilla extract. Combine orange zest with brown sugar and chopped walnuts.
Lightly dust working surface with flour. Roll out the dough into rectangle shape and brush with melted vanilla butter. Sprinkle with brown sugar mixture and roll, starting with longer side of the rectangle. Cut into equal pieces (about 5 inches wide) and place them into buttered round spring form pan. Cover with clean kitchen towel and let rise for 1 hour in warm place.
Preheat oven to 392 F (200 C). Bake for 30-40 minutes (until nicely golden). While still hot, pour some honey over and serve.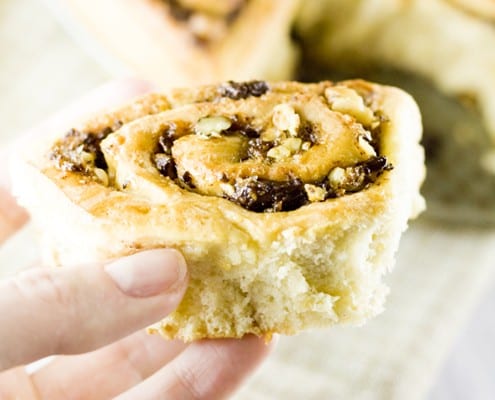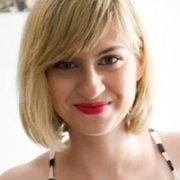 Tamara Novakoviç
Tamara Novakovic is a passionate self-taught cook, food blogger, freelance food writer and photographer behind bite-my-cake.blogspot.com. Her life journey has led her through Faculty of Humanities in Zagreb, Croatia to discovering passion for making cakes. She is currently a weekly food columnist for Croatian newspaper V magazine and food magazine Repete.