Inspired by the great Joanne Harris, Tamara Novacoviç decides to make these lovely chocolate mendiants.
By Tamara Novacoviç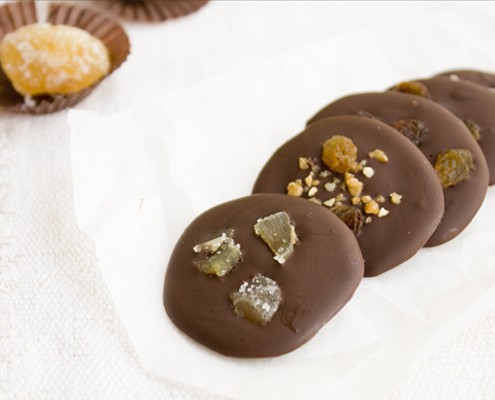 Have you read "Chocolat" or its sequel "The lollipop shoes"? Or maybe you've seen "Chocolat" the movie with fantastic Julliete Binoche and Johhny Depp? I am a fan of Joanne Harris' work. She celebrates the joy and magic of food and life in such a tempting  way. It is said that her fondest childhood memories are of making pancakes with her great-grandmother Mémée, picking blackberries with her grandfather in Yorkshire, and exploring the early morning markets of Noirmoutier.
"I sell dreams, small comforts, sweet harmless temptations to bring down a multitude of saints crashing among the hazelnuts and nougatines."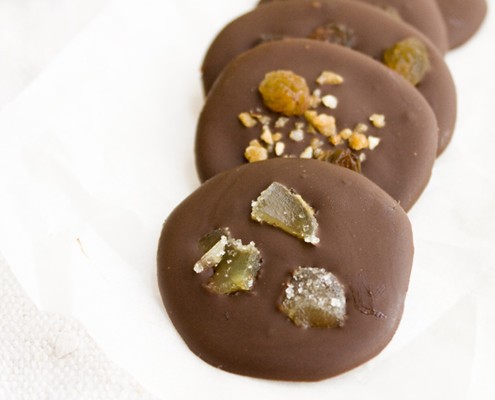 Her books are filled with an abundance of vivid descriptions of chocolate candy, life, joy, mystery. You will want to find yourself in Lansquenet, in the middle of Vianne Rocher's chocolaterie, with your fingertips dipped in melted chocolate and mouth full of chocolate truffles. A celebration of simple joys and mystical portrait of Vianne's life. Although there are no explicit recipes in the book (written in recipe form), you may draw inspiration from her vivid descriptions and want to indulge in some chocolate treats yourself.
Inspired by the book, I made these chocolate mendiants, Vianne's favorite sweets. This is such a simple treat, yet delicate, perfect. You basically make chocolate discs and top them with dried/candied fruit and nuts. You will find it amusing to choose from so many different nut/fruit and chocolate combinations, play with textures and flavors. I made mine with raisins, hazelnuts and candied ginger. Candied ginger is my latest addiction!
Simple, yet delicate and elegant treat!
Ingredients
7 oz (200 g) dark chocolate (70 % cocoa)
dried candied fruit
various nuts
Instructions
Melt chocolate in a double boiler. Take a piece of parchment paper, put it on straight, firm surface. Take a spoonful of melted chocolate and put it on parchment paper, shaping discs. It is better to make them thicker.
While the chocolate discs are still warm, top them with various dried fruit and nuts. Chop larger pieces.
Put everything in the fridge and leave to cool and set completely. When hardened, carefully lift it from the parchment paper and serve.
Keep in cool place.
Note: This recipe yields about 50 mendiants.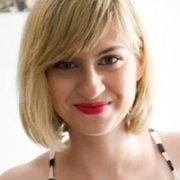 Tamara Novakoviç
Tamara Novakovic is a passionate self-taught cook, food blogger, freelance food writer and photographer behind bite-my-cake.blogspot.com. Her life journey has led her through Faculty of Humanities in Zagreb, Croatia to discovering passion for making cakes. She is currently a weekly food columnist for Croatian newspaper V magazine and food magazine Repete.