Chocolate dipped candied fruit is what you'll want to pair with your cup of hot tea.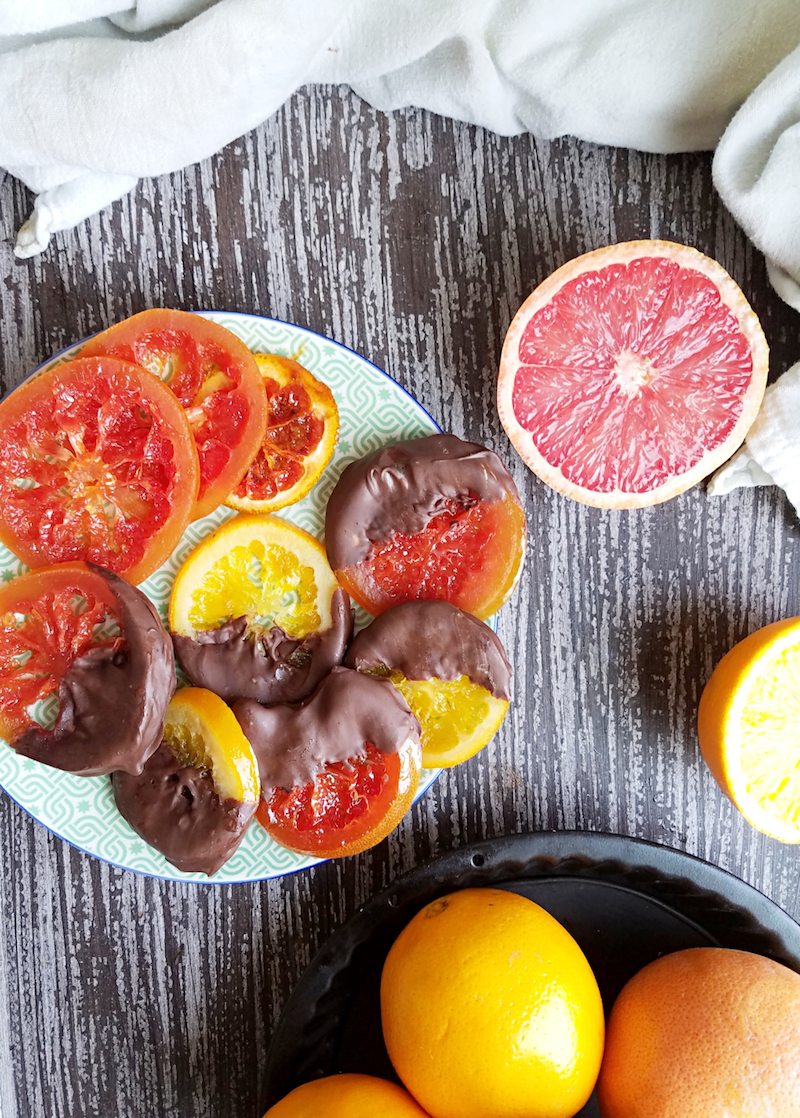 This recipe reminds me of my childhood. It's not something we had in our household on a regular basis, but I remember my grandmother taking me to the local bakery, trying chocolate covered candied orange for the first time. Sure, my fingers were slightly covered in syrupy goodness, but I instantly fall in love with it. Such a delicate flavor!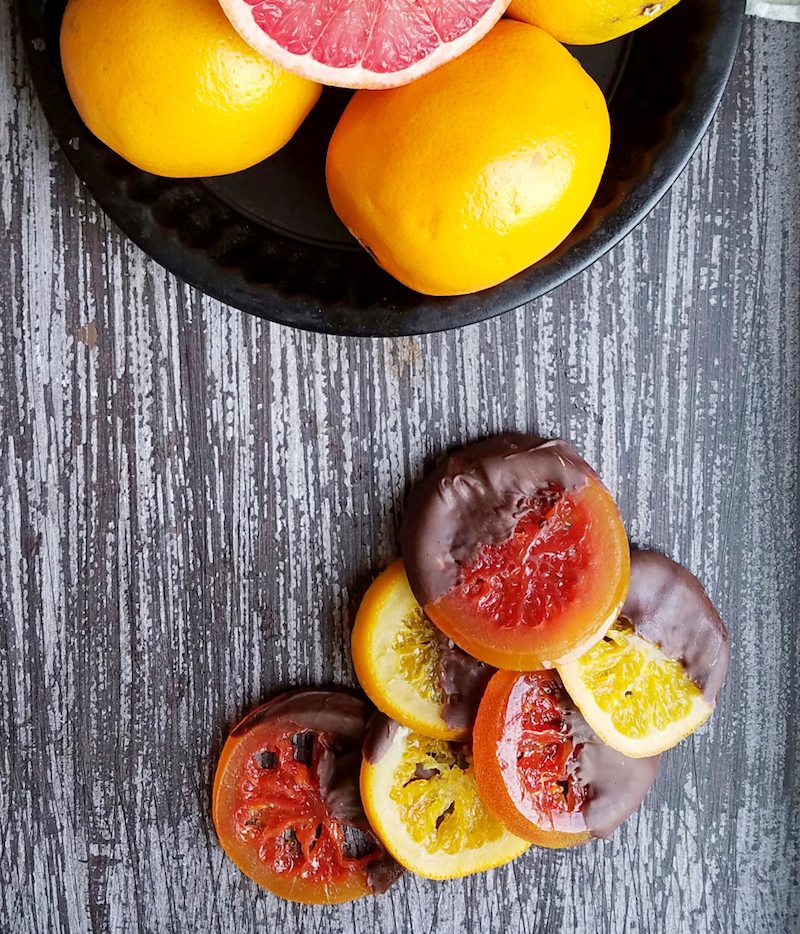 I also remember my grandmother eating grapefruits and a slice whole bread smothered with tahini. None of them were my favorite but she was trying to keep her cholesterol levels as low as possible.
To honor the precious time I spent as a kid with my grandmother, I made chocolate covered orange and grapefruit slices, with the fragrance of cinnamon stick and rum (you may exclude if you wish), all these beautiful flavors and aromas blended beautifully together!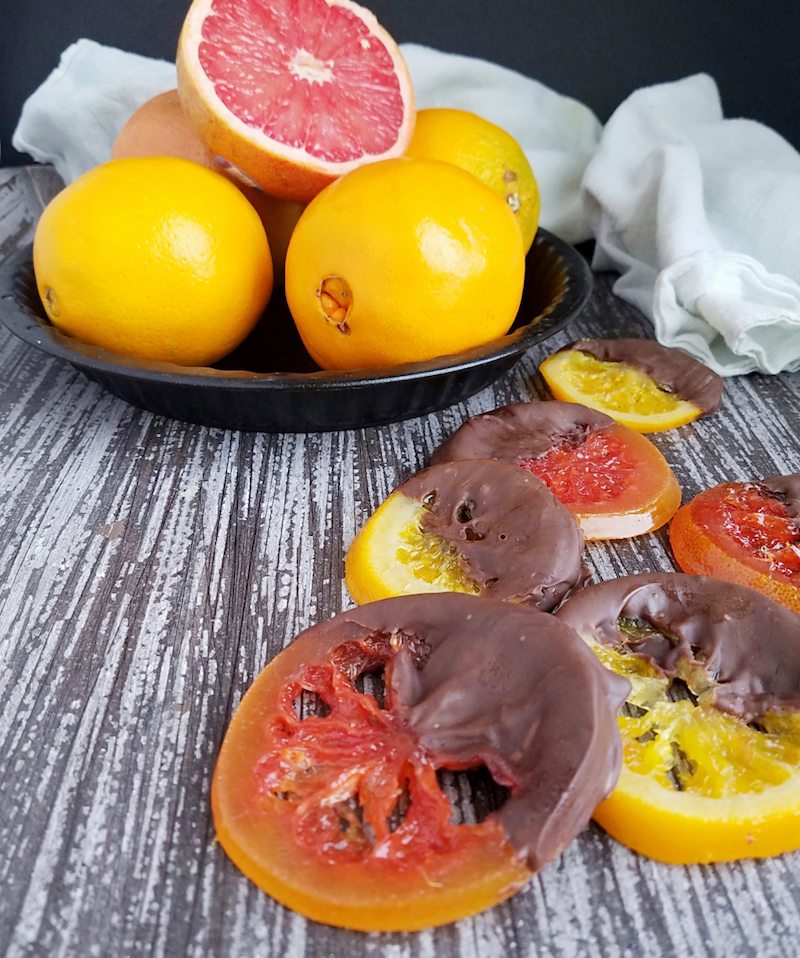 The great thing is, you can keep your syrup for your pancakes, waffles, even tea!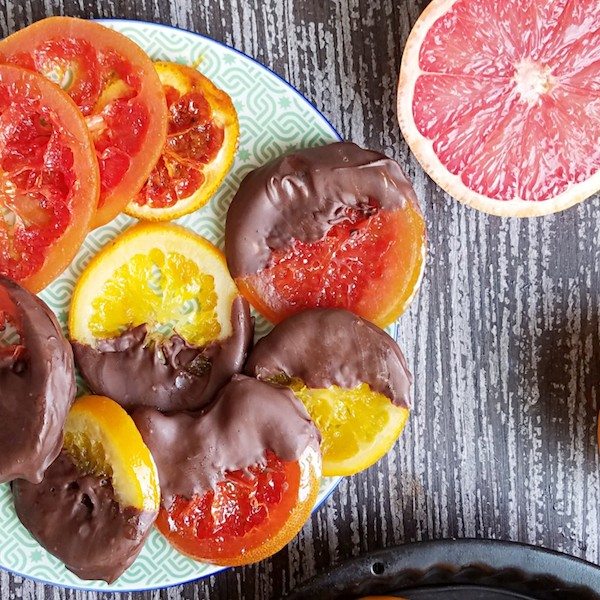 Rita Anastasiou
Ingredients
1

navel orange

1

grapefruit

3

cups

water

2

cups

granulated sugar

4

oz

dark chocolate

1

small cinnamon stick

1/4

cup

dark rum

optional
Instructions
Thoroughly wash the orange and grapefruit to get rid of any wax residue. Slice off and discard the ends, and slice the rest of the fruit into ¼" slices.(almost half cm)

In a wide pot, heat and stir water,sugar and cinnamon stick until the sugar dissolves. Avoid stirring after this point to prevent crystallization. Bring to a gentle boil and add the orange slices. After 15 minutes, lower the heat to medium-low and add the rum (if use).

Flip over the slices and continue cooking on low for another 15-20 minutes, until the peel becomes translucent and the syrup has thickened.

Place a wire rack on top of a lined baking sheet, and transfer the candied slices on top to cool. Reserve orange syrup for other uses.

Melt chocolate and dip slices halfway. Place slices on a parchment-lined tray and chill.
Rita Anastasiou
A Greek foodie and dessert-aholic, Rita lives in the crazy rhythms of Las Vegas with her daughter and husband. A graduate of the Academy of Tourism and Culinary Arts of Greece, she has worked as a cook for five years, but she hasn't stop there. At her blog, Gluten Free Home Bakery, she shares gluten free recipes from Greece and beyond.