An elegantly simple dessert of chocolate crepes wrapped around minty whipped cream.
By Rochelle Ramos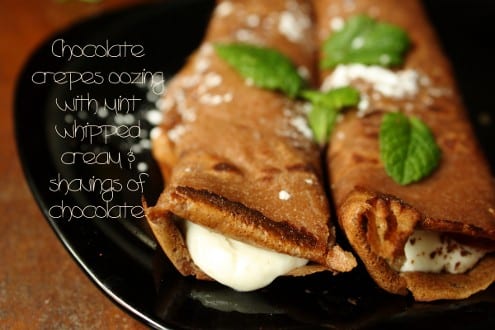 Flat rich chocolate chunk mocha biscotti. Deflated buttery vanilla bean cupcakes. Flaky but in dire-need-of-salt pie crust. Baking flops. All of which happened in my kitchen while trying out to develop new recipes (I blame a good portion of it on the American education system and teaching us the imperial way to measure over the metric… I just can't seem to get a good reliable conversion for every recipe and it drives me nuts). Each and every one reminded me why I prefer cooking to baking.
It's true. I prefer cooking. Cooking is more forgiving than baking. You don't have to have exact measurements, or if you make a mistake you can always add something or change it in some way to make it better. When baking, if you didn't get it in there before it's cooked, you can forget about it turning out the way you had planned.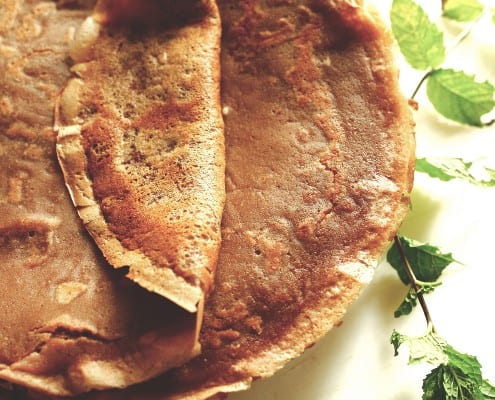 There are times when you can change a baking recipe to come up with a different texture or flavor, but if the base isn't there you can't save it. Cooking, now there you can change it, mold it into something tasty and good and perhaps an even better version than the original when you play with your food.
See Also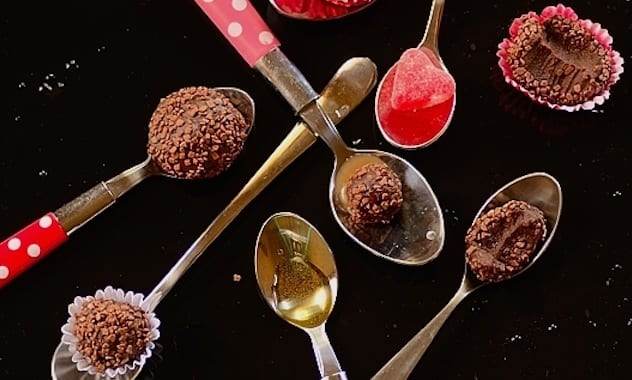 But not liking to bake doesn't mean I can't have a delicious dessert. One that's decadent, and classy. That I can play with the flavors and the proportions of ingredients. One that has crisp curled edges, and a soft flexible interior. Something that's easy and quick, and made from real food and not overly processed stuff.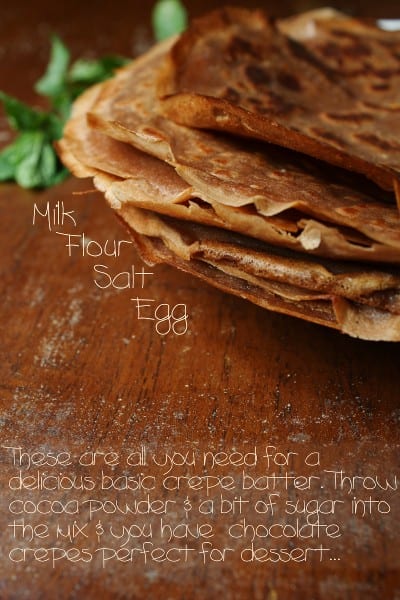 One that is like these chocolate crepes. Chocolate crepes oozing with real whipped cream, flavored with fresh mint leaves. This was a cooking accident that just took a bit of time and creativity.
Print
Chocolate Crepes with Mint Whipped Cream
---
Author:

Rochelle Ramos

Total Time:

17 minutes

Yield:

1

0

1

x
Description
An elegantly simple dessert of chocolate crepes wrapped around minty whipped cream.
---
1 1/2 cups

(350ml) Milk

3/4 cup

(

100g

) flour

1/4 cup

(

30g

) cocoa powder

2 teaspoons

(10ml) sugar
pinch of salt

1

egg, beaten
butter
Mint Whipped Cream
3/4 cup

(175ml) whipping cream, chilled in the freezer for at least 20 minutes prior

1 tablespoon

(15ml) sugar

5

mint leaves
---
Instructions
Whisk the egg, milk, water, and salt together. Add in the flour. If it seems too thick (like pancake batter), add in water a tablespoon at a time to thin it. The batter should be thin like cream.
Over a medium heat, put about a tablespoon butter and allow it to melt. Ladle in some batter and tilt the pan (a nonstick pan seems to be best), rolling the batter around in a circle to cover the bottom of the pan and spread it evenly.
When the edges curl up and inward, flip the crepe over and cook the other side (should only take a minute, total). Repeat with the rest of the crepes.
Mint Whipped Cream
In a chilled bowl with chilled beaters and pour in your cream and beat it on medium until it starts to thicken, about 5-8 minutes. Add in the sugar and continue to whip until it hits stiff peaks (when you pull the beaters out there will be little bits of whipped cream sticking up, not curling over).
Take your mint leaves and bruise them with your fingers to release the oils before rolling them up and finely cutting them into thin ribbons.
Fold the mint into the whipped cream, cover and set in the fridge until ready to use.
Assembly
Take a crepe and lay it out flat, spoon the whipped cream about half an inch (approx. 1 1/2 cm) from the edge of the crepe closest to you. Sprinkle a bit of chocolate shavings on the cream and start rolling from the filled side away from you. End with the seam on the plate to keep it from unraveling.
Finish it off with a sprinkle of powdered sugar, or more chocolate shavings and a mint leaf or two.
Notes
To make this healthier, use plain Greek yogurt or plain 0% fat yogurt and drain the liquid from it using a cheese cloth instead of whipping cream. You can also half the cream and add in half yogurt.
Prep Time:

7 mins

Cook Time:

10 mins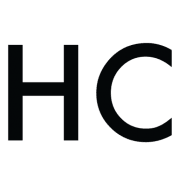 Rochelle Ramos
Rochelle is an Americana cooking, eating, photographing and writing in Portugal. She has a love for real food and learning to make it from scratch. As a new expat, she is slowly learning to speak the language and will soon be able to order more than just a café and pastel de nata from the local pastelaria.