This cake looks worthy of a dinner party or birthday celebration but is super quick and easy to whip up.
By Tania Cusack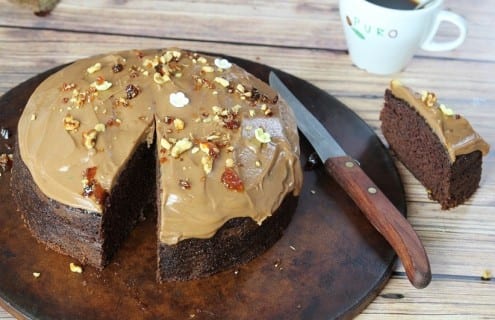 Chocolate Coffee Cake with Coffee Icing
This cake looks worthy of a dinner party or birthday celebration but is super quick and easy to whip up.
Ingredients
1x 6? or 15cm cake tin. Oven 185C/350F
1 cup strong Puro esspresso
11/2 cup of castor sugar
125gm (1 stick) butter
3 Tablespoon dutch cocoa
½ teaspoon baking soda
2 eggs ( beaten)
1½ cups flour
2 teaspoons baking powder
Icing
1 cup of pure icing sugar
2 Tablespoons very strong coffee
50gm ( 1/1/2 oz) soft butter
Instructions
Put the coffee, sugar, butter, bi carb and cocoa into a medium pot that will fit the other ingredients comfortably. Leave on the heat till only just melted. Cool.
Add the beaten eggs and stir well then the sifted flour and baking powder and mix with a whisk till well combined.
Pour into the cake tin and bake for approx 50 minutes or until a skewer inserted in the centre comes out clean
To make the icing the easy way.
Put all the ingredients into a food processor and blitz till dark and well combined.
Tania Cusack
After completing Culinary School in Sydney, Tania travelled the world working as a Chef in restaurants, doing catering and cooking on road for a travel company in Europe and the US. Once back at home, the birth of her son meant a change, and during his small years, she enjoyed jobs in wholesale food, buying Artisan food products, testing and recipe writing as sales and educational tools. Tania is now back to what she loves, working as an in house Chef for a large retailer, conducting Cooking Classes and writing recipes for her blog.