Chocolate Cocoa Crumble Muffins with Wasabi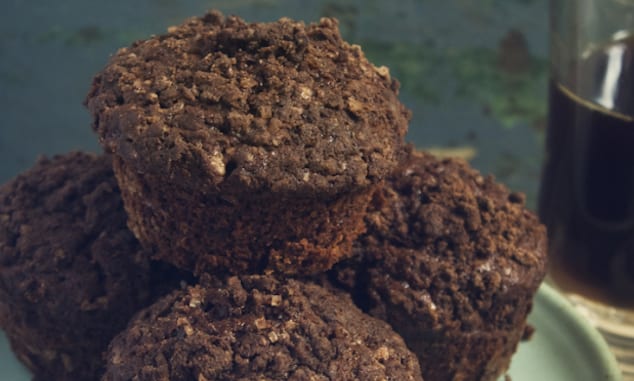 We have all had mediocre chocolate muffins, but these are anything but ordinary. A moist muffin recipe with a crunchy cocoa crumble top and a subtle hint of wasabi.
By Pallavi Gupta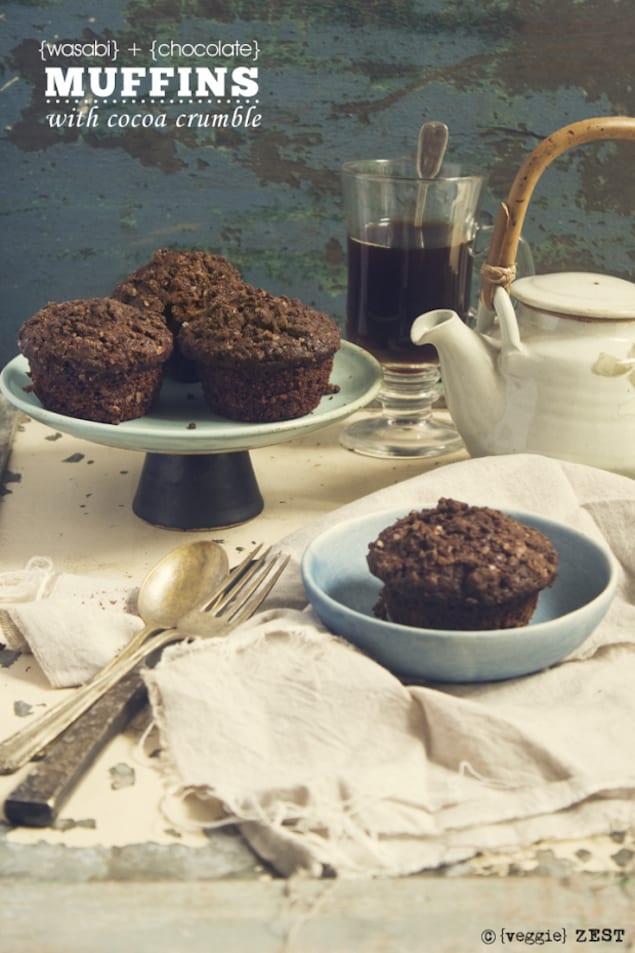 The first thing that I made in the new apartment had to be sweet and chocolaty. I have made chocolate muffins so many times before– we all have. These muffins are moist and have a subtle underlying hint of wasabi. Its definitely not a conventional flavor but worth trying. I also topped the muffins with a cocoa crumble that gave it a slightly crunchy top – a contrast to the moist muffins. I used wasabi powder for this recipe as wasabi paste is little difficult to mix in and you might get wasabi lumps in some bites – yikes! Muffins taste great with coffee or tea specially if its raining outside just like right here in Gurgaon.

Chocolate Cocoa Crumble Muffins with Wasabi
We have all had mediocre chocolate muffins, but these are anything but ordinary. A moist muffin recipe with crunchy cocoa crumble top and a hint of wasabi.
Recipe Type:
Dessert, Baking
Ingredients
1 cup all purpose flour
1 cup cocoa powder
1 tbsp wasabi powder
1 tsp baking powder
½ tsp baking soda
½ tsp instant coffee
1 cup sugar
3 eggs
½ cup butter, softened at room temperature
1 tsp vanilla extract
¾ cup plain yogurt
For Cocoa Crumble
2 tbsp cocoa powder
1 tbsp flour
¼ cup sugar
1 tbsp butter, cold and cut into small pieces
Instructions
Preheat the oven at 350 F/180 C.
Grease and/or line the muffin tin with liners.
In a large bowl mix together, flour, cocoa, wasabi, baking soda, baking powder and instant coffee.
In a mixing bowl add butter and sugar and whisk till it turns pale and fluffy.
Add eggs one by one while whisking the mixture continuously.
Add the flour mixture and stir with a spatula till the flour is just mixed in.
Add yogurt and mix lightly till its just mixed in.
Distribute the batter in the muffin tin and sprinkle the tops with about a teaspoon of the cocoa crumble mixture.
Bake for about 25 to 30 minutes. Remove from the oven, cool completely and serve.
Crumble
Place all ingredients in a bowl and mix them up with the back of a fork. Place in the refrigerator till ready to be used.
Pallavi Gupta
Pallavi is a vegetarian globetrotter, who currently lives in the southern part of India. Past ten years of her life includes living in six cities in three different countries. It has added to her vast exposure of cuisines from different parts of the world which is now reflected in her cooking. She shares her knowledge of vegetarian and vegan recipe from around the world via her blog Veggie Zest. When not cooking or photographing, she does graphic design.