Who said going gluten-free meant having to give up decadent baked goods?
By Sherron Watson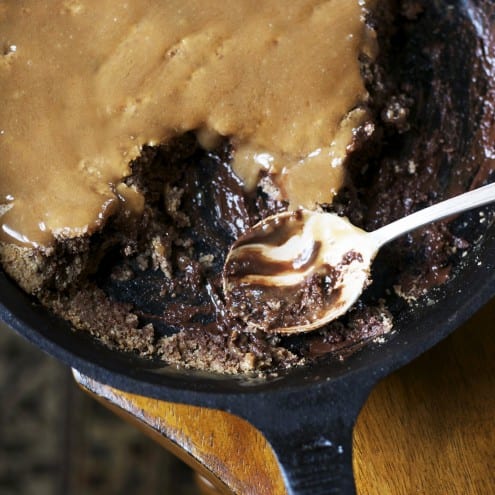 Chocolate Chip Skillet Cookie with Peanut Butter Sauce
Who said going gluten-free meant having to give up decadent baked goods?
Ingredients
½ cup of coconut oil (see note)
½ cup of peanut butter
½ cup of real maple syrup
1 tablespoon of vanilla
pinch of salt
½ teaspoon of baking soda
3 cups of almond meal
½ cup of dark chocolate chips ( I use bittersweet)
Instructions
Preheat oven to 350.
In a blender, combine the first 5 ingredients and blend for 5-6 minutes. The ingredients will pull together and make a caramel type sauce.
I used a 10 inch cast iron skillet. Add one cup of caramel to the pan. Add baking soda, almond meal and dark chocolate. Combine until well blended.
Using your fingers, pat mix into pan. Bake 12-14 minutes. The cookie will be golden brown and puff up. This is a good sign it is done.
Remove from oven and spread the remaining sauce over the cookie.
Serve with a bunch of spoons and eat right out of the skillet or dish it up, either way it won't last long.
NOTE: Virgin coconut oil will taste like coconut, refined coconut oil will have little to no flavor of coconut. I used the virgin coconut oil in this recipe.
Sherron Watson
Sherron Watson is a writer and photographer. Her passion for food started at a young age while working with her family in their restaurant business. A career in photography gave her the experience she needed to start capturing images of her favorite dishes. This led to the creation of her blog: simply-gourmet.com. She is currently a food writer for Capital Style Magazine in Annapolis, MD.