What better treat than a cookie which is buttery, chocolaty and nutty – all in one bite.
By Kankana Saxena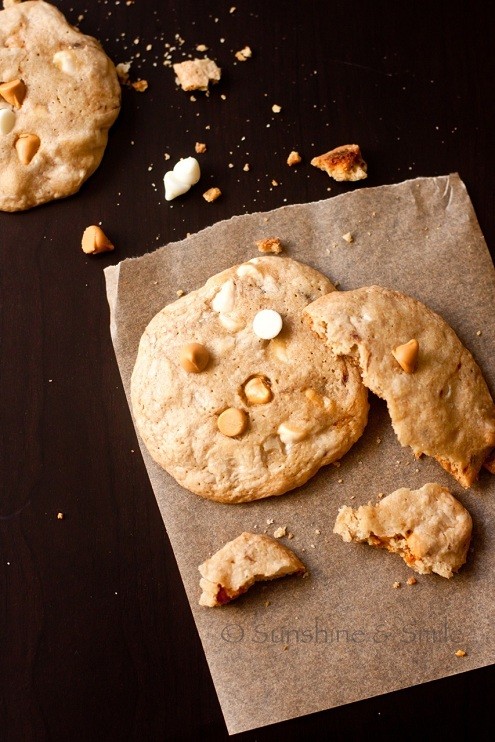 The very first time I ate macadamia nut cookies were from Subway Restaurant. Eventually, it became my favorite and now every-time we buy subs, we pick up a couple of those cookies. They are buttery, soft, a little chewy with crunchy bites in between.. yummmy!
This time I wanted to bake them at home. I didn't chop the nuts too small, just in halves or quarters. And I used some chocolate chips, but you can use whatever you like. Or, skip the chocolate chips and let the nuts be the hero of the cookies.
This will make about 24 cookies (recipe adapted from here)
Chocolate Chips Macadamia Nuts Cookies
A quick and easy to bake cookies which is filled with chocolate chips and crunchy macadamia nuts!
Ingredients
2 cups all-purpose flour
1 egg
1 egg yolk
¾ cup unsalted butter, softened at room temperature
1-1/2 cup sugar
½ tsp baking soda
pinch of salt
1 tbs vanilla extract
1 cup macadamia nuts
½ cup white chocolate chips
½ cup butterscotch chocolate chips
Instructions
In a bowl, mix the flour with salt and baking soda.
In a separate bowl, whisk the egg, egg yolk, sugar and butter until they are mixed properly.
Add vanilla extract and whisk again for a couple of minutes.
Pour the flour mix into the egg mix and mix them properly.
Add the macadamia nuts, white chocolate chips and butterscotch chocolate chips.
Then, mix it to the cookie dough using a rubber spatula.
Pre-heat the oven to 325 F and line a parchment paper on a baking sheet.
Using a spoon, drop a ball of the dough in the baking sheet.
Wet your hands and press the dough to flatten it a little.
Bake for 15 minutes or until the edges are slight brown in color. When you touch in the middle, it should not be hard enough.
Take out the sheet from the oven and let the cookie rest on the baking sheet for 5 minutes before you pick them up.
Let it cool completely before you store them in a jar.
Notes
The cooking time will differ from oven to oven and will also depend on the size of the cookies
Kankana Saxena
Kankana Saxena shares culinary journey, travel stories and passion for photography in her blog 'Playful Cooking'. Her cooking style is mostly nutritional with little bit of indulgence here and there. She believes in the mantra 'homemade is happiness'! She is a native of India but currently resides in Santa Clara, California with her husband.