Chocolate Chip Cookie Bars with Salted Dulce De Leche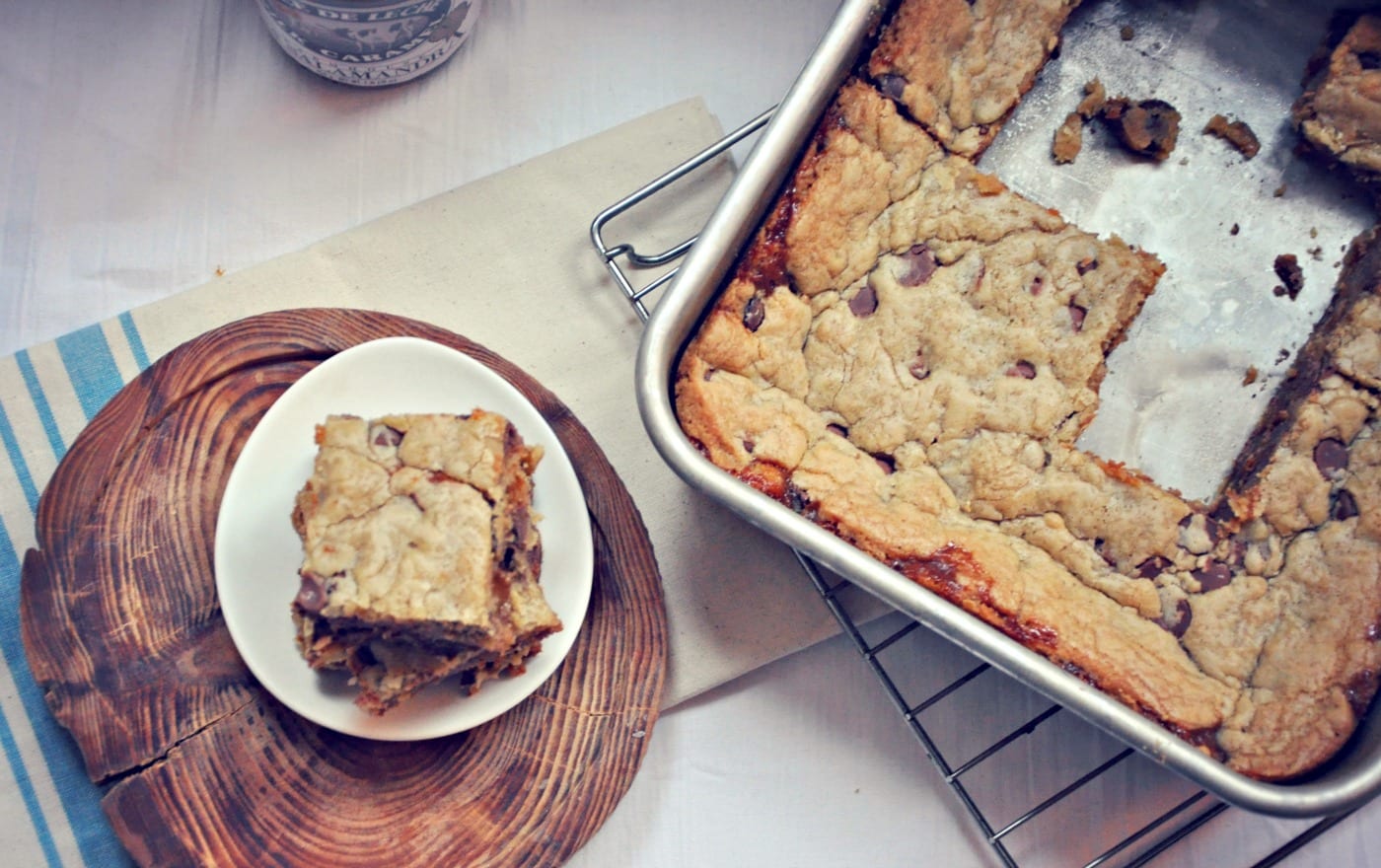 Try these decadent salted dulce de leche chocolate chip cookies right this minute.
By Kim Hamill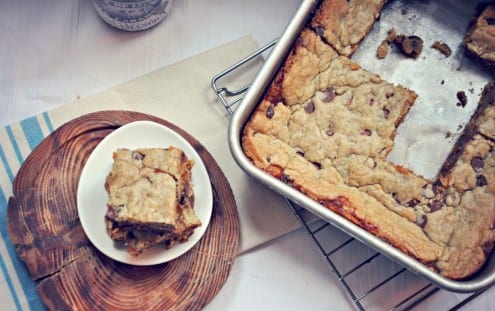 A few nights ago when it was cold and miserable in New York, I made the most delicious chocolate chip dulce de leche cookie bars in the world. That was very nice of me. I first tasted them as part of a bloggers cookie swap and I've been dreaming of them since (thanks Stacciatella Bella).
Chocolate Chip Cookie Bars with Salted Dulce De Leche
Try these delicious chocolate chip cookies with salted dulce de leche right this minute.
Author:
Kim Hamill, adapted from Stracciatellabella
Ingredients
2? cups all-purpose flour
½ teaspoon baking soda
½ teaspoon salt
12 tablespoons unsalted butter, melted and cooled to room temperature
1 cup light brown sugar
½ cup granulated sugar
1 egg
1 egg yolk
2 teaspoons vanilla extract
2 cups chocolate chips
10 ounces of dulce de leche (this is my favorite, but you can also melt 10 ounces caramel candy squares, unwrapped, with 3 tablespoons heavy cream)
Fleur de sel (or other sea salt), for sprinkling over caramel and bars
Instructions
Preheat oven to 325 degrees F. Grease a 9-inch square pan; set aside.
In a medium bowl, whisk together the flour, baking soda, and salt; set aside.
Using an electric mixer, mix together the melted butter and sugars on medium speed until combined.
Add the egg, egg yolk, and vanilla extract and mix until smooth. Slowly add the dry ingredients and mix on low, just until combined. Stir in the chocolate chips.
IF using caramel squares instead of dulce de leche follow this direction: In a medium microwave-safe bowl, combine the caramels and heavy cream. Microwave on high until the caramels are melted, stirring every 20 seconds. This will take about 2 minutes.
Press half of the cookie dough into the prepared pan, smoothing the top with a spatula.
Pour the dulce de leche/caramel over the dough cookie dough and spread into an even layer, leaving some empty space around the edges. Sprinkle the caramel with the sea salt.
Drop the remaining cookie dough in spoonfuls over the caramel and gently spread the dough with a spatula until the caramel is covered. Sprinkle the bars with additional sea salt.
Bake the cookie bars for 30 minutes, or until the top of the bars are light golden brown and the edges start to pull away from the pan. Cool the bars to room temperature, then refrigerate for about 2 hours to allow the caramel layer to set. Cut into squares and serve. Store leftovers in an airtight container at room temperature.
Kim Hamill
By day, Kim is the 3rd generation in her family's NYC taxi business. By night, she writes about food, fashion, DIY projects, travel, and beyond on www.loveumadly.com. Her stories, recipes, and photographs have appeared in Marie Claire, NY Press, the Kitchn, HGTV.com, Food Gawker, and Finding Vegan. She doesn't sleep very much.