Chocolate Chip and Pumpkin Bars with Oats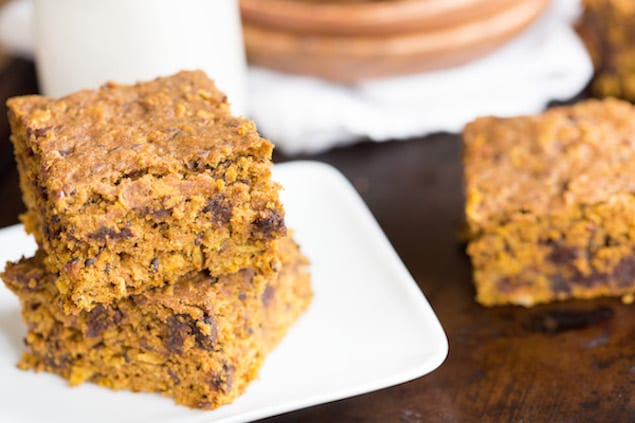 Chewy pumpkin bars are loaded with chocolate and oats for a sweet dessert that is actually quite filling and loaded with fiber from flaxseed.
By Taylor Kadlec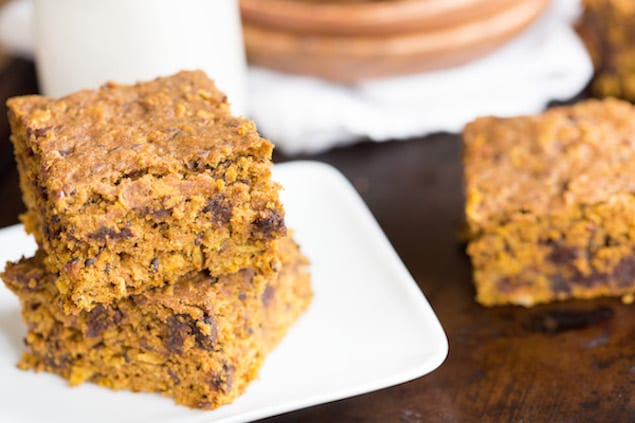 These Chocolate Chip and Pumpkin Bars with Oats are a hybrid dessert. They're yummy enough to be considered dessert but also somewhat healthy enough, being loaded with oats and pumpkin, to snack on through out the day.
The bars are thick and chewy from the oats and whole wheat flour and I love the combination of pumpkin spices and chocolate.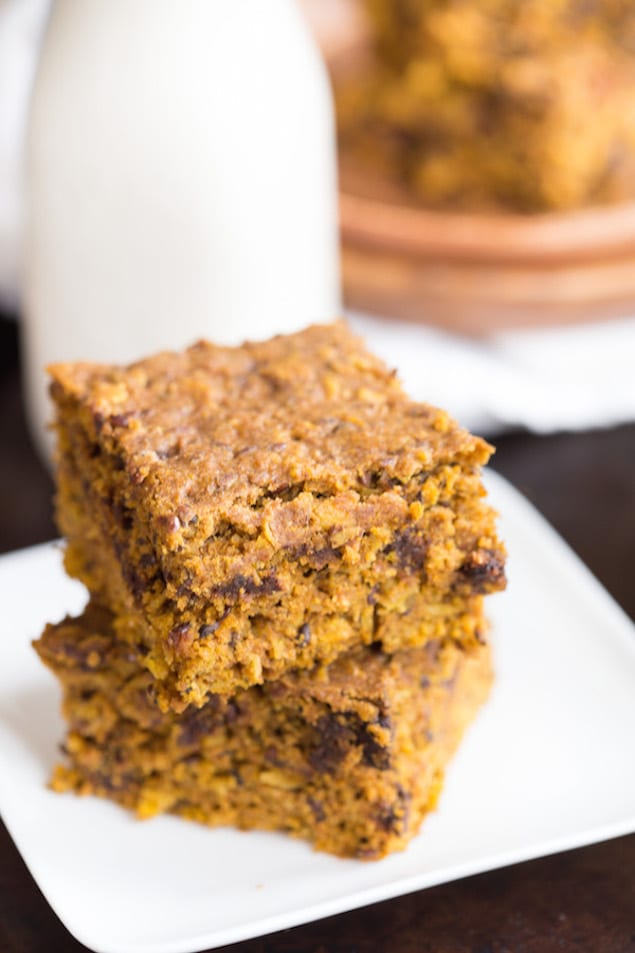 Chocolate Chip and Pumpkin Bars with Oats
Chewy pumpkin bars are loaded with chocolate and oats for a sweet dessert that is actually quite filling and loaded with fiber from flaxseed.
Recipe Type:
Dessert, Baking
Ingredients
1½ cups whole wheat flour
2 cups old fashioned oats
½ cup flaxseed (whole or ground)
3 tablespoons brewers yeast, or an additional 3 tablespoons of flour for non-lactation bars
¾ cup brown sugar
1½ teaspoon baking soda
1½ teaspoon salt
2 teaspoons cinnamon
1½ teaspoon pumpkin pie spice
1 (14 oz) can pumpkin puree (not pumpkin pie filling)
2 large eggs
½ cup coconut oil, measured in melted state
¾ cup milk (I used unsweetened vanilla almond milk)
2 teaspoons vanilla
1½ cup semi-sweet chocolate chips
Instructions
Preheat oven to 350 degrees F.
Spray 9x13" baking dish with cooking spray.
In large bowl combine flour, oats, flax, brewers yeast, brown sugar, baking soda, salt, cinnamon, and pumpkin pie spice.
Stir well to combine.
In medium bowl, whisk together pumpkin puree, eggs, coconut oil, milk, and vanilla.
Add wet ingredients to dry ingredients and stir until just combined.
Fold in chocolate chips.
Pour into prepared baking dish and bake in preheated oven for 38-42 minutes, until slightly golden and toothpick comes out clean from the middle.
Let cool completely.
Cut into bars and enjoy!
Taylor Kadlec
Taylor Kadlec is a lover of all things food including baking, cooking, and of course, eating. She is a self-taught baker and cook, and she shares her kitchen adventures on her blog Greens & Chocolate, where healthy cooking meets sinful indulgence.