Charming little individual chocolate cheesecake jam-jars made with all-natural ingredients and are completely butter-free, egg-free, and refined white sugar-free.
By Kate Olsson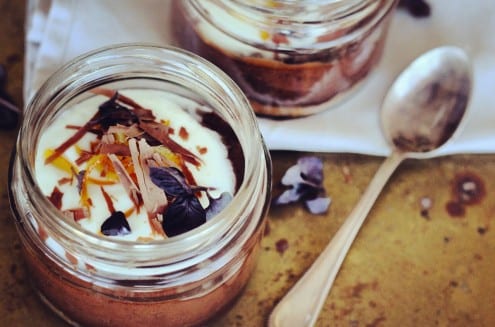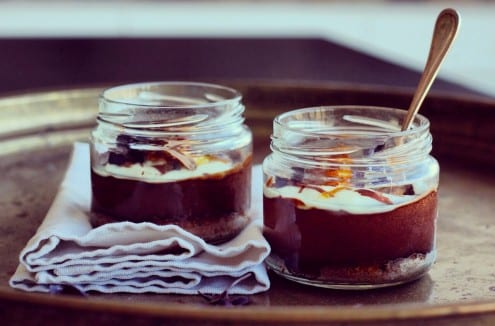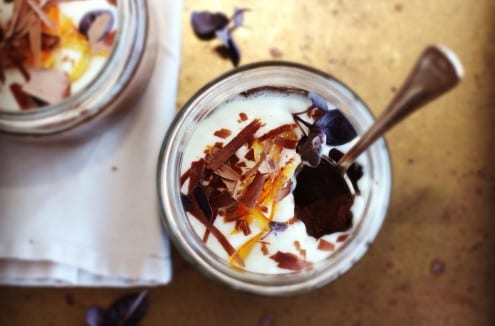 Baked Silken Chocolate Jam Jar Cheesecakes with Vanilla Yoghurt & Candied Orange
Charming little individual chocolate cheesecake jam-jars made with all-natural ingredients and are completely butter-free, egg-free, and refined white sugar-free.
Ingredients
For the base:
¼ cup plain wholemeal flour
¼ cup buckwheat flour
½ cup brazil nuts, ground
1½ tbsp macadamia oil
3 tbsp pure maple syrup – organic if possible
½ tbsp cold water
Sea salt
For the pudding:
300g silken tofu, drained in a fine sieve for at least 20 minutes
¼ cup pure maple syrup
1½ tbsp almond butter
60g dark chocolate, melted
2 tbsp cacao powder – or good quality cocoa
Zest of half an orange
1 tbsp arrowroot
Sea salt
For the candied orange rind:
Thinly peeled rind of ½ an orange
3 tbsp caster sugar
1½ tbsp water
⅓ cup plain yoghurt
½ tsp vanilla extract
Instructions
Preheat oven to 180C
You will need two ramekins or ovenproof dishes for this recipe. I used two old jam jars.
For the base, put the ingredients into the bowl of a food processor and whiz until the mixture comes together to form a ball. The mixture should be moist but not sticky.
Divide the dough between the two jars and press down to create a smooth base.
Pop the jars into the fridge to chill for 10 minutes. Remove from the fridge and transfer to the oven to bake for about 20 minutes, until lightly golden. Remove from the oven and allow to cool.
For the filling, combine all the ingredients in a food processor with a pinch of sea salt.
Whiz until the mixture is soft, smooth and creamy – this should take about 2-3 minutes.
Spoon the mixture into the jars and place back in the oven to cook for 20 minutes, or until firm to touch.
Cool for at least 15 minutes before serving.
While the puddings cool, prepare the candied orange rind.
Start by thinly slicing the orange peel into long strips.
Once sliced, blanch the orange pieces in boiling water for about 10 seconds.
Remove, drain and repeat, then set aside.
Bring sugar and water to the boil in a small saucepan over medium heat, add rind, then cook over low heat for about 2-5 minutes.
Turn off heat and allow to cool.
In a small bowl, stir together the yoghurt and vanilla. Set aside.
When ready to serve, dollop a generous amount of yoghurt on top of each pudding.
Garnish with candied orange rind and chocolate shavings.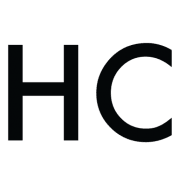 Kate Olsson
Kate Olsson is a writer, stylist and photographer specialising in food and lifestyle subjects. She has lived and worked in Sydney, London, Beijing and Hong Kong and is now based in Australia's food and culture capital, Melbourne. She is the creator of food blog Finger, Fork & Knife which focuses on natural, wholefoods and ingredients, health and well being.