For a salty, nutty aged gouda, there are few things more unexpected than a deep, dark chocolate. These big flavors are rounded out with a sultry butter crust that will be the statement of your next cocktail party.
By Sarah and Mark Burbridge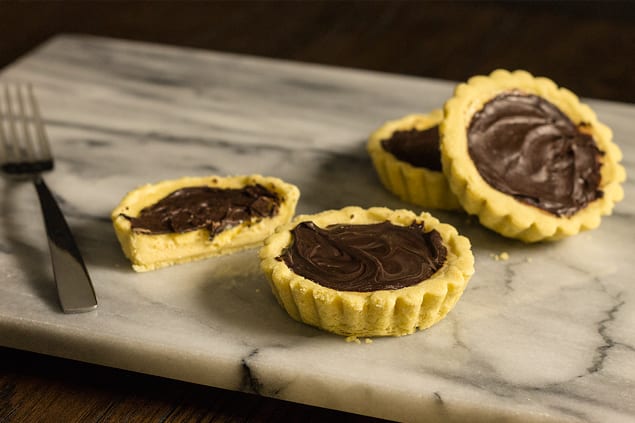 To all the gastronomic nerds, to the epicurean geeks, and the egg-headed foodies; consider this your signal in the sky.
Molecular gastronomy has been making gleeful Mr. Wizards of both amateur and professional chefs around the world for several years now. Given prominence by the likes of chefs Ferran Adria and Heston Blumenthal, molecular gastronomy applies concepts and methods normally seen in chemistry labs to the kitchen, achieving near-magical results not attainable by more traditional methods.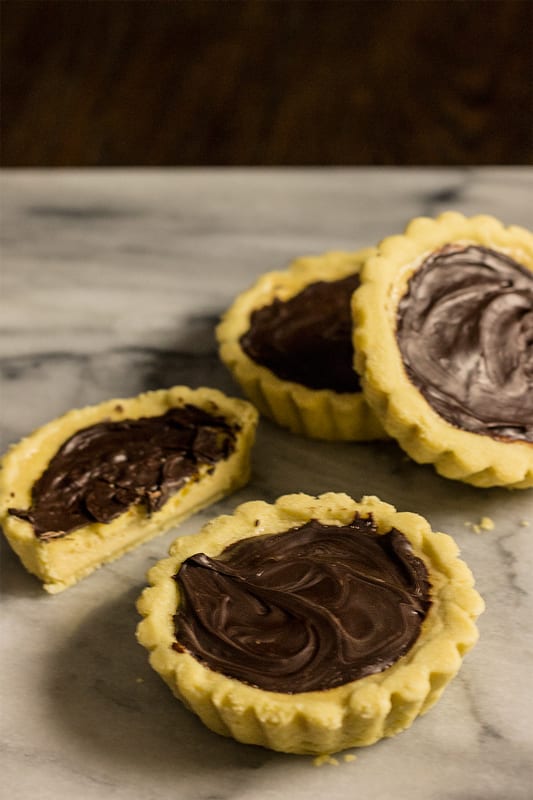 See Also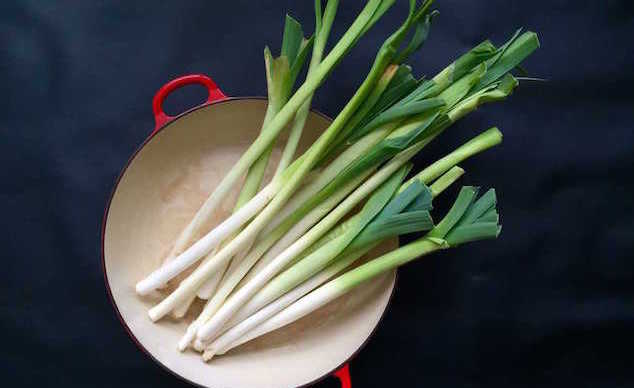 Let's take cheese for example. The breadth of variety of cheese is impressive to say the least. However, when it comes to cheeses to make a sauce with, the numbers quickly dwindle. Should you want to use your favorite cave-aged gouda you are, quite frankly, completely out of luck. But wait! One teaspoon of sodium citrate, easily found and ordered online, and you have a creamy sauce boasting all of that beloved flavor. Add a little egg and a little cream, and you have a smooth cheese custard bold enough to pick a fight in a biker bar.
Now all of your favorite cheeses come in to play along with the hoard of lovelies you pair them with. For a salty, nutty aged gouda, there are few things more unexpected and more complementary than a deep, dark chocolate. These two big flavors are rounded out with a sultry butter crust for tartlets that will be the statement piece of your next cocktail party.

Chocolate & Cheese Custard Tartlets
For aged gouda, there are few things more unexpected than dark chocolate. The big flavors are rounded out with a butter crust to be the star of the party.
Ingredients
Crust
½ C (118 ml) Unsalted Butter (softened)
¼ tsp (1 ml) Kosher Salt
2 Large Egg Yolks
1¼ C (284 ml) All Purpose Flour
Custard
85 g (3 oz) Aged Gouda
100 ml (3.4 fluid ounces) Heavy Whipping Cream
1 Large Egg
½ tsp (2 ml) Kosher Salt
1 g (0.03 ounces) sodium citrate
1 T (15 ml) Water
Tempered Chocolate
4 oz 70% or higher Dark Chocolate
Special Equipment
Instructions
Crust
Using a stand or hand mixer, mix the butter, salt and egg yolks.
Add flour and mix just until clumps form.
Roll dough into a ball, wrap in plastic and refrigerate for at least an hour.
Using a biscuit cutter or large-mouthed cup, cut out four circles of dough an inch larger in diameter than the tartlet cups.
Press dough rounds into cups, repairing any cracks or filling spaces with unused dough.
Custard
Simmer the water and sodium citrate together and stir until dissolved.
Add cheese and let melt.
Remove from heat and stir in cream (mixture will look like it has seized).
Add egg and blend with an immersion blender.
Tempered Chocolate*
Melt half of the chocolate in a glass or copper bowl over a pot with simmering water (making sure the water does not touch the bowl, raising the temperature of the chocolate to 115 F.
Once 115 F is achieved, remove bowl of chocolate and, using one small piece at a time, stir the remaining chocolate in until the mixture falls to 90 F.
The chocolate is now in temper. Keep chocolate at between 89 F and 91 F by returning it to steam for a few moments if it gets too cool.
Assembly
Divide custard batter between the four dough-lined tartlet cups and set cups on a sheet pan.
Bake at 350 for 18-20 minutes or until custard does not wobble when the sheet pan is given a quick shake.
Remove from oven and let cool on a cooling rack, then store in refrigerator until chilled.
Pour thin layer of tempered chocolate onto top of custard and spread evenly.
Return to refrigerator until ready to serve. Will keep for up to 3 days.
Notes
Do not temper chocolate until the custard tartlets are chilled and ready to be topped.
Sarah & Mark
Sarah (whiskey swilling writer) and Mark (doc and dishwasher-loading critic) created the site PickledCapers.com for those who love to gather friends in their kitchen; to break out the cake pans, the sauciers and the BBQ brushes; to clink glasses together in celebration; and to shine up new shoes for nights destined to deserve "remember that time…".