This chocolate bundt cake cake is rich, decadent, beautiful and a breeze to make.

By Deena Wachtel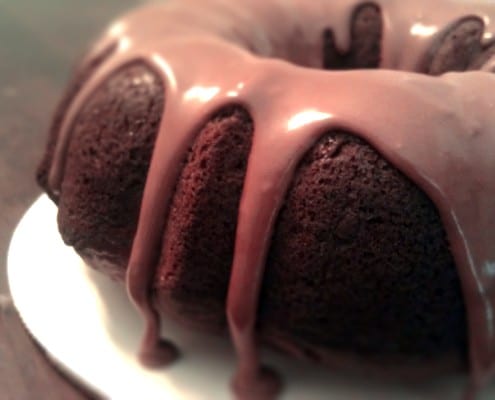 I'm all for getting kids into the kitchen. Heck, I've even made a pledge on my blog and hosted a 3-week guest post series encouraging other cooks to get "Kids in the Kitchen". But, yes, sometimes I kick the kids out of the kitchen just so I can get things done quicker.
I know, I know. But life isn't perfect. At least not for me.
But I do allow for some wiggle room in my "kids in the kitchen" pledge.
Like the other day, when my oldest wanted me to make my "chocolate cake with chocolate frosting" for her teacher's birthday (which was coincidentally also the last day of school).  She begged me to make the cake and told me that the whole class was counting on it.  That she signed up to bring a chocolate birthday cake to class and that everyone will be mad at her if she didn't and I'm a chef, so can't I just make one.
Tonight.
Pretty Pretty Please.
I said fine.  Because kids in the kitchen also means that they can request food.  Especially if they want to give it to other people.
But at 4pm the afternoon before the last day of school is not when I want to go and be making a chocolate layered birthday cake. So I made my "fake out" bundt cake.
You know, the kind of cake that you can stock in your pantry and throw together in 5 minutes.  The kind that tastes AMAZING and looks like a lot of work but really isn't.  This is the perfect fake-out chocolate cake.
This cake is rich, decadent, beautiful and a breeze to make.
I made the cake Thursday night and let it cool overnight.  Then, the morning that she wanted to take it to her teacher, I just whipped the glaze together, poured it over the top and sent her off to school with an oozing cake in a cake box. Now that's my kind of cake. Even if it was my daughter's idea.
A rich, moist, delicious, easy-to-make chocolate bundt cake.
Ingredients
1 package Chocolate Cake Mix (the more basic, the better)
1 package (4 oz) instant chocolate pudding mix
1 bag chocolate chips (I use the best quality here)
1¾ cup whole milk
2 eggs, beaten
1 teaspoon vanilla extract
chocolate glaze
2 c. sifted confectioner's sugar
2 Tbsp. cocoa
1 Tbsp. butter, softened
½ t. vanilla extract
4 Tbsp. milk
Instructions
Preheat oven to 350 degrees Fahrenheit (176 degrees Celcius)
In a large bowl combine cake mix, pudding mix and chocolate chips.
In a separate bowl combine milk, eggs and vanilla.
Add egg mixture to dry mixture and mix by hand until just blended.
Pour into a prepared bundt pan.
Bake for 50-55 minutes until a toothpick comes out clean.
Cool in pan for 15 minutes.
Remove from pan and cool completely before topping with chocolate glaze.
The unglazed cake can also be wrapped and frozen for later.
chocolate glaze
Mix all of the ingredients together until combined.
Add more milk if necessary for correct consistency.
Pour over chocolate bundt cake.
Lick bowl.
Notes
Times do not include cool time, or glazing.
What to get the kids involved?  Here's how they can help:
Dump out cake mix
Dump out pudding mix
Dump out chocolate chips
Crack & beat eggs
Measure out milk & vanilla
Stir to combine
Pour batter into bundt pan
Mix glaze ingredients
Pour glaze over cake
Lick bowls – my favorite part
Deena Wachtel
Deena is a stay at home foodie, obsessed with food and intent on changing her finicky family into a foodie family. She lives by a set of FOODosophies and has pledged to get her kids into the kitchen to teach them how to cook and love good tasting food. It's not always pretty and there are nights when the kids go hungry. But, for her, it's all for the greater good. She blogs daily at stayathomeFOODIE.com.