Chocolate and bananas are one of the most classic matches made in heaven.
By Tamara Novacoviç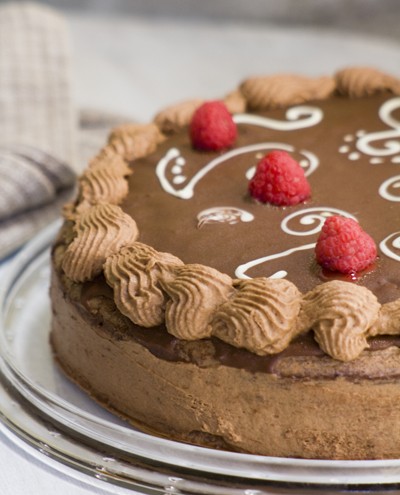 There is something so playful about the combination of chocolate and bananas, it reminds me of childhood and my favorite sweets.  This cake is creamy delight.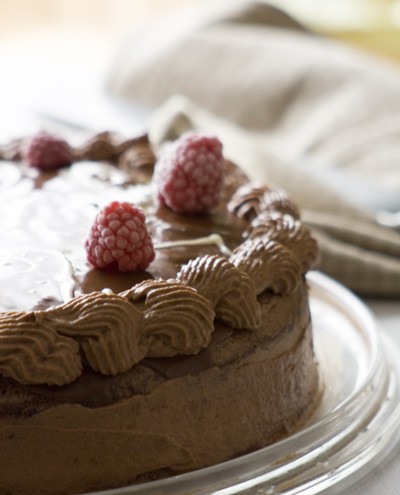 Raspberries on top of the cake are just a part of decoration, they have nothing to do with the flavor. They are from my garden, I saved some in the freezer for such purpose.
Chocolate and bananas-match made in heaven, literally!
Ingredients
Sponge cake
4 eggs
1 cup (200 g) sugar
0.3 cup (70 g) butter
0.3 cup (70 g) dark chocolate
0.2 cup (60 ml) milk
0.2 cup (60 ml) boiling water
1 tsp vanilla extract
2 cups (200 g) flour
⅓ cup (40 g) cocoa powder
2 tsp baking powder
pinch of baking soda
pinch of salt
Filling
17 oz (500 g) bananas
7 oz (200 g) milk chocolate
2 cups (500 ml) whipping cream
2 tbsp rum
Instructions
Separate yolks and beat them with sugar until pale and fluffy. Add boiling water, vanilla, milk, melted butter and melted chocolate, combine. Add sifted flour with cocoa powder, baking powder, soda and salt. Mix well. In a separate bowl, beat egg whites with a pinch of salt until stiff peaks forms. Add to the previous batter.
Prepare springform pan (10 inch/26 cm)-line the bottom with parchment paper, lightly grease and flour the sides (the ring). Preheat oven to 356 F (180 Celsius).
Pour the batter into the prepared pan and bake-test with skewer, it needs to come out clean. It will take about 30 minutes. Let cool completely. When cool, cut into 3 equal parts.
For the filling, puree bananas. Add rum and melted chocolate. Whip cream until stiff peaks form (if the cream is too soft, add 1 whipping cream stabilizer, it will make it firmer). Combine it with chocolate-banana batter.
Assemble: put first sponge layer on serving plate, cover with ⅓ of the filling. Put second sponge layer on top of it, cover with another part of the filling. Put third layer, again the final part of the filling. Decorate with the rest of the filling.
Note: you can combine some warm milk with rum and pour this over each sponge layer when assembling the cake, it will make it moister.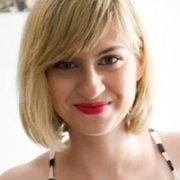 Tamara Novakoviç
Tamara Novakovic is a passionate self-taught cook, food blogger, freelance food writer and photographer behind bite-my-cake.blogspot.com. Her life journey has led her through Faculty of Humanities in Zagreb, Croatia to discovering passion for making cakes. She is currently a weekly food columnist for Croatian newspaper V magazine and food magazine Repete.