Chocolate, Banana And Caramel Tart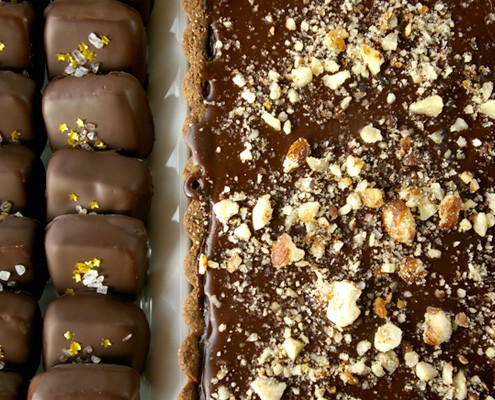 Bria Helgerson was looking for something chocolatey with a little more oomph, and a little more depth. She found it in this tart.
Text And Photo By Bria Helgerson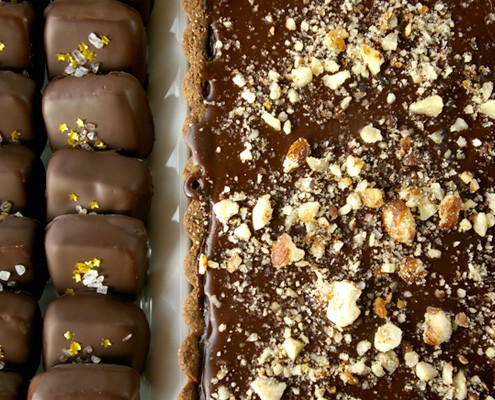 Haven't had enough chocolate and caramel yet? Don't worry, you can eat the last of the salted chocolate covered caramels that you may be hoarding, because there is a new treat in town. I promised I would share an amazing, incredibly decadent tart with you, and I wouldn't dream of letting you down.
It's got chocolate and caramel (of course) but it also has bananas, and nutella, and hazelnuts. I personally don't think it gets much better than that. I have made many chocolate tarts before, most of them fairly simple, and to be honest, a little boring. Don't get me wrong, people love a chocolate crust, with chocolate filling, and chocolate topping (and if you want to get really crazy, served with chocolate ice cream), but I was looking for something with a little more oomph, and a little more depth.
I found it in this tart. The crust and the chocolate ganache topping are fairly straight forward but what is hiding between is sublime and takes this tart to a whole new level. It's an oozy, gooey, banana-caramel-nutella filling that just might make your knees weak. If that happens, just find a big comfy chair, sit yourself down, and dig in.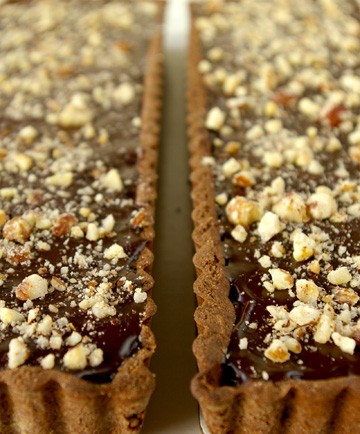 Chocolate-Banana-Caramel Tart
Makes 1 14-inch long rectangular tart or 1 9-inch round tart
Author:
Adapted by Bria Helgerson from tarteletteblog.com
Ingredients
Crust
1 stick (1/2 cup, 1.18 dl) unsalted butter, softened
½ cup (1.18 dl) powdered sugar
3 egg yolks
¼ teaspoon salt
1½ cup (3.55 dl) all-purpose flour
¼ cup (.6 dl) cocoa powder
Filling
½ cup (1.18 dl) granulated sugar
2 tablespoons water
2 tablespoons heavy cream
2 tablespoons unsalted butter, softened
¼ cup (.6 dl) nutella
2 bananas, peeled and mashed
Ganache Topping
1 cup (2.36 dl) dark chocolate chips
½ cup (1.18 dl) heavy cream
¼ cup hazelnuts, roughly chopped
Instructions
Crust
In a stand mixer fitted with the paddle attachment, beat the butter and sugar together just until thoroughly combined.
Add the egg yolks one at a time, mixing until incorporated after each addition.
Add the flour and the cocoa powder and mix just until combined, scraping the bowl down as needed.
Turn the dough out onto a lightly floured surface, and press gently into a ball. Shape into a disc, wrap tightly in plastic wrap and place in the refrigerator for at least an hour.
Preheat oven to 350 degrees F.
Place the dough on a lightly floured surface and roll out to fit your tart pan, until it is about ¼ - ⅜ inch thick.
Carefully transfer the dough to your tart pan, and press gently to fit it into all the nooks and crannies. If it falls apart at all, it is okay, just piece it together and press it into the pan. Cut off any excess dough, and line the shell with parchment paper.
Fill the paper with dry beans or pie weights and bake on the middle rack for 15-20 minutes. When it is completely cooked, remove the pie weights and parchment paper, and let cool completely.
Filling
In a medium sized saucepan over high heat, bring the sugar and water up to a boil, and continue to boil until it turns a deep caramel color. Remove from the heat, and quickly and carefully add the cream and butter, and stir to combine. It is normal for it to bubble vigorously.
Return the saucepan back to the stove and cook while stirring over low heat until it is smooth. Remove from heat and let cool to room temperature.
Once it has cooled, stir in the nutella and the banana until smooth.
Pour into prepared crust, and chill for at least 2 hours.
Ganache Topping
Place the chocolate in a medium stainless or glass bowl.
In a saucepan, bring the cream to a simmer, then remove from heat and pour over chocolate. Let sit for about 30 seconds, then stir with a wooden spoon or spatula until completely smooth.
Let the ganache cool for a few minutes, and then pour over filled tart. Smooth quickly with an offset spatula and sprinkle with chopped hazelnuts.
Chill until firm.
Bria Helgerson
Bria Helgerson is a Chicago based food blogger and pastry school student. Lover of all things sweet and savory, she cooks, bakes, and blogs as she navigates her culinary life at her website These Peas Are Hollow.