Moist and rich, with these brownies you won't miss the gluten at all. Topped with vanilla ice cream, and a salted butter caramel sauce, it is utter decadence.
By Bria Helgerson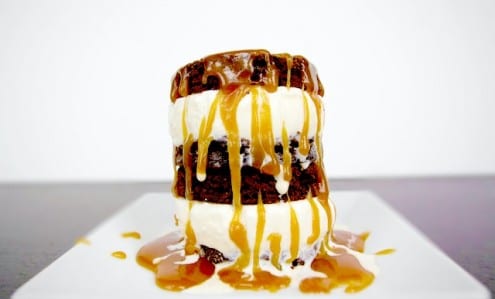 Chocolate Amaretto Brownies & Salted Caramel Sauce
Moist and rich, with these brownies you won't miss the gluten at all. Topped with vanilla ice cream, and a salted butter caramel sauce, it is utter decadence.
Author:
Bria Helgerson, adapted from Tartelette
Serves:
makes about 20 3-1/2 inch round brownies
Ingredients
For the brownies
6 tablespoons unsalted butter, room temperature
6 ounces dark chocolate
¼ cup unsweetened dark cocoa powder
¾ cup all purpose gluten-free baking mix (or all purpose flour)
¼ teaspoon baking powder
¼ teaspoon salt
2 large eggs
1 cup sugar
2 teaspoons vanilla extract
¼ cup amaretto (or if you want to omit the alcohol, substitute ¼ cup strong coffee)
For the caramel sauce:
1-1/4 cup sugar
⅓ cup water
1 stick salted butter, cut into small pieces
⅔ cup heavy cream
Instructions
For the brownies
Preheat oven to 350 F.
Brush 20 3-1/2 inch tartlet molds with a bit of melted butter, or butter and line a baking dish with parchment paper, set aside.
In a small bowl set over barely simmering water, combine the butter, chocolate, and cocoa powder. Whisk gently, until chocolate and butter are melted, and mixture is fully combined and smooth. This will only take a minute or two. Remove from heat, set aside.
In a medium bowl, whisk together the "flour", baking powder, and salt. In the bowl of a stand mixer fitted with the paddle attachment, combine the eggs, sugar, and vanilla, and beat on medium-high speed about 4-5 minutes. Add chocolate mixture and beat until combined. Add amaretto and beat to combine. Add the flour mixture in two additions and beat just until incorporated, scraping down the sides of the bowl after each addition.
Fill each tart mold about ¾ the way full, and bake for 20-30 minutes, until a toothpick inserted into the center comes out clean (start checking around 15 minutes or so). Let brownies cool in the molds on a wire rack completely, then un-mold and store in an air tight container until ready to serve.
For the caramel sauce
In a medium saucepan over medium-low heat, combine the sugar and the water. Simmer just until the sugar is dissolved. Add the butter, and let it boil until it turns a deep amber color. Remove from heat and carefully add the cream. Whisk to combine, and place back over medium-low heat and cook for about 30 minutes, until it has thickened and is nice and creamy.
Notes
I made the brownies in tartlet molds, and originally served them like that with a scoop of ice cream and caramel sauce drizzle on top. If you want to make sandwiches like I did in the pictures, bake the brownies in a thin layer in two parchment paper-lined baking dishes and cut circles once they have cooled.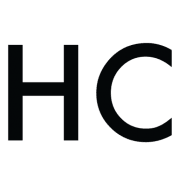 Bria Helgerson
Bria Helgerson is a Chicago based food blogger and pastry school student. Lover of all things sweet and savory, she cooks, bakes, and blogs as she navigates her culinary life at her website These Peas Are Hollow.