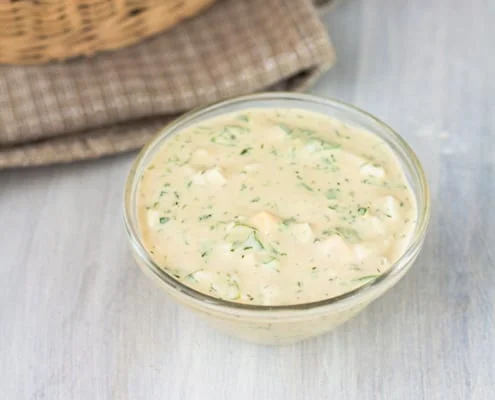 This chives and dill sauce goes perfect with any type of meat, or chips and crackers.
By Tamara Novakoviç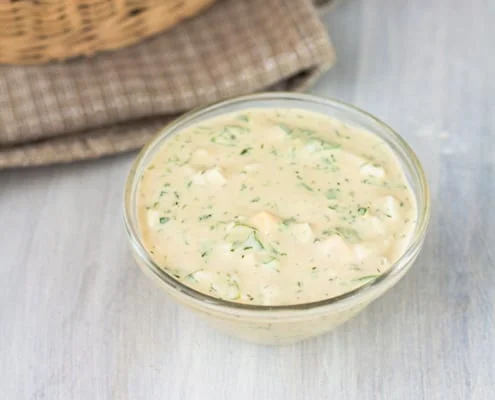 This is one of my favorite sauce/dip recipes! Use it with any type of meat or with tortilla chips, crackers, bruschette etcetera.

This sauce is perfect with any type of meat, or chips and crackers.
Ingredients
4 hard boiled eggs
1 oz (30 ml) apple cider vinegar
1 tbsp water
1 tsp sugar
1.6 oz (50 ml) olive oil
salt
pepper
handful of fresh parsley
2 handfuls of chives (I used dried)
handful of dill (I used dried)
6.7 oz (200) ml sour cream
Instructions
Cut hard boiled eggs into tiny cubes. Chop dill, chives, parsley. Combine all together.
Add sour cream, olive oil, salt and pepper.
In a medium saucepan, combine water with vinegar and sugar, bring to boil. Add to the previous mixture, combine.
Refrigerate before serving.
Tamara Novakoviç
Tamara Novakovic is a passionate self-taught cook, food blogger, freelance food writer and photographer behind bite-my-cake.blogspot.com. Her life journey has led her through Faculty of Humanities in Zagreb, Croatia to discovering passion for making cakes. She is currently a weekly food columnist for Croatian newspaper V magazine and food magazine Repete.