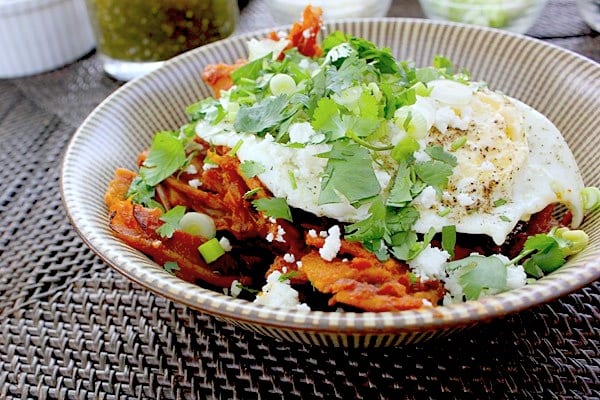 Chilaquiles is a hearty dish, full of flavor, and perfect for breakfast, lunch, or, well yes, dinner.
By Bowen Close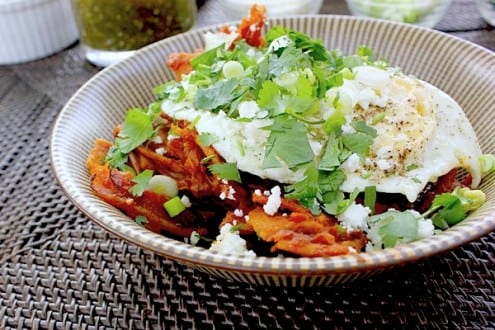 Fridge diving (aka "kitchen scrounging") should not be underestimated as a handy skill, particularly for an everyday or last-minute dinner. It can take a bit of creativity, flexibility, and technical skill to put together something delicious from what you happen to find around your kitchen, but often to very good results! Maybe you find a head of cauliflower beginning to live out its last days in the back of your refrigerator, a stale butt of a baguette, and half a bag of pasta. (Penne with roasted cauliflower and garlicky bread crumbs, anyone?) Or maybe it's an open can of coconut milk. A few spoonfuls of leftover salsa. Unidentifiable grains scooped out from the bulk bin at the grocery store.
All those scraps and dregs and bits – the things that scream out "toss me" – can sometimes make the best meals, especially together with some pantry staples (don't underestimate the power of canned tomatoes, beans, and tuna). And even if you're not feeling creative, there are plenty of dishes created for just this sort of thing. Think of all the classic uses for stale bread – croutons, bread crumbs, bread pudding, panzanella salad …
After declaring "we have no food in this house" one night last week I was able to scrounge together all the ingredients and a variety of tasty garnishes for a pan of chipotle chilaquiles with fried eggs. Chilaquiles are like the Mexican version of a hash – stale tortillas, crisped and then quickly cooked together with whatever ingredients you might have around and a green or red or cream sauce. Eggs are often included in some form, and pre-made tortilla chips are commonly used instead of freshly fried stale tortillas. Chilaquiles is a hearty dish, full of flavor, and perfect for breakfast, lunch, or dinner.
Almost every ingredient and garnish I used to make this dish was the last bits left in the can or the bag or the jar, together with some of the items we almost always have in the pantry or the fridge. And there's a lot more I could have added here – cooked veggies (frozen or fresh corn or peas would have been particularly good here), meat (like shredded chicken or pork), a can of beans … the combinations are pretty endless.
Chilaquiles is a hearty dish, full of flavor, and perfect for breakfast, lunch, or, well yes, dinner.
Ingredients
2 chipotle peppers from a can of chipotle peppers in adobo sauce, plus some adobo sauce to taste
1 14 oz. can of tomatoes (whole or diced)
1 Tbsp. lard, canola/vegetable oil, or other cooking oil
1 onion (any color is fine), sliced into crescents
3 cloves garlic, chopped roughly
1-1.5 cups chicken stock (or vegetable stock or water)
Salt and pepper
2 handfuls tortilla chips – preferably thick, taqueria-style chips (usually made daily at Mexican markets)
2 eggs, plus butter/lard/oil for frying (optional)
Garnishes – options include chopped green onions, chopped cilantro, queso fresco, crema (try making it yourself!), lime wedges, avocado slices, hot sauce
Instructions
Deseed the chipotle peppers (easiest to do under running water). Add the peppers and around 1 tsp. of the adobo sauce to a blender.
Drain the tomatoes, retaining the canning liquid. Add the tomatoes and about half the canning liquid to the chipotle and adobo in the blender.
Blend the chipotle-tomato mixture until smooth. If too thick to puree smoothly, add more tomato liquid. Taste, and add more adobo to taste. Set mixture aside.
Heat the lard or cooking coil over medium-high heat in a skillet (cast iron works very well here). Add the onions and sauté, stirring occasionally, until browned. The longer you cook them, the more caramelized they will be – that's up to you and how much time you have. Add the garlic and cook for another minute, then reduce the heat to medium and pour in the chipotle-tomato puree. Be careful of splattering!
Stir the sauce for a minute or two, then add 1 cup of chicken stock. Cook over medium heat until thickened, adding more tomato canning liquid or chicken stock as needed. After reducing it, salt and pepper to taste (remember you'll be adding chips, too, which might be salty as well). This mixture can now sit for a bit off the heat, if you're not ready to eat. It may continue to thicken, so tomato canning liquid or chicken stock can be used to thin it down if necessary. You want enough to lightly coat all of your chips. It may look at first like there's not enough sauce to coat the chips, but toss together for a bit before you decide to add more liquid.
You'll want to fry your two eggs either before or after the next step. I like mine over easy, but it's all personal preference.
A few minutes before you'd like to eat, add your tortilla chips to the pan and stir to coat the chips entirely. By the time you get this into dishes and on the table, the chips will have softened considerably, but you still want them to have a bit of crunch.
Place a fried egg on top of each dish of chilaquiles.
Garnish as desired.
Notes
There are many opportunities for variation here. Try adding in cooked and drained beans, blanched vegetables, scrambled eggs, or shredded meat – either tossed into/cooked with the sauce, or layered on top.
Bowen Close
Bowen Close believes that food should make people happy and healthy, and loves bringing together people with creative, delicious food made from the heart. She loves making farm-inspired, flavorful dishes with sustainable ingredients - whether that's a big plate of roasted veggies, a towering chocolate layer cake, or a cocktail utilizing backyard ingredients - and collects recipes and other food-related stories on her website, Bowen Appétit. She is a chef, cooking instructor, and food writer living in Southern California with her husband and fully stocked pantry.